Oh, how I've missed live music.  That has certainly been a side effect of Covid-19 that has left an unanticipated emptiness in its wake. Throughout this pandemic, we have been faced with so much uncertainty and loss.  We have had to distance from those we love. Important moments and life events have been missed or delayed or morphed into something different, until we can safely gather again. And live music. We have missed live music. Music brings people together. It can bring movement, laughter, and connection like no other art form. Amidst such trying times, these are all things we could use right now. Not to fret, you can still find music, and all of the joys that come with it, through some innovative and unique ways to fit the times.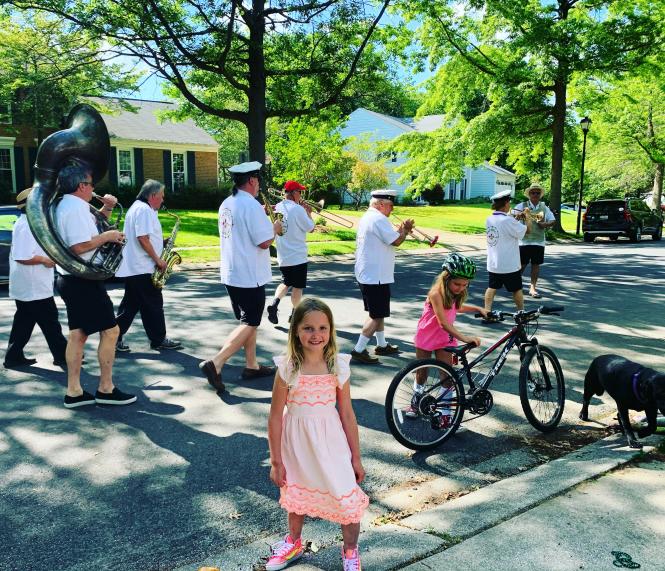 Naptown Brass Band was hired by the author for her daughter Waverly's birthday 'drive-by', summer 2020. Image courtesy of the author.

 

Music is a huge part of my life, and has really defined who I am and how I view the world, and I am not even a musician. I just really love music. I imagine musicians during Covid-19 probably feel the same, but on a whole other level. They have missed out on the opportunity to play, to do their craft, to make ends meet, and to share their passion with others in a live setting. Restaurants and venues have missed them too, as music brings in visitors and boosts our economy and just makes everything, well, simply better.  Of course, the old adage holds true: "when the going gets tough, the tough get going." Creatives need to create and, lucky for you, the extremely talented and creative musical community that surrounds us here in the Annapolis area has done just that. They have found ways to give us what we have been pining for, and have supported each other while doing so. We need to look out for each other and you can support them too by streaming live music and recorded music from some of your favorite local bands!

 

 

To find out what is happening musically each day, Annapolis Streaming is a great resource that was set up to make sure you don't miss out. Created on March 18, 2020, right when the repercussions of the pandemic shut our town down, Annapolis Streaming helped fulfill a need by helping folks find music around the area each day. A Covid silver lining, as people find ways to connect in new and creative ways in challenging times. Luckily venues are slowly opening back up but virtual music may be here to stay, as it really does provide new versatility in viewing options. Annapolis Streaming has a webpage and a Facebook page that will fill you in on the daily happenings, giving you a list of shows that are both live and streamed each day, whether you decide to watch something from home or you venture out.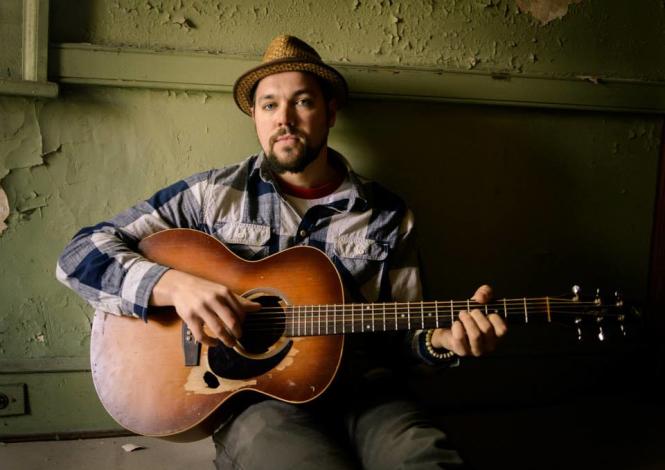 You can find out where your favorite musicians are playing by visiting Annapolis Streaming's daily list on Facebook. Image of local musician Jordan Sokel of Pressing Strings courtesy of Jordan Sokel.

 

 

Another great resource is Naptownmusic. Naptownmusic is a cooperative volunteer project which has been around since 2013, helping to support the local arts in the Annapolis area. During Covid-19, it has been the answer to helping us stay connected, while allowing Annapolis musicians to showcase their talents virtually. Through Naptownmusic, you can catch streamed music, both live and recorded, from many of your favorite local musicians that are so graciously continuing to share their talents with us. Just go to the Naptownmusic website and Facebook page and you will find links to a plethora of shows. While you are listening to these musical videos and streams, many musicians have an option in which you can tip them, just like you might in a live venue, if you are enjoying the show and feel so inspired.  What a great way to make sure our great music scene here in Annapolis continues! 

 
Jimi HaHa (Jimi Davies) wishing everyone much love and laughter from his virtual performance for The Annapolis Christmas Show . Image courtesy of AMFM Christmas Show website.

 

 

I first heard about Annapolis Musicians Fund for Musicians (AMFM) many moons ago when I attended my first (and probably one of the first) of the Annapolis Christmas Shows, at Rams Head On Stage. AMFM is a non-profit that does so much for our Annapolis music scene. The Annapolis Christmas Show is their biggest yearly fund raiser.  This year, like everything else, it was a little bit different. Through a lot of hard work and generosity, AMFM and Rams Head on Stage, in collaboration with Naptownmusic, provided two nights of Christmas shows for our town.  They were streamed for free viewing this year, so we could still keep up this Annapolis tradition while watching safely from home. In fact, you can still find the 22nd Annapolis Christmas Show to view and enjoy on their Facebook page.

 

AMFM was founded in 2006, by local musician Matt McConville, an Annapolis staple on the music scene, and a true visionary. The mission of AMFM is to provide temporary financial relief for musicians in the Annapolis area when left unable to perform due to circumstances such as injury, illness, catastrophes, or now, a pandemic.  AMFM was around long before Covid came to town but they have, once again, during the unique challenges that Covid has provided, helped many musicians keep their head above water.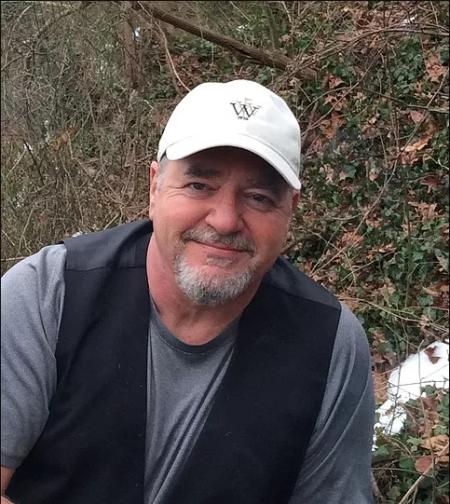 AMFM was founded in 2006, by local musician Matt McConville, an Annapolis staple on the music scene, and a true visionary. Image courtesy of Matt McConville.

 

This organization, at its core, defines the camaraderie, strength, talent, and heart that makes up our diverse and amazing music scene here in Annapolis. AMFM, often in collaboration with the aforementioned organizations, has been hard at work helping to ensure our music here in Annapolis, and the musicians that make it happen, will continue into the future. For years, AMFM has had a "Lost Gig Fund" in which they have helped musicians with just that, the lost gigs, when unable to play due to various hardships. 

 

When speaking with a musician who received some of these lost gig funds from AMFM during the Covid-19 pandemic, he noted how much the music scene in Annapolis "takes care of each other, from AMFM, fellow musicians, the venues, and the fans."  When speaking of AMFM and how they helped him out in this pandemic he was almost moved to tears, stating he was "just blown away by how much they showed up." He went on to state that any time he ever has a chance to do something for AMFM, to give back in any way, he would do so, as they have been so giving and kind to himself and others. They truly are an organization that is worthy of all of our support! AMFM has also set up a Covid-19 Relief fund to help musicians with financial hardships due to the pandemic. They are trying hard to rebuild their funding as they have given so much over the past year.  Please consider donating to AMFM if you enjoy live music.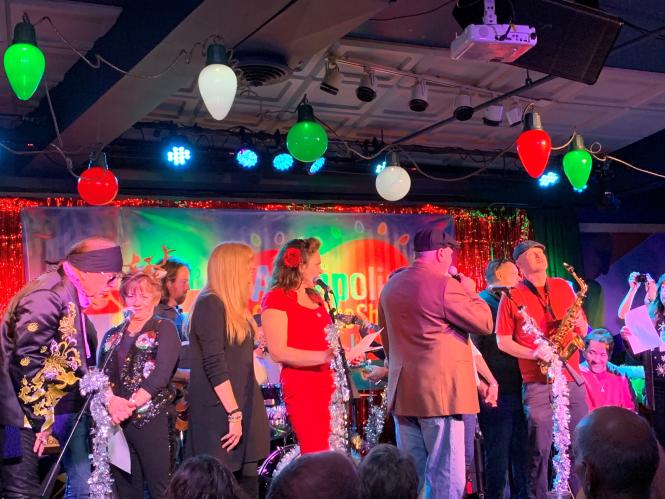 The AMFM Christmas Show from 2019 at Rams Head On Stage. Image courtesy of the author.

 
Heart to Heart and Hand in Hand
During the 22nd Annapolis Christmas Show, when speaking about the impact of Covid, and how we may feel like so much has been taken from us, Matt McConville alluded to lessons learned in Dr. Seuss' holiday classic, The Grinch Who Stole Christmas. "We all wake up…and everything could be gone, but, you know what? We're still here and we're going to sing, and we are going to play, and we're going to hold hands…and as long as we've got hands to clasp, we're going to." And so, on that musical note, whether virtually or in person, lets continue to keep the music going.