If you want to impress an out of town guest, or just be reminded for the umpteenth time what a gorgeous and cool place Annapolis and Anne Arundel County is, head to Yellowfin Steak & Fish House (2840 Solomans Island Rd, Edgewater, Maryland 21037) for a sunset happy hour on the South River. Even on a cold January evening, the sky's reds and oranges reflecting on the river is a gorgeous sight.
Yellowfin makes the best of its location. Floor to ceiling windows on the river side make this view, including the South River bridge rising on the left, visible from any seat in the bar or restaurant.
As you and your friends scan the menu, you'll see that Yellowfin takes happy hour seriously. It's offered from 3 to 7 p.m. weekdays, and 11:30 a.m. to 7:00 p.m. on weekends. On the drink menu are a variety $3.00 craft and microbrew beers, six different $4.00 wines by the glass, three varieties each of red and white. Since it seems that most local happy hours offer only one of each, your wine-loving guests should be pleased.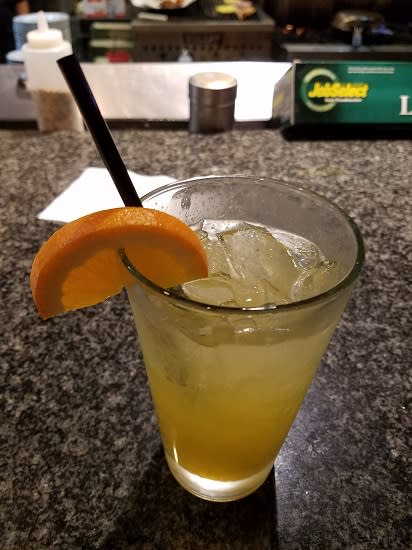 Creamsicle Crush
Perhaps being on the river drew me to the "Crush" section of the drink menu, since I generally consider these summer drinks.  The Creamsicle Crush, composed of Pinnacle Whipped, fresh orange and club soda caught my eye. I knew this would probably be a better dessert drink than one preceding appetizers, but I couldn't help myself.  Definitely a trip down childhood memory lane as it perfectly recreated that yummy summer popsicle treat.
The Happy Hour menu is as impressive as the view. It is large and varied and exceeds typical happy hour fare.  Food is prepared as you watch and is served in an attractive presentation. There are $5.00 "Nibbles", $6.00 "Bites" and $7.00 "Small Plates".  Don't be deceived by the titles, however. All are generous portions.  My dining companion and I had difficulty narrowing our choices, and could only narrow down to four.
From the "Small Plates" menu, we chose the Fish and Chips. At Yellowfin, this is made from Atlantic Cod in Fordham Lager and served with "Beach Fries". In many places, I find Fish and Chips to be a greasy, heavy dish. Not these.  The lightly breaded cod was sweet and flaky. From the "Bites" section of the menu, we chose three to sample. We had to try the Stuffed Portabella Mushrooms. These were topped with feta, roasted tomatoes, garlic and a balsamic glaze. If you are a portabella fan, you will want to try this.  Also from this section we tried the Miniature Brie. This is baked and drizzled with honey and served with fresh fruit. This actually is a generous portion of brie, easily enough for three people to share.  Our next choice was Hawaiian Chicken Sate. Along with the chicken, this dish combines Canadian Bacon, grilled pineapple and Kabayaki sauce.  However, after the previous three appetizers, there was just no more room, so I took it home and enjoyed it for lunch the next day. I would be inclined to order it as a meal on another trip to Yellowfin. The grilled pineapple was especially delicious.
There are many other choices on the Happy Hour Menu including soups, clams or mussels, flat bread pizzas, and more.
On this Monday evening visit, the tables in the bar area were full, but there were seats available at the bar and it was a quiet evening. Later in the week, the entire bar area is often crowded with seated and standing guests at this popular happy hour spot.
Photos courtesy of Natalie Spong