Pizza is an American favorite and we all have our go-to spots. Although pizza is something we all love, not all slices are created equally. From unique artisan pizzas that are crisped to perfection in a brick oven to classic cheesy pies, Annapolis' pizza scene has something for everyone. I was more than happy to do the legwork when searching for the best 6 pizza spots in the area.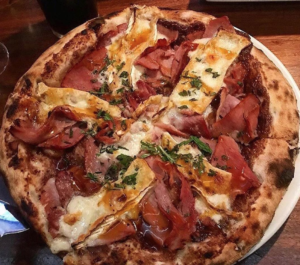 Fox's Den. Photo courtesy of the author.
A true hidden gem! Fox's Den is a trendy, all-American pizza restaurant serving up unique topping combinations in a cozy, speakeasy-vibe basement. This family-owned establishment prides itself on a menu inspired by locally sourced ingredients that you can taste with every slice. I immediately noticed the open-air kitchen that fills the restaurant with that brick-oven aroma we all know and love. The Fig & Pig (fig preserves, shaved country ham, brie, torn mint, hot honey) is a local favorite with the perfect sweet-salty balance in every bite. Order up on Mondays for $10 pizzas! Fox's Den, 179B Main St, Annapolis, MD 21401, (443) 808-8991
Vin 909 Winecafe. Photo courtesy of VAAAC.
Over in Eastport, Vin 909 is a neighborhood staple for special occasions or just a quality night out. This sophisticated yet homey house-turned-restaurant serves elevated Italian dishes with an emphasis on quality, seasonal ingredients. Eastport is an exclusive community, so we're not surprised that they've claimed their own style of pizza, Eastport Style - rustic shaped, brick-oven crisp. A Vin 909 classic, and a personal favorite, is the Chef Moore (tomato sauce, mozzarella, parmesan, basil, prosciutto, pepper flakes, lemon juice). Although the menu takes a trip around the sun with the seasons, the Chef Moore is a regular, and I'm very thankful for that! Vin 909 Wine Cafe, 909 Bay Ridge Ave, Annapolis, MD 21403, (410) 990-1846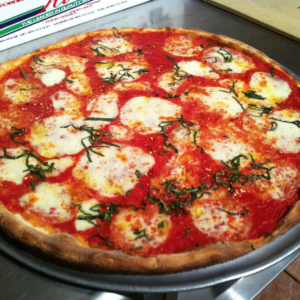 Italian Market. Photo courtesy of the author.
Mangia, mangia! Eat it all up at The Italian Market. Plucked from Italy, the market offers imported goods that will transport you to the land of good eats. The Italian Market is the perfect spot for traditional pies, such as their famous Margarita pizza (fresh mozzarella, fresh basil, homemade tomato sauce and extra virgin olive oil, available with gluten-free crust). Feed the whole family with their amazing deal - buy 1 large New York Style pizza and get 1 medium cheese for $2.00 – eat in or carry out. The Italian Market, 126 Defense Hwy, Annapolis, MD 21401, (410) 224-1330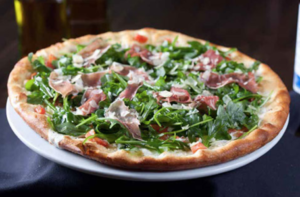 Carpaccio. Photo courtesy of the author.
Carpaccio Tuscan Kitchen provides a sophisticated dining experience with authentic Italian specialties. I love how the upscale environment mirrors the delicious Italian fare that is found on their extensive menu. Available for dining in or carryout, the Caprese (white parmesan crust, fresh mozzarella, basil, tomatoes, prosciutto, baby arugula, shaved parmesan, olive oil, available with a gluten-free crust) pizza doesn't disappoint! Carpaccio Tuscan Kitchen, 1 Park Pl, Annapolis, MD 21401, (410) 268-6569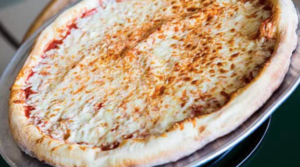 Rocco's Pizza. Photo courtesy of the author.
A classic pizza night calls for Rocco's Pizza. Whether it's New York or Sicilian style, Rocco's will please the whole family. When I think of traditional pizza, stretchy cheese, savory sauce and traditional toppings pop into my head. It always satisfies from quick dinner to late-night cravings. New York-style cheese is a go-to for repeat customers. Pick up at Rocco's or enjoy a hot pizza delivered to your doorstep. Rocco's Pizza, 954 Bay Ridge Rd, Annapolis, MD 21403, (410) 263-9444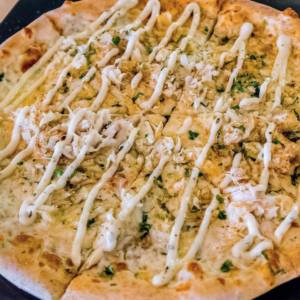 Neo Pizza. Photo courtesy of the author.
Casual atmosphere with artisan pizza combinations, NeoPizza is solid to get your pizza fix. Takeout, delivery or dine-in, this kid-friendly spot has handcrafted pizzas from traditional cheese to more locally-inspired toppings such as the Chesapeake (olive oil, lump crab, Italian parsley, lemon thyme aioli, Old Bay). NeoPizza proves that Old Bay is truly delicious on everything! Bring the whole family on Sundays when kids eat free with $10 adult purchase. NeoPizza, 220 Harker Pl Suite 145, Annapolis, MD 21401, (410) 266-7771
Check out my favorite pizza spots in Annapolis no matter your mood - not up for cooking, craving some cheesy goodness or looking for a twist on an old favorite. Quality pizza is high on my list of routine hankerings, and luckily each Annapolis neighborhood caters to my "treat yourself" indulgence.
For a full list of pizzerias in Anne Arundel County, check out www.visitannapolis.org