Visitors seeking a historic setting for great burgers and beers should know about an obscure little pub in the cellar of the Reynolds Tavern on Church Circle. Look for a modest sign that practically whispers 1747 Pub on the side of the building, climb down stairs dating back to its original 1737 construction, and prepare to be amazed.
In a low-ceilinged room with brick floors and stone walls, a walk-in fireplace offers comfort from the cold and a congenial bar scene invites patrons to step right up and order a brew or something stronger.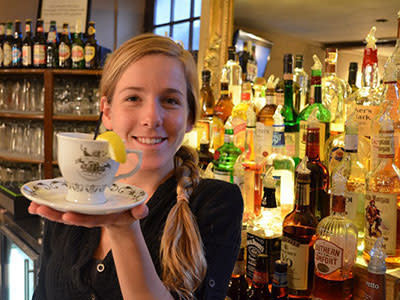 Insiders know this is where to find one of the best burgers in town – a generous patty made with a mix of ground chuck, short ribs and hangar steak charcoal-broiled to order and served on a house-made brioche roll. A bargain at $9 in an era when non-McDonald burgers can cost up to $20, 1747 offers theirs as a $5 luncheon special on Tuesdays and at dinner on Wednesdays.
Food is ferried from the upstairs kitchen of the Reynolds Tavern to its below-stairs pub, and there's lots to love besides the burger on 1747's menu. With a nod to its British roots, the menu includes a traditional lamb Shepherd's Pie, Bangers and Mash and Fish and chips.
To accommodate vegetarian tastes, there's red pepper humus with Kalamata olives, tomato, cucumber and pita bread; baked brie in puff pastry with pecans and golden raisins in a Kahlua cream sauce, a sherry-tinged crab dip; a risotto featuring sea scallops and foraged mushrooms; Long Island fried oysters; and other sumptuous, meat-free dishes.
You will be eating and drinking in the original kitchen and "hat shop" of William Reynolds, where today American and imported craft beers are on tap and on Thursday, Friday and Saturdays live music gets the good times rolling in 21st century style. Service, by the way, is dreamy. Open daily for lunch at 11 am; kitchen open until 10 pm week nights and 11 pm weekends; Happy Hour 3-7 pm Sun-Fri; major credit cards accepted.