In 2006, Annapolis Green was founded by Lynne Forsman and Elvia Thompson. These two friends discovered that they shared the mission of exploring the big picture of local Green initiatives. This active organization now brings together individuals, businesses, government agencies, and nonprofits with the goals of serving as a clearinghouse for information about creating a healthy, thriving community and providing ideas to positively impact the future of our planet. No matter what your view is on Climate Change, Annapolis Green is an excellent resource for easy access to the many best practices and hands-on experiences and events in the greater Annapolis area.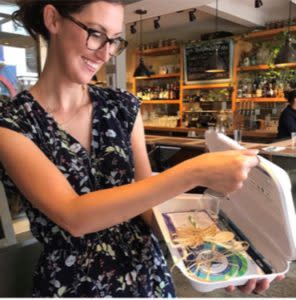 Photo courtesy of Annapolis Green
If you have been seeking ways to Go Green, Annapolis Green offers the following tips for you to consider when making decisions to modify your behavior and become part of the effort to make our community a healthier place to live. Be sure to check out their community calendar of events.
1. Explore transportation options To help reduce greenhouse gas emissions, when possible, think about taking public transportation, walking, or biking to your destination. Electric vehicles are an excellent alternative, having become less costly and producing no emissions. More charging stations are popping up. I noticed one was recently installed at the Pip Moyer Center. My husband and I attended the EV Showcase at City Dock last year, sponsored by Annapolis Green and met enthusiastic EV owners who were happy to explain the details of operating their vehicles. Watch for another EV event this year.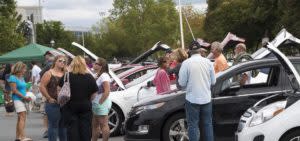 Photo courtesy of Annapolis Green
2. Eliminate or reduce use of single-use plastics Instead of purchasing bottled water, consider carrying your own refillable water bottle. Bring your own reusable bags to the grocery store. Look for other opportunities to avoid the use of plastic bags, such as farmer's markets or retail stores. In place of plastic straws, use the paper variety or no straw at all. For more suggestions, check out Annapolis Green's Plastic Free Annapolis Program.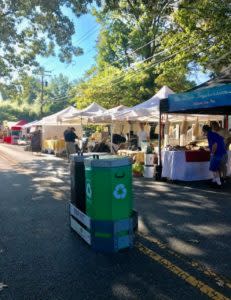 Photo courtesy of Annapolis Green
3. Consider composting A great deal of trash that goes to the landfill consists of food scraps, which means throwing away a precious resource. Food scraps renew the soil in a healthy, non- chemical way. Read up on the process of composting and establish your own compost container or save your compostables for a neighborhood garden. Alternatively, you could find out about contracting with Annapolis Compost.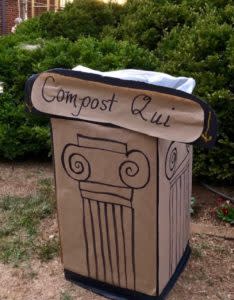 Photo courtesy of Annapolis Green
4. Join and participate in a local environmental organization Check out the list of groups that are doing great work in the Annapolis area. Some are specifically monitoring a watershed or creek or focusing on an special issue such as land preservation, oysters, while others take a more regional approach. Annapolis Green sponsors a monthly Green Drinks gathering for an evening of socializing and learning about serious concerns.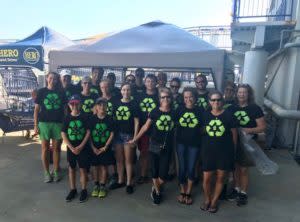 Photo courtesy of Annapolis Green
5. Educate yourself - stay informed about local legislation Legislative bodies of the City, County, and State are all reviewing upcoming environmental legislation on subjects such as forest conservation, plastic bags, fishery limits and others issues. In each jurisdiction there are contacts for information and updates. The General Assembly will soon be initiating the 2020 session and you can easily follow environmental legislation as it progresses through the process at this website. Don't forget to make yourself aware of the position of candidates and to have a voice, vote in upcoming elections.
Annapolis Green 92 Maryland Ave Annapolis, MD 21401 410-656-9420