United States Naval Academy
Whether approaching by land or by sea, the beauty of the United States Naval Academy (USNA) warmly welcomes visitors to the city of Annapolis with its stunning campus, defining the Annapolis skyline. Established in 1845, this historical institution turns young men and women into brave officers serving our country in both the Navy and the Marines.
Many unique sites and events related to the Naval Academy are well worth exploring. A campus tour will provide much history and can be organized through the Armel-Leftwich Visitor Center. Be sure to check out the unique gift shop while you are there, and if you time it correctly, you can see the midshipmen's Noon Formation to give you an authentic taste of life as a midshipman. If you prefer, do a self-guided academy tour at your own pace. The US Naval Academy Museum is a beautiful display of artifacts, and the Naval Academy Chapel is a sight to behold with its impressive dome and colorful stained-glass windows. Underneath the chapel, you will find the crypt of naval hero John Paul Jones, lauded as the Father of the US Navy.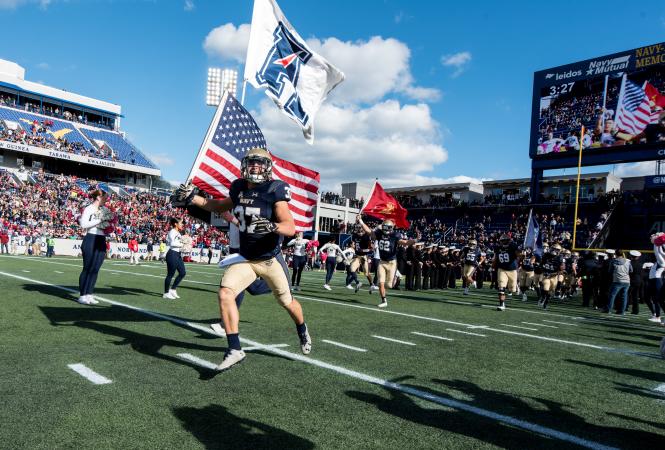 There is nothing like a Navy Football Game!

 

The Naval Academy participates in numerous sporting events that the public may attend. You will often find Annapolitans sporting blue and gold amongst a sea of midshipmen in their crisp uniforms, all cheering on the Navy with great enthusiasm. With everything from big football games and tailgates at the Navy-Marine Corps Memorial Stadium to the legendary Annapolis Cup croquet match  (reminiscent of a scene from Great Gatsby) with neighboring St. John's College, there is something for everyone.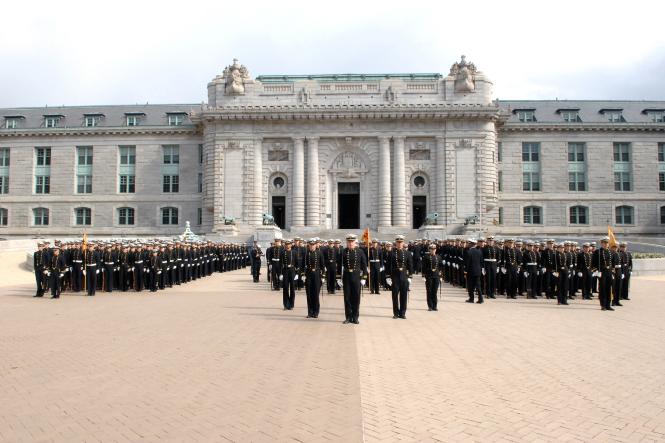 The pomp and circumstance of the United States Naval Academy are genuinely something to behold.  Image courtesy of the United States Naval Academy.

 

Graduation week, known as Commissioning Week, provides tangible energy to the town right before Memorial Day. The week is full of fun events like the Herndon Monument climb, in which plebes, having completed their first year at the academy, work together to ascend a 21-foot-tall lard-greased monument, trying to replace a plebe's hat with an officer's hat on top. It is the epitome of teamwork and perseverance. The Naval air show provided by the Blue Angels is an unofficial holiday in Annapolis, as many residents take the day off to watch the show. Whether watching on land or by sea, the show is not to be missed.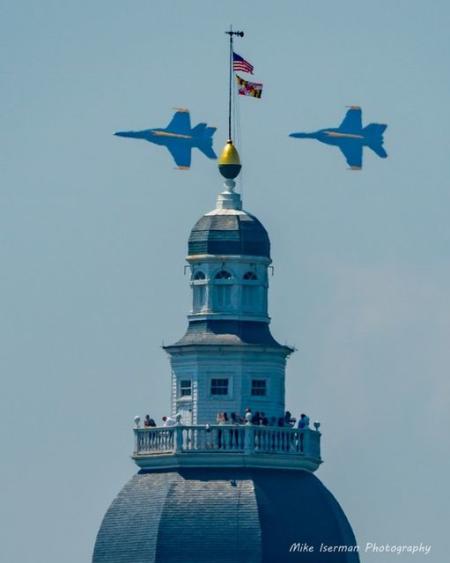 The Blue Angels Air Show is a Commissioning Week highlight!  Image courtesy of Mike Iserman.

 

The USNA is located in downtown Annapolis and is well worth a visit. It is the quintessential heartbeat of Annapolis, as it exemplifies our town's energy and nautical history. Please visit the USNA website for further information on the Naval Academy and campus events.

*Anyone 18+ years old must present a valid form of ID for admission into the USNA.