Parking in Downtown Annapolis
Download and install the TransLoc app from the Play Store or Apple Store 
to make Parking easier in Downtown Annapolis. 
Annapolis Pride Parade & Festival Parking Alert
ANNAPOLIS PRIDE PARADE ROAD CLOSURES: Along the parade route on West and Calvert Streets, there will be rolling road closures. Please follow Annapolis Police direction. In addition, West Street will be closed between Calvert Street and Church Circle for both the parade and the festival, beginning at 12 p.m. until after the conclusion of Inner West Street's Dinner Under the Stars. 
June is recognized worldwide as Lesbian, Gay, Bisexual, Transgender, and Queer Pride Month (LGBTQ+ Pride Month). June 2023 marks the 54th anniversary of the 1969 Stonewall Riots in New York City, an uprising to resist harassment and discrimination against the LGBTQ+ community, which was a pivotal point for the LGBTQ+ rights movement.
PARKING: Recommended parking is at Navy-Marine Corps Memorial Stadium ($10 all day). Enter through Gate 5 at 511 Taylor Avenue. A free shuttle will be provided. Paid parking at City garages will be available, including Park Place, Gotts, and Knighton. 
Attendees can text "PRIDE23" to 38276 to receive information regarding the parade, festival, and shuttle. 
Parking
  Parking & Getting Around Downtown Annapolis
The City of Annapolis manages the parking in downtown Annapolis and has created a 2022-2023 parking and transportation guide as a resource for the latest alerts and parking options. When visiting downtown Annapolis, you'll find various parking options, including garages, parking lots, and metered parking. Shuttle service during peak events and weekends will take you from the Navy-Marine Corps Memorial Stadium to downtown.
For parking downtown in Districts 1 and 2, please visit the ParkMobile FAQ page. Districts 1 and 2 can be found in and around Market St, Main St, West St., and the surrounding areas.
The new Hillman Garage will reopen on June 14, 2023. To celebrate, the city will offer free parking at Hillman from June 14- June 19, 2023. Come play, shop, and dine and see this amazing NEW state-of-the-art facility!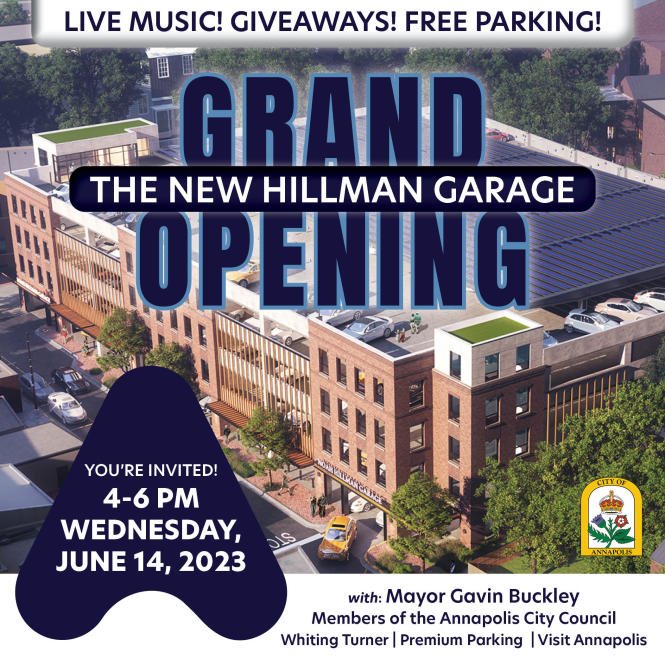 Shuttles & Trolleys
Park at any of the garages in the West Street corridor and utilize the Purple Bus/Shuttles. The free shuttle will get you from the garages along West Street to City Dock. Click here for the shuttle map, and click here for a live tracker of the shuttle's route and location.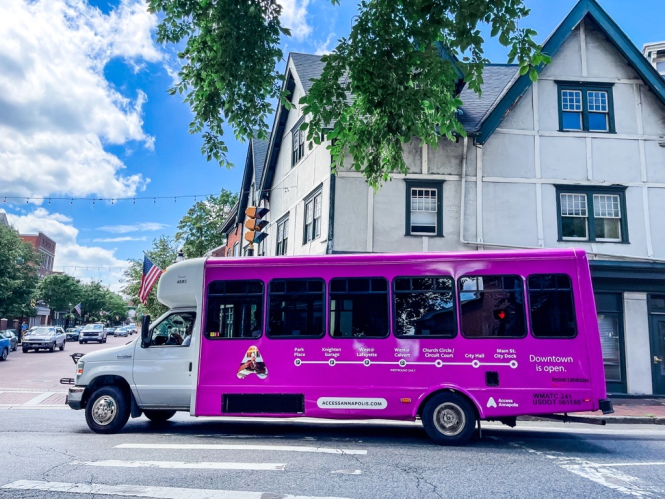 You can't miss Annapolis Go and their FREE purple shuttle cruising around town!  
The easiest way to park in Annapolis is to use one of the city's many parking garages. For a list of garages, scroll to the bottom. You can also download and install the TransLoc app from Google Play & Apple Store.
Parking Meters
Parking meter hours are 10 am - 7:30 pm, seven days a week. Meter rates are $2.00 per hour ($3.00 per hour for City Dock parking) for a maximum of two hours. Vehicles must be moved after two hours of Parking. Re-feeding the meters is not permitted.
Parking In Residential Areas
The time limit in residential parking districts is two hours, and you must move your car when that time has elapsed. No parking is allowed at red curbs. Please do not park at a posted handicapped spot. That space is for the resident of that home and shows a permit number.
Navy-Marine Corps Memorial Stadium (NMCMS) Parking Guide
You can find information for the stadium, satellite, and auxiliary Parking for NMCMS events HERE.
Guests are encouraged to explore alternative parking options at Annapolis Parking. In addition to surface lots and on-street options downtown, garage parking can be found at Gott's Court Garage, Knighton Garage, Park Place Garage, and State Garage.
Parking For Recreational Vehicles And Buses
RVs and Tour Buses parGott'she Navy-Marine Corps Memorial Stadium. $10.00 per day. No overnight parking at the Stadium lot. Please call the Visitors Center, 410-280-0445 for campground suggestions. Parking for cars and single-space vehicles are also allowed to park here for $5.00 per day. Pricing may change for Event days.
Now that you know how to get here, discover itineraries and attractions for planning the perfect getaway!
Things to Do