Black History 365
Black History 365 is a collection of stories, art and events that highlight the history, heritage and contributions of Black Marylanders as well as the history of the people of the African Diaspora in Annapolis & Anne Arundel County. Here, their culture and excellence are celebrated year round through a collaborative initiative across county and state wide organizations, spearheaded by the Banneker-Douglass Museum.
We have curated a list of events, blogs and organizations dedicated to African American History and Heritage. When planning your visit to Annapolis & Anne Arundel County, begin your journey with one of these institutions. The conversation has begun, but it is not yet finished...
To submit your Black History event, exhibition, program or virtual event, click here.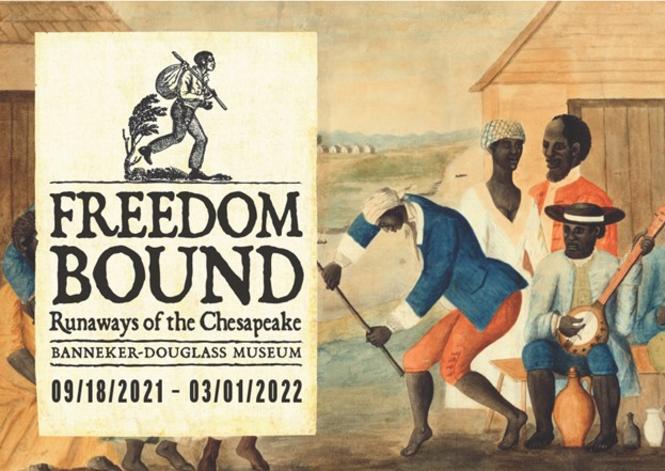 Visit the Banneker-Douglass Museum during Black History Month and view their latest exhibit, Freedom Bound, Runaways of the Chesapeake. Image courtesy of the Banneker-Douglass Museum.

 

The Banneker-Douglass Museum, named for Benjamin Banneker and Frederick Douglass, is dedicated to preserving Maryland's African American heritage and serves as the state's official repository of African American material culture. The museum was dedicated on February 24, 1984. The original museum was housed within the former Mount Moriah African Methodist Episcopal Church in the heart of historic Annapolis. The Victorian-Gothic structure was included in the Annapolis Historic District in 1971 and placed on the National Register of Historic Places in 1973. The recently completed BDM addition is a four-story addition which uses the nineteenth-century brick of the church's north façade as its interior lobby wall.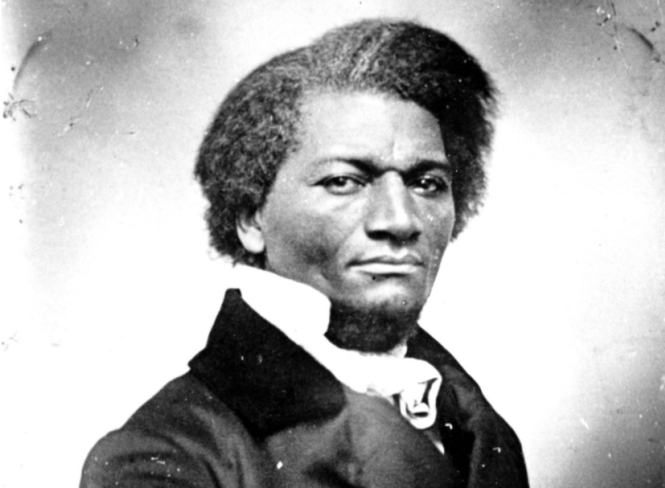 A young Frederick Douglass. Image courtesy of the Banneker-Douglass Museum.

 

The museum's current exhibit, Freedom Bound, Runaways of the Chesapeake tells nine stories of resistance to bondage and servitude in the Chesapeake Region from the Colonial Period to the American Civil War (1728-1864). The Banneker-Douglass Museum invites visitors to consider what resistance and freedom look like in the present day. In addition to the temporary exhibit currently in display, visitors should also visit the museum's permanent exhibit, Deep Roots, Rising Waters: A Celebration of African Americans in Maryland. This exhibition provides an overview of African American history in Maryland from 1633 through present day. Learn how African Americans throughout Maryland made lasting changes for all Americans.

 
Celebrate Black History all year long with Black History 365. Image courtesy of Visit Annapolis & Anne Arundel County.

 

This program seeks to preserve and promote the vast universe of experiences that have shaped the lives of Maryland's African American population. From the day that Mathias de Sousa and Francisco landed in St. Mary's county aboard the Ark and the Dove in 1634, Black Marylanders have made significant contributions to both the state and nation in the political, economic, agricultural, legal, and domestic arenas. Despite what often seemed like insurmountable odds, Marylanders of Color have adapted, evolved, and prevailed.

The Maryland State Archives' Study of the Legacy of Slavery Staff invites researchers to explore all of these elements and more within its numerous source documents, exhibits and interactive online presentations. Download a copy of  A Guide to the History of Slavery in Maryland.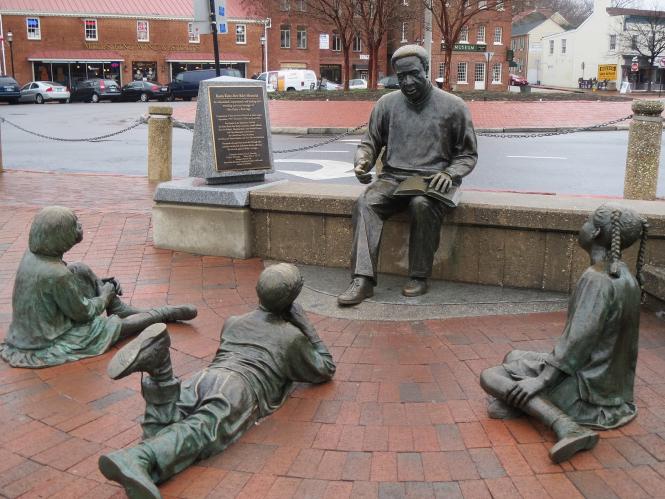 A visit to Annapolis is not complete without a stop at the Alex Haley-Kunta Kinte Memorial along City Dock. Image courtesy of Visit Annapolis & Anne Arundel County.

 

The City of Annapolis will host a series of three speaker events, "The State of Black Annapolis," to coincide with Black History Month. The speaker series will kick off from 6 to 8 p.m. on Tuesday, February 1, 2022 with four speakers walking attendees through Annapolis' "Past" in the areas of Economics, Education, Elections and Entertainment.

Scroll down to our events listings to see the dates, times and locations for this series hosted in conjunction with the Anne Arundel County Public Library System.

On the last Saturday of the month, from 12 to 5 p.m. on February 27, the City will host a Black Wall Street Business Expo at the Pip Moyer Recreation Center, 273 Hilltop Lane in Annapolis to showcase black-owned businesses. For more information, contact Adetola Ajayi. 

 

There are many reasons to visit the Maryland State House in Annapolis, and now there are two more: the new statues of Frederick Douglass & Harriet Tubman. Video courtesy of Visit Annapolis & Anne Arundel County.

 

The government of Anne Arundel County has put together an oral history and tour of the Civil Rights Era.

Relying upon more than 50 oral histories, this virtual tour is a rare opportunity to hear about local history through the eyes, voices, and memories of those who experienced it first-hand. Highlighting local places, residents, and their stories, the project offers accounts of everyday activities during a time of segregation. It documents spaces of leisure and recreation, where people of color could gather and enjoy solidarity and empowerment; places like stores, ballfields, beaches, juke joints, movie theaters, beauty salons, and barber shops. A team of historians, led by Lyndra Marshall (née Pratt) and Dr. John Kille worked with citizens who generously shared their memories of what life was like during segregation, and uncovered compelling stories of injustice, resistance, and sacrifice, as well as perseverance and triumph. The full interviews and transcriptions are accessible by request from the Maryland State Archives.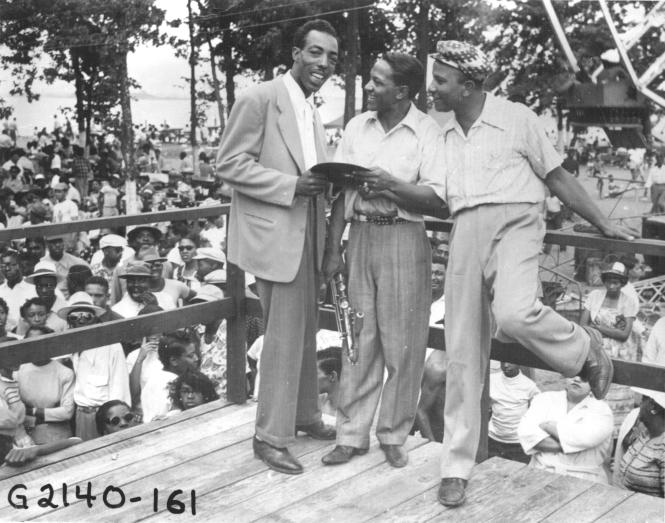 Hoppy Brown stands with two musicians at Carr's Beach. Image credit: MSA SC 2140-1-161 photographed by Thomas R. Baden, Jr., c. 1950s.

 

The Anne Arundel County Library System (AACPL) celebrated its centennial in 2021. Our county's public library system has long been a resource for education and activism in the African American Community through their diverse and inclusive programming. Celebrating Black History Month, AACPL joins forces with the City of Annapolis for the State of Black Annapolis speaker series. In addition to their Black History events, AACPL provides LatinX as well as Indigenous programming throughout the year. For their full calendar of events, click here.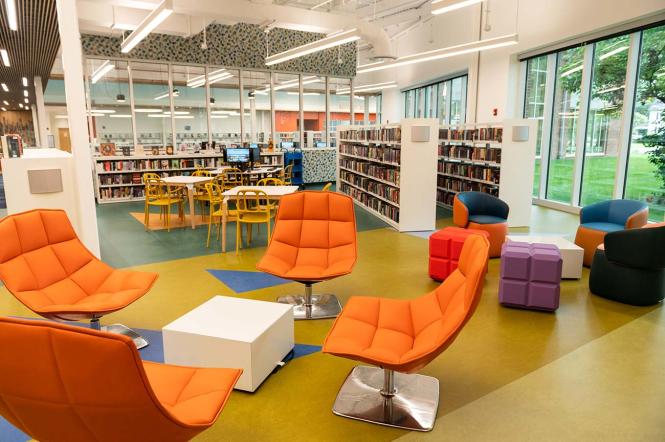 The newly renovated Michael E. Busch Library in Annapolis. Image courtesy of Visit Annapolis & Anne Arundel County.  

Anne Arundel County owes much to the rich heritage, culture, and bravery shown by African-American Marylanders. Their labor was the backbone that built the strong local economy and the beginning of America's early infrastructure. With the support of local partners and associations, Chesapeake Crossroads is dedicated to preserving the attractions, locations, and stories that portray African-American History in the area. The partners of Chesapeake Crossroads offer dozens of attractions ranging from historic landmarks and museums to environmental sanctuaries and guided tours. For a robust guide to African American Heritage Sites, click here.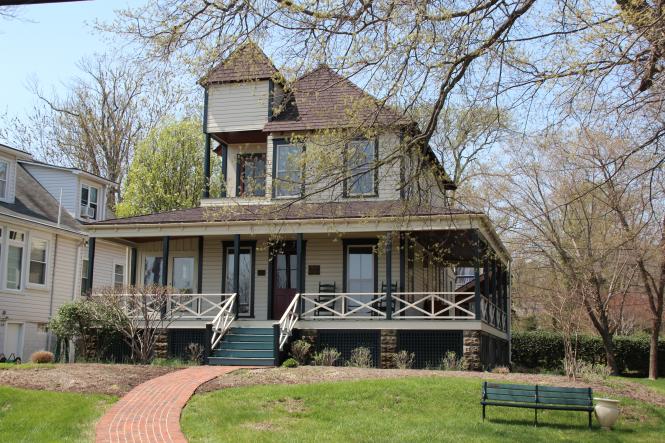 Frederick Douglass Museum and Cultural Center, 'Twin Oaks', is the summer home of Fredrick Douglass which resides in the community of Highland Beach in Anne Arundel County. Image courtesy of Visit Annapolis & Anne Arundel County.

 

Chesapeake Crossroads is also involved in the Chesapeake Crossroads Heritage: Story Project. With MHAA funding, they were able to film oral histories from the volunteers who work at their heritage sites. 

The five videos featured here focus on important African American stories in Annapolis & Anne Arundel County.

Sharyn Martin, on the African-American Meeting House (189:5) at the Herrington Harbour North Historic Village

Pamela Browne of the Wiley H. Bates Legacy Center

Gertrude Makell of the Galesville Community Center

 

The State of Maryland is rolling out a variety of programs throughout 2022 to celebrate the 200th birthday of native daughter, Harriet Tubman, and her outstanding contributions to Maryland and the United States in the fight against slavery. Hailed as the "Moses of Her People," her selfless efforts helped more than 70 enslaved people break the bonds of slavery via flight on the Underground Railroad. To learn more about her journey, travel the All-American Road Harriet Tubman Scenic Byway. You can follow in her famous footsteps (by car) starting at the Banneker-Douglass Museum and winding your way to Dorchester County on Maryland's Eastern Shore. Visit the website or download the guide here. To be a part of the Tubman 200 Bicentennial celebration, click here.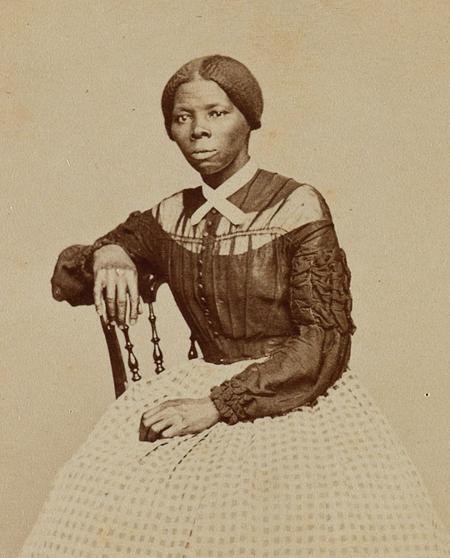 A portrait of Harriet Tubman from the album of Emily Howland. Image courtesy of the Collection of the National Museum of African American History and Culture shared with the Library of Congress.

 

 
African American Heritage Tours
Discover more about African American Heritage & History with a guided walking tour from historic Annapolis to Southern Anne Arundel County.
Annapolis Discovered Blogs
Discover stories of African American Art, Culture, History, Music, Activism and more on our blog site Annapolis Discovered. The city and county are full of murals from local African American Artists, many can be found along the streets of historic downtown Annapolis. Discover the history of Annapolis' first and only Black Mayor, John T. Chambers or walk in the footsteps of African American Watermen in Southern Anne Arundel County. Plan to visit Annapolis during the Kunta-Kinte Heritage Festival or the city's Juneteenth Parade and Festival. No matter your interests, African American Culture and Heritage abound in Annapolis & Anne Arundel County.
Black History, Black Voices
Discover our video archive of Black History, Black Artists, Black Business Owners and more.