In Grano
In Grano. In Latin it means "against the grain" and it is both the name and the driving force behind a fabulous new bistro-bakery in the Annapolis area that opened their doors in December 2020. In Grano's unique approach is self-described as "a rebellion of what the mainstream production of bread has become." In a way it is a nod to the past, a return to what is pure. Therein lies the rebellion, in the return and revival of grain culture, as owners Pericles Lewnes and Adam Pusateri try to "elevate the bread scene" in Annapolis. In Grano mills their own locally sourced grains, and with their unique baking process, they are able to produce bread that is easily digestible, being both good tasting and good for you. Their ingredients and old-world process of baking helps the battle of gluten sensitivities, as their fermentation process breaks down the proteins in the bread, allowing a greater number of people to enjoy the delicious results.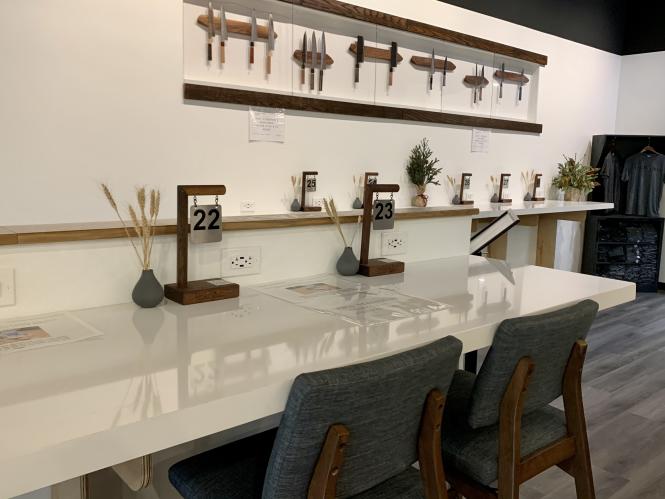 In Grano has a light and modern aesthetic, while also being cozy and welcoming. Image courtesy of the author.
A Celebration of the Senses
The second I open the door to In Grano, I know I am in for a treat. The first of my senses stimulated is my visual sense. The space is simply visually appealing. It has a light and modern aesthetic, while also being cozy and welcoming. One would feel just as comfortable sitting solo with a cup of their artisan coffee and a scone, as they would getting lunch with a group of friends for dine in or carry out. Looking down at the bread and baked goods, it is obvious they have been baked with great skill, care and artistry. Yet, it doesn't stop at the bread. All kinds of culinary delights are already calling to me and, upon glancing at the menu, inevitably the next sense to kick in for me is taste. Yes, I can almost taste it, as dreams of lunch and loaves and other luxuries to satisfy my palate take over. The menu is quite unique and it is obvious that great thought has been given to the pairing of the breads and local ingredients in their diverse breakfast and lunch offerings.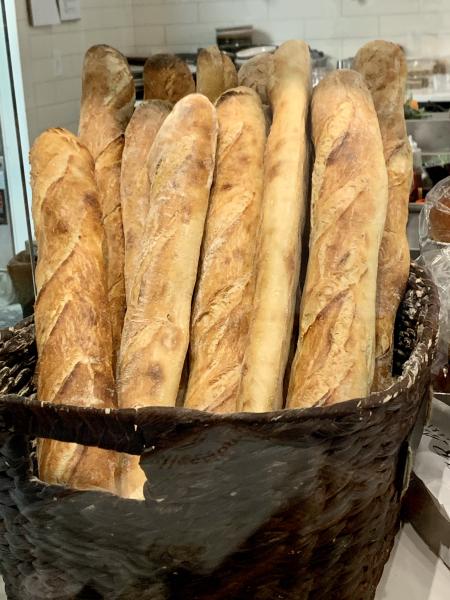 A fresh basket baguettes beckons as you walk through the door. Image courtesy of the author.

 
Delectable Delights
I had previously sampled a wonderful warm baguette from In Grano, which I brought home to my large family, and watched it be delightfully devoured in a matter of minutes. Today, I was back, this time to sample some other items from the menu. It is lunch time on a rainy day and I am in the mood for something hearty and comforting. Although it all sounds so good, I land on the Black Garlic Roast Beef Sandwich. Tell me the name alone doesn't get your mouth watering? May I just say, it did not disappoint. The bread was just divine with a crisp crust and chewy, light center, soaking up the flavors of the sandwich for a beautiful dance on the taste buds. The meat quite literally melted in my mouth. The pairing of the flavorful expresso-truffle aioli and the unique jicama slaw, with pops of pomegranate and pistachio, made for a sandwich which was, well, just beyond. The meal arrived with potato chips, which at some places may not be a feature but, again, here at In Grano warranted attention and celebration.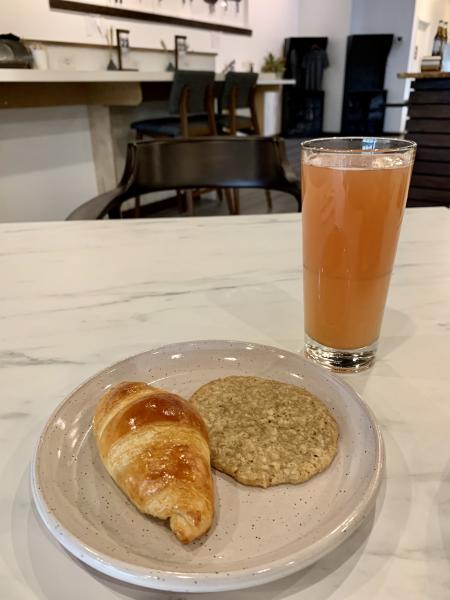 Quite possibly the best croissant I've ever had! Image courtesy of the author.

 

Now I couldn't stop there. I next had a croissant that, dare I say, (and I do find myself to be a bit of a connoisseur in the croissant category), might possibly be the best croissant I have ever had. It had a honey-like glaze with perfect subtle sweetness and crispiness on the outside, and light and airy layers of baked goodness on the inside. Pure pastry perfection! I savored every morsel. Next, I just had to sample one more sweet treat, I mean, when in Rome!  The oatmeal cookie. You must try it for yourself as I don't think words will do it justice, but I assure you, it is everything you might hope a cookie to be. In Grano also offers an incredible watermelon Kombucha on tap, with double the probiotic benefits of regular Kombucha, which was the perfect beverage to wet my whistle during this amazing lunch and is another must-try.

 
Behind the Bread
Co-owners Adam Pusateri & Pericles Lewnes both have an immense passion for baking and for creating an elevated food experience for their Annapolis community. They both grew up in Annapolis and call it home so starting something here was always a goal.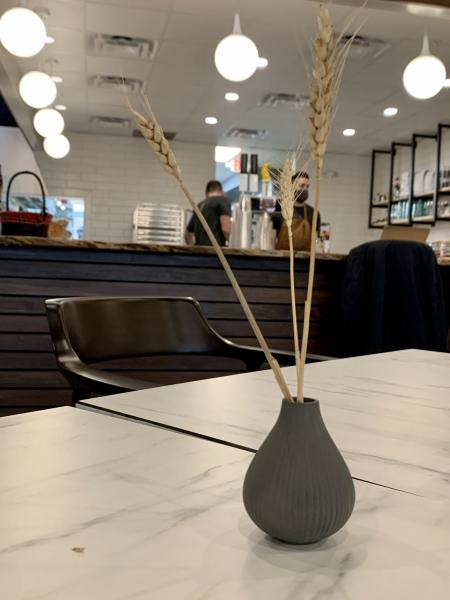 Decorative vases of wheat add to the decor of In Grano. Image courtesy of the author.
Adam went to the Culinary Institute of America and began a high-end catering business in Las Vegas. He puts great emphasis on sourcing sustainably, supporting local farmers, and pairing unique ingredients to create an unforgettable experience.
Pericles began his career in film, becoming a successful director and editor. He grew up in the restaurant industry, surrounded by family that shared in creating and cooking for others. Baking has always been a passion of his and is reflected in his incredible generational recipes and creative approach to refreshing the classics.
Q & A with Adam Pusateri, co-owner and chef
RG: I love the meaning conceptually behind your name, In Grano, meaning "against the grain." How do you incorporate this into your unique approach, as described on your website as "a rebellion of what the mainstream production of bread has become"?
AP: In Grano is trying to revive old school bread methods that have become 'unique' and make it the standard. Good bread takes time, effort, and care. Our breads are made fresh daily, never with synthetic or processed ingredients, and are shaped and baked by our skilled team.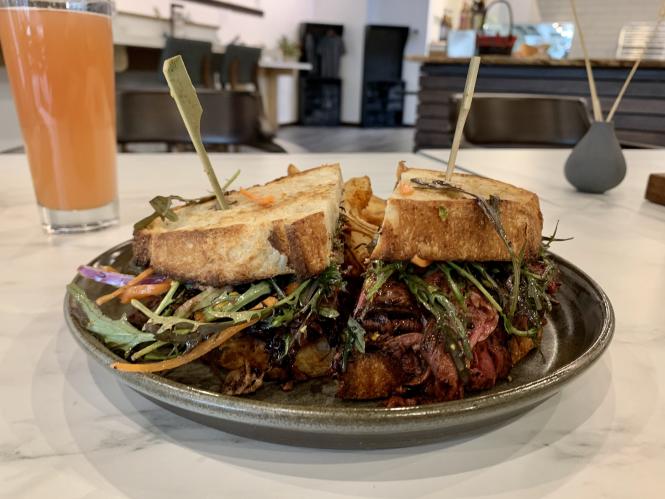 Watermelon kombucha and Black Garlic Beef Sandwich on fresh bread! Image courtesy of the author.

 

RG: Can you tell me about your baking process,  the inspiration for your menu, and how you bring the two together?

 

AP: The team arrives very early and begins the bake for the day. While we have our fixed menu items, we leave room during the day for curiosity and exploration. Customers can expect to see new things pop up from time to time, and it's all a reflection of what the baker was inspired by! The menu took time to craft, and it is inspired by local ingredients, modern and old-school methods, travel, our families, and elevated classics. We aim to constantly evolve, challenge ourselves, challenge our knowledge, and bring something brand-new. 

 

RG: I was glad to see you have been so busy. Did the pandemic impact your business in any way and, if so, how have you handled any challenges from this?

 

AP: The pandemic came as a surprise to everyone, and while our construction was delayed and our plans had to be adjusted, we have been so grateful for the community and support. 

We've ensured a safe space by using the Hyrdoxylator air and surface purifier, we are using EPA-certified cleaners, and the health of our employees and community comes first.

There have been lots of adjustments, but we feel very hopeful.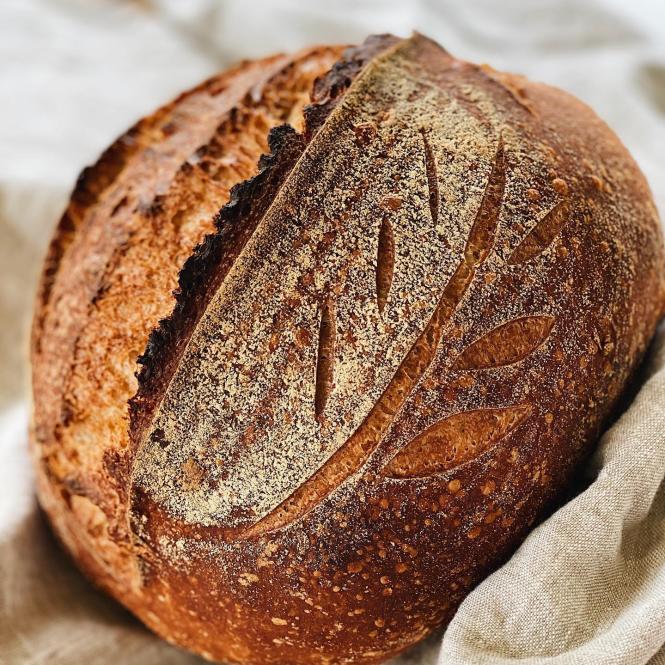 A fresh sourdough loaf of bread from In Grano is not only delicious, but full of prebiotics! Image courtesy of In Grano.

 

RG: I am a huge bread lover but, it is no secret, we are living in a bit of a carb-conscious world. I see on your website you will be blogging about topics such as gluten allergies, celiac disease, and the positive impacts of sourdough on gut health. Is there anything you would like to briefly touch upon here regarding these topics?

 

AP: There's a lot of misconceptions about bread and carbs. Sourdough bread is rich in prebiotics, helping your gut health, and providing a bloat-free digestion experience. If you notice bread gives you issues but you don't have celiac disease, we suggest you try our 36-hour sourdough loaf to start. Much of the gluten is digested in the fermentation process, meaning that when it hits your stomach, your digestive tract doesn't have as much of the work as it would with store-bought bread.
R: Is there anything else you would like our readers to know about In Grano?
AP: We would encourage everyone to try something out of their comfort zone and ask questions about the menu! We hope to create an experience for every customer to go outside their usual breakfast or lunch order and land on a new favorite!
Too Good Not to Share
You know a restaurant is good when you immediately feel the need to share the news of your "discovery" after you eat there. After lunch, before I even left the parking lot, I sent a message to my dad and my brother, both working a couple of streets over, that In Grano must be their new lunch landing spot. I called my husband to rave about it and figure out when we can have a lunch date, so I can share it with him, and selfishly have an excuse to get back in for my next meal in the very near future, not that I need an excuse.  I will be back.  I promise you, In Grano, this amazing addition to the Annapolis area, with its decadent and delicious offerings, will be sure to delight anyone who walks in the door and will have you coming back too, time and time again.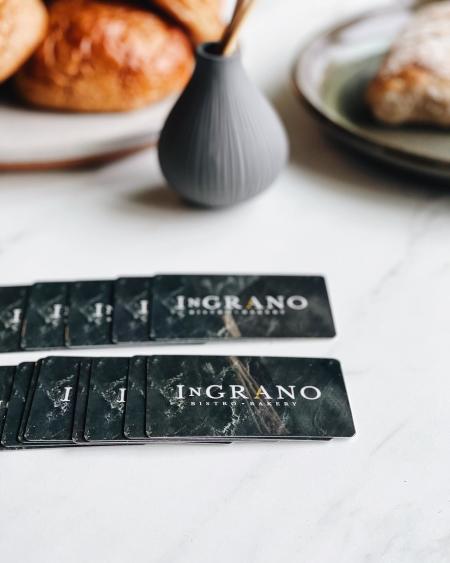 In Grano, located just off of Riva Rd at 302 S. Harry Truman Parkway, is open seven days a week, 8 am- 4 pm. www.ingranobakery.com