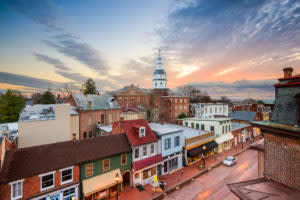 Annapolis, Maryland, USA downtown view over Main Street with the State House. Photos courtesy of Watermark, Explore the Heart of Annapolis and TripAdvisor.
Nothing says Summer in Annapolis like going outdoors and taking in its historical charm or spending time by the beautiful waters of the Chesapeake Bay. We 're all looking for exciting new ways to have fun and stay safe, and a tour around Old Annapolis Towne can be a great way to do both! When we think of tours, we often think of big groups and crowds. However, many tour companies in Annapolis have modified how they give walking, riding, and sailing tours to provide engaging private and social distance-friendly experiences.
If you're like me and you love to be near the water, then a Watermark Tour is where you need to be. Watermark features eight cruise options throughout Annapolis and the immediate Chesapeake Bay area like a cruise to Thomas Point Lighthouse or up the Scenic Severn River.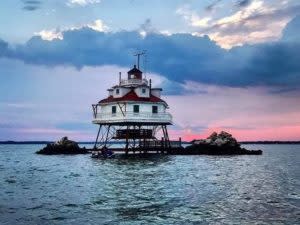 Thomas Point Lighthouse is just one of the spots you'll visit on a Watermark Scenic Boat Tour. Photos courtesy of Watermark, Explore the Heart of Annapolis and TripAdvisor.
To keep you and their staff safe, Watermark has implemented many safety measures. The staff on each cruise is always required to wear a mask and frequently used surfaces are sanitized regularly. Passenger counts for all cruise vessels will be limited to make social distancing possible. Passengers are also required to wear a mask anytime they are not seated with their household or group. For a complete list of safety measures, visit the Watermark website.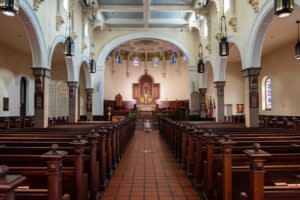 Interior photo of the Naval Academy Chapel. Photos courtesy of Watermark, Explore the Heart of Annapolis, and TripAdvisor.
You haven't seen United States history like you can on an Explore the Heart of Annapolis tour. While aboard an all-electric, 5-passenger eCruiser, your local tour guide will take you where no bus can through the narrow and colorful streets of Historic Annapolis.
Did you know that Annapolis played a critical role in the establishment of the United States? In less than two hours, you'll get to experience the most hidden nooks and crannies of Annapolis while being submerged in colonial history.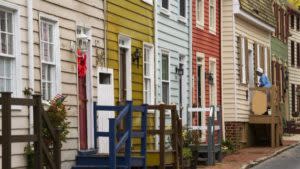 Colorful Row houses in the Historic District of Annapolis, MD. Photos courtesy of Watermark, Explore the Heart of Annapolis Tours and Trip Advisor.
On the Explore the Heart of Annapolis tour, you can also see the original homes of four of the Declaration of Independence signers and maybe sense a bit of the freedom and nationalism the United States was founded upon. One of my favorite places in Annapolis is Ego Alley at City Dock. It 's the perfect place to view an impressive array of local boats and a great spot to snap some photos
In the mood to explore Historic Annapolis and maintain your fitness goals? Book a walking tour with Colonial Tours of Annapolis.
On this tour, you will be guided through historic Annapolis by a well-informed and entertaining guide. For the full colonial Annapolis experience, your tour guide will be dressed in period-appropriate attire.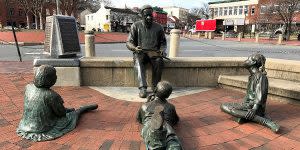 Alex Haley Memorial at City Dock is just one stop along the way with Colonial Tours of Annapolis. Photo courtesy of the Visit Annapolis photo archives.
Along the way, you'll visit famous and historic sites such as St. Anne's Church, William Paca House, Middleton's Tavern, City Dock, Alex Haley Memorial, and much more. Due to Covid-19, some sites on the Colonial Tour route like The State House and Hammond Harwood House are closed to the public.
If you are still adding fun activities to your family's calendar for the Summer, book a tour with one of Annapolis' premier tour companies and stay safe and socially distant while experiencing all of the Annapolis charm.