As one of the most memorable quotes from one of the most memorable movies shot in Maryland, Wedding Crashers, put it, "Crab cakes and football, that's what Maryland does!"
While the former declaration is true, yet always accompanied by the much-debated question of what restaurant does them best, and the latter is far more questionable, one thing's for certain: Maryland does crabs – specifically Chesapeake Bay blue crabs – well.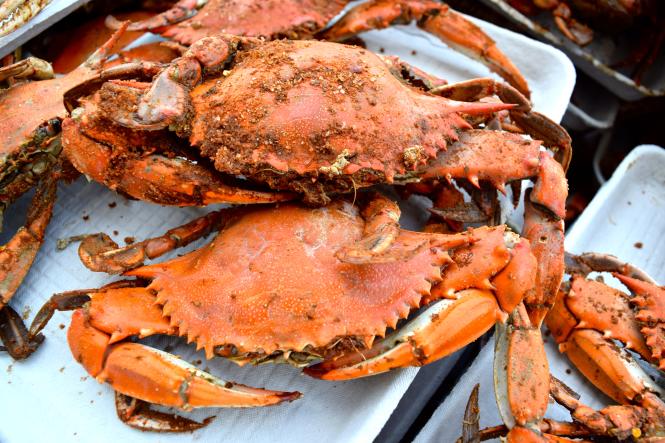 Crabs are a Maryland tradition. Image courtesy of Annapolis Discovered.

 

Indeed, the Chesapeake Bay is known nationally and even globally for the sweet-tasting crustacean, and there are dozens of restaurants and crab houses throughout Bay Country where you can sit down and enjoy them.

 

But to take things up a notch, few culinary experiences compare to hosting or partaking in a full-fledged crab feast: getting together with a group of friends or family at your own table, ideally with a body of water within view, and spending a few hours picking (hammering and cracking and eating) some Old Bay-coated blue crabs, gnawing on some fresh steamed Eastern Shore corn, and drinking some cold beers.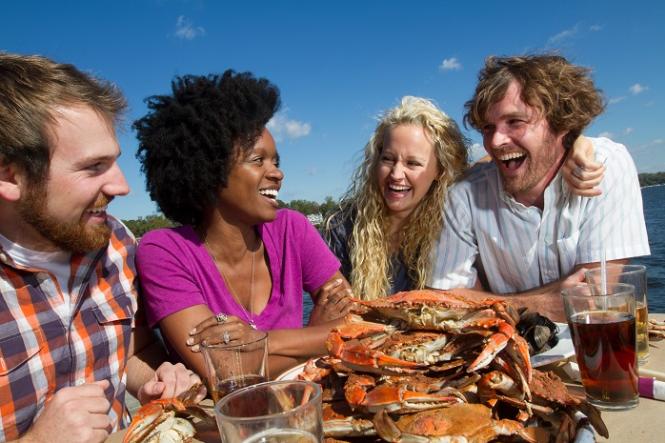 Gather your friends for a backyard crabfeast! Image courtesy of Annapolis Discovered.

 

It's a quintessential summertime tradition in Maryland, with churches and clubs and other organizations hosing all-you-can-eat crab feast fundraisers throughout the season – including, most notably, the world's largest crab feast, hosted by the Annapolis Rotary Club, each August.

 

But as luck would have it, Annapolis and Anne Arundel County have plenty of places to choose from where you can get the high-quality local crabs that are the center of any good crab feast.

 

Here are four favorites, plus three more options in case they're sold out – speaking of, placing your order at least 24 hours ahead of time is strongly encouraged!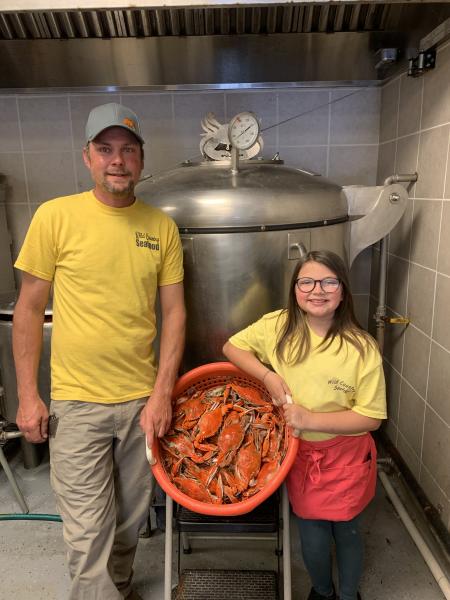 Wild Country Seafood's Pat Mahoney and his daughter Riley- a true family affair! Image courtesy of Wild Country Seafood.

 

If you want to buy your crabs from "Annapolis's Last Waterman," Wild Country is the place to go. Located in the heart of Maritime Eastport, across from the Annapolis Maritime Museum, the no-frills seafood store sells the crabs, fish, and oysters that owner Patrick Mahoney and his family catch from his boat each morning. This means that Wild Country crabs are not only as fresh and local as possible, caught within ten miles or less of the store, but also affordable, with Mahoney keeping prices about 20% cheaper than other retailers. "We're the best place to get a true taste of the Bay's crabs because we catch them on the same day you're buying them," explains Mahoney. To make sure you get as many bushels as you want, steamed to order, he also suggests calling in your order a day ahead of time.

 

Address: 124 Bay Shore Ave., Annapolis MD 21402

Hours: W-Th, 3-7; Fri, 11-7; Sat, 11-6; Sun, 11-4

Contact: 410-267-6711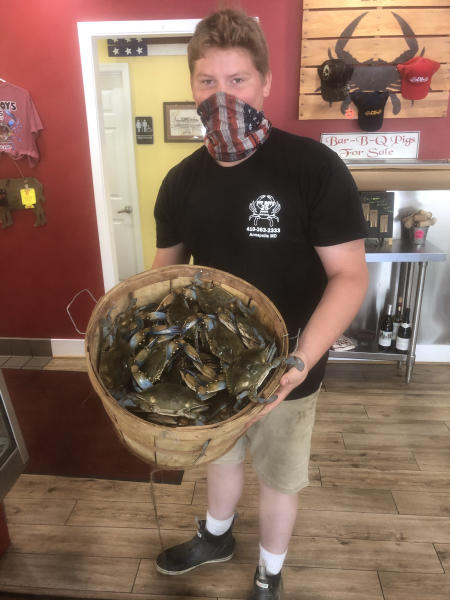 Pit Boys Seafood Manager, Charlie George. Image courtesy of the author.

 

While best known for its barbecue, Pit Boys aims to also offer the highest-quality crabs. The business is certified "True Blue," meaning that it buys and sells Maryland seafood as much as possible, and seafood manager Charlie George attests that all of its crabs are not only local in the summer months but also sized and priced "to give our customers good bang for their buck." His father, owner David George, says that Pit Boys' crabs are also as fresh as possible since they're purchased on a daily basis and steamed to order. Whether you're ordering one bushel or 20, the Georges advise calling a day before pickup and, to complete your feast, remembering that they also offer crab mallets, table paper, spice, corn, and even Old Bay chips.  

 

Address: 1515 Forest Drive, Annapolis MD 21403

Hours: Sun-Th, 11-8; Fri-Sat, 11-9

Contact: 410-263-2333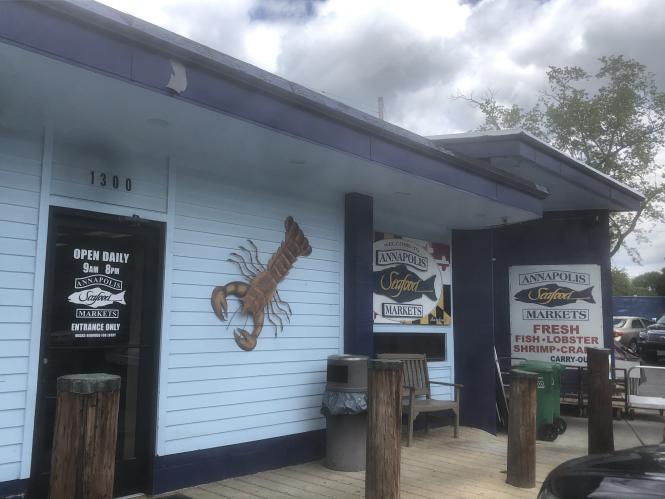 Annapolis Seafood Markets. Image courtesy of the author.

 

Founded in 1978, Annapolis Seafood believes that "every fish (and shrimp and crab) has a tale" and aims to purchase and sell the freshest catch possible every day. It offers crabs by the bushel from May through October, at always-fluctuating market prices, and seafood specialist Jim Barnard says customers can count on them coming from the Chesapeake Bay exclusively in June, September, and October. He recommends calling 24 hours ahead of time for large orders, though a couple hours' notice should suffice for a bushel or two. "Crab feasts are about good friends, cold beer, and great crabs," says Barnard. "And we know crabs!"   

 

Address: 1300 Forest Drive, Annapolis MD 21403

Hours: 9-8 Daily

Contact: 410-269-5380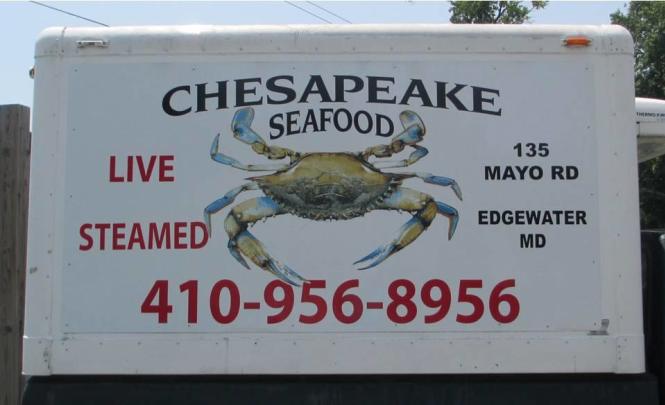 Chesapeake Seafood is located south of the South River. Image courtesy of the author.

 

Considered by many to have the best seafood South of the South River, Chesapeake Seafood also promises to serve "the most delicious crabs available." The locally owned and operated business has been offering fresh, steamed-to-order crabs for carryout for two decades, first out of a truck trailer and now out of a storefront. And if you know you're going to have some picky pickers at your feast, Chesapeake Seafood offers snow crab legs and king crab legs too!

 

Address: 135 Mayo Road, Edgewater MD 21037

Hours: 11-7 Daily

Contact: 410-956-8956

 
Address: 1651 MD-3, Crofton MD 21114
Hours: Sun-Th, 11-10, Fri-Sat, 11-11
Contact: 410-721-5252
Address: 403 Ritchie Highway, Severna Park MD 21146
Hours: 11-7 Daily
Contact: 410-544-0780
Address: 2905 Mountain Road, Pasadena MD 21122
Hours: M-Th, 11-8; Fri, 10:30-9; Sat, 10-9; Sun, 10-8
Contact: 410-437-2155