Tom & Trudy Stalder flank artist Rhonda Ford as she poses with her winning 2020 EYC Lights Parade poster. Image courtesy of Trudy Stalder.
 
The EYC Lights Parade has been canceled this year due to COVID but that doesn't mean we can't look back at the storied history of the parade and share a toast of egg nog to one of our city's favorite traditions.
Tom Stalder and the EYC
Like the best traditions, this one started over drinks by a group of Eastport sailors. Tom Stalder, who co-chairs this year's Parade with his wife Trudy Miller Stalder, shared the story with me on a recent call.
As he tells it, back in 1980, when Eastport Yacht Club (EYC) first started, it was based in a fourth-floor room with a tiny bar in the complex in what is now Annapolis City Marina. Some of the earliest members lived on their boats in that marina, and used the club as their living room, especially once the weather got cooler. Feeling the spirit (pun intended) one December night, a few of them took to their boats and tooled around the harbor, singing Christmas carols. "That was the beginning," says Stalder.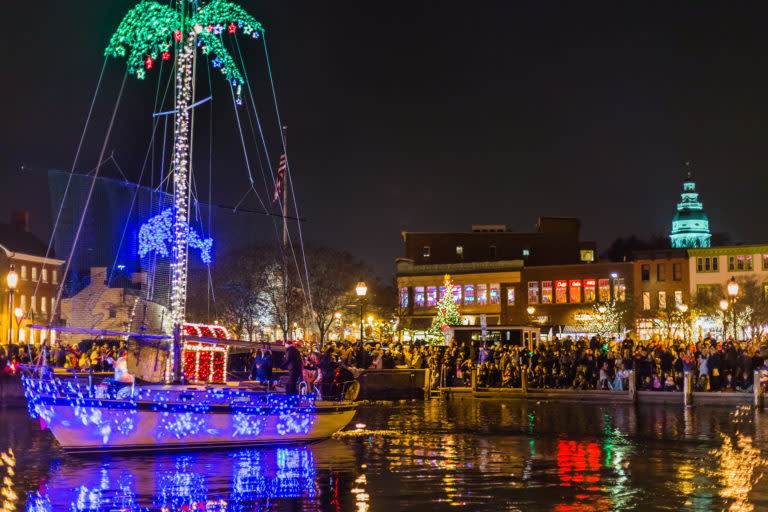 The EYC Lights Parade is a true Annapolis holiday tradition. Image courtesy of Visit Annapolis, and Bob Peterson Photography.
A Brief History
Those first few had so much fun, they decided to invite more folks to join in next year, and so it grew. "By 1986, the club was evolving and some new members said, 'Gee whiz, we really need to make this official,'" continues Stalder. "So they invited other boats, and probably somewhere around 15-20 boats formed a little parade and they went around the harbor. And then they said, 'Well, gee whiz, we've entertained Annapolis; now we need to go entertain the people up Spa Creek.' So they took their little fleet through the bridge, and they turned around and came back. And by the time the last boat was through the bridge, the first boat was back to the bridge, so the bridge didn't close for about an hour, maybe an hour and half. You know how that goes…"
What was fun for the sailors caused a traffic mess, which is when the City of Annapolis got involved, helping EYC figure out how to hold the parade without shutting down the state capital. As a result, the coterie of boats now gets broken into fleets. One circles Ego Alley and downtown, the other goes up Spa Creek, and then at the appointed hour, the bridge opens and the fleets swap places. "We now have it down to an art where the bridge is only open maybe 15 or 20 minutes," says Stalder. The official EYC Lights Parade was born.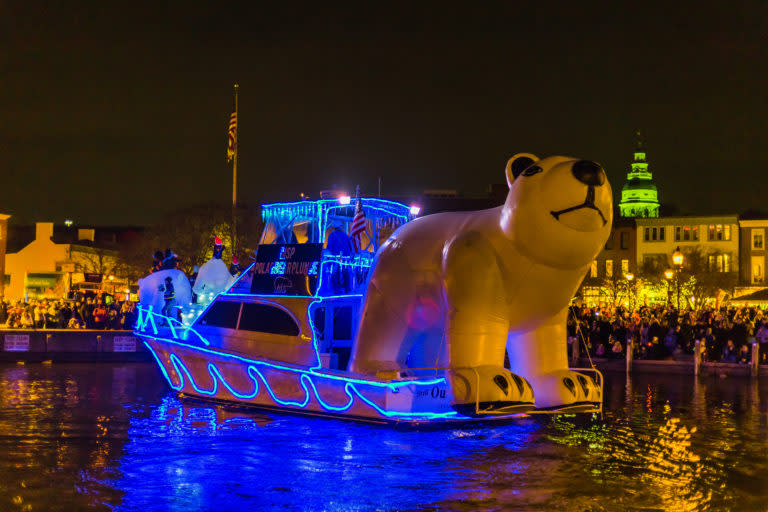 Eastport Yacht Club Lights Parade circa 2014. Courtesy of Visit Annapolis and Bob Peterson Photography.
 
Annapolis Holiday Tradition
The parade is a highlight of the holiday season, with shiny, decked-out boats of all shapes and sizes circling the harbor, flashing lights and blasting holiday music. It's a great excuse for parties, be it at water-view restaurants like Carroll's Creek, private spots like Annapolis Yacht Club and the Fleet Reserve, or for the troupes who gather outside at City Dock or at my favorite spot, Spa Creek Bridge, where you can catch both fleets at the same time. Alas, this penchant for parties is likely why the parade has been canceled for 2020. Much to the dismay of Stalder and his team, who have been working on it for the past year. But all that work just means they'll be ahead of the game when it returns in 2021.
The EYC Lights Parade hits its peak in 1988, when 65 registered boats means they had to break into three fleets. In recent years, it's been smaller. "We struggle to hit 40 boats," says Stalder. He chalks part of that up to decoration intimidation. "Back in the late '80s there were two boats turned their 45-foot sloops into square riggers. The amount of work that goes into that—it literally lasts a year. After the parade, everyone gets together at the Yacht Club and gets their bar naps out and they start designing improvements for next year. Good news/bad news is, they probably intimidated new people in coming out."
It doesn't have to be over the top to make an impact.  One of my favorite holiday memories is of "The Flasher"—a sailboat docked by the bridge with a cheeky flasher who would open his raincoat and show a tree. The owner has sadly since passed, but the decorations are still around, says Stalder, so hopefully that will be reborn one day.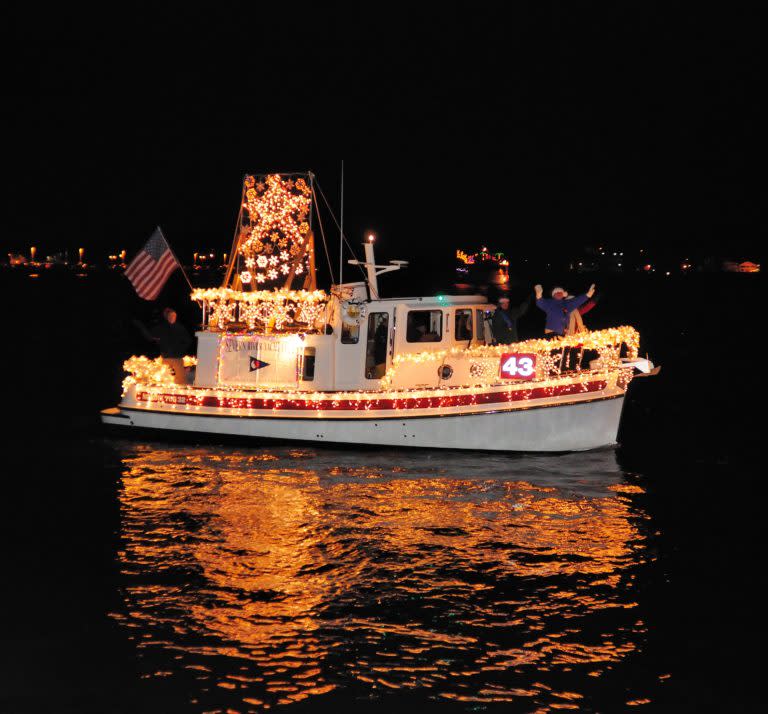 The EYC Lights Parade. A lot of work goes into these boats for the popular parade. Image courtesy of Visit Annapolis, Bob Peterson Photography.
Winning isn't everything…
In 2019, winning entrants included a powerboat dressed up like the Griswold family station wagon, a sailboat with an abominable snowman waving hello, and a team of reindeer pulling a dinghy Santa and sleigh. There are a slew of categories judged by an ever-changing array of folks—from sponsors to city officials—but this is really a case where just joining the fun is prize enough. Nor does size matter. "There are some very creative small center consoles now that get in the parade, and the kids, they just have a blast," says Stalder.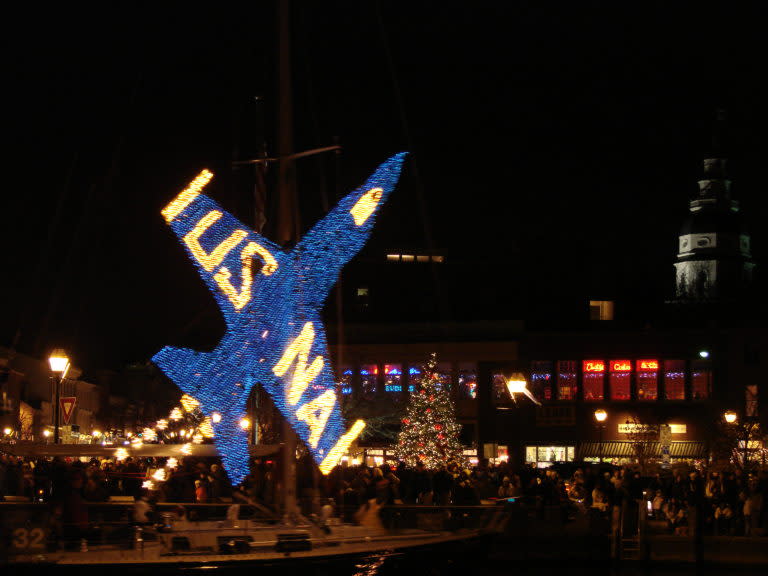 Designs really can go over the top, but that's what makes the EYC lights parade so much fun. Image courtesy of Visit Annapolis and Bob Peterson Photography.
 
There's no entry fee to join. The only requirement is that you register on the EYC website, and attend the skippers' meeting held the Thursday before the parade. When it comes to décor, you don't have to be big or flashy. "My famous quote is, it's not about the decoration, it's about the camaraderie of being there with your friends, on the water, in the winter, in the snow, in the cold, and having a good time."
There might not be a parade this year, but you can head down to Eastport Yacht Club to purchase the 2020 Lights Parade poster, with winning artwork by Maryland artist Rhonda Ford. Here's hoping it will inspire some ideas for great entries next year. See you in December 2021, everyone!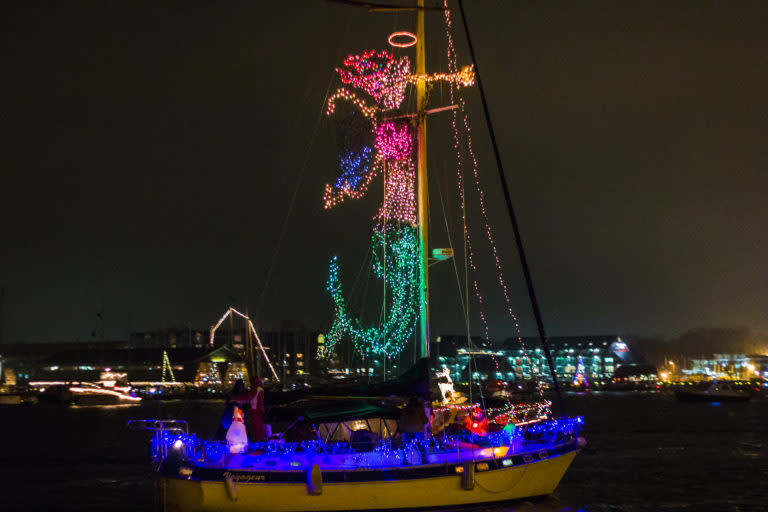 The EYC Lights Parade would have been 40 years old this December. Image courtesy of Visit Annapolis and Bob Peterson Photography.
(All photos used of EYC Lights Parade are from years past, courtesy of Visit Annapolis and Bob Peterson Photography)