There is no shortage of news stories gripping the world right now about the unprecedented COVID-19 illness that is wreaking havoc globally. In these countless articles, writers who are far more qualified than I will inform you about the biology, the data, the economics, and the cultural impact of this moment. I can't speak to any of that, but I will tell you the one thing I know for sure: Annapolis has grit.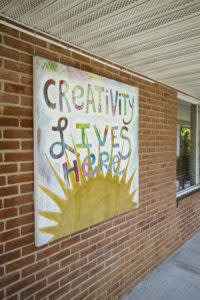 West Annapolis Streetscape. Photo courtesy of VAAAC.
The true natural beauty of Annapolis has debuted at a time when we need it most. Many people are breaking up the monotony of at-home quarantine practices by taking nature walks, enjoying scenes of magnolia trees and cherry blossoms in full bloom, and daffodils and crocuses sprouting up from the earth. Blue birds are singing while building nests to lay their eggs.
But for the artists, musicians, and restaurateurs who give the city its distinct character, their passions are not on hold. Creatives must create. In times of great uncertainty, these small businesses have come up with innovative ways to share their talents, despite the distance.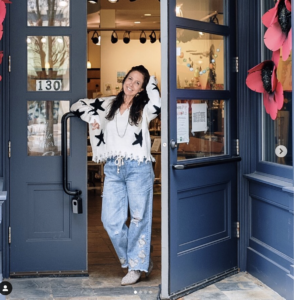 Here. a Pop-Up Shop. Photo courtesy of the author.
Something to Inspire Many art businesses are serving their customers virtually. Here a Pop-Up Shop is ready to go at Annapolis Town Center, but until they open their doors for a happy, healthy shopping experience, El is highlighting featured artists online through the HERE website and instagram.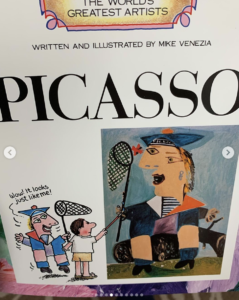 Books for sale from Art Things online. Photo courtesy of the author.
If your little Picasso's at home are getting stir-crazy (which in turn, is making you crazy) consider an art project kit or drawing how-to books from Art Things, delivered curb-side or shipped to your door by owner, Skye.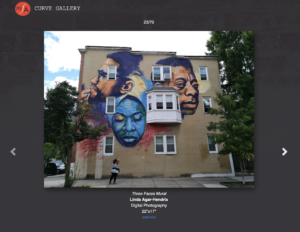 Maryland Federation of Art. Photo courtesy of the author.
Maryland Federation of Art is making their exhibits, including annual favorite Art on Paper, available online, and will feature videos of the included artists providing insights into their work. Works can be purchased online– how many art receptions have you browsed in your pj's before?! (Without a few weird glances, at least.) 100% of the sales will go to the artists, MFA is currently waiving their commission fee to help the arts community. ArtFarm studios, known for their hip and inventive art classes and special events, are working swiftly to reschedule events to give us all something to look forward to, and to provide new online formats for their workshops for the time being. Finally kids can be on their phone in class!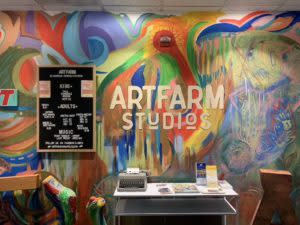 ArtFarm Studios. Photo courtesy of VAAAC.
Maryland Hall, the cornerstone performing and visual arts institution of the Annapolis Arts District, has posted stellar interviews with local artists from their media archive, so you can brush up on the local art scene before your next visit. Good to know if you're planning on joining us for Arts Week! Both Maryland Hall and Nancy Hammond Editions are utilizing gift card buying to support their neighboring businesses. Maryland Hall is accepting donations for their Annual Arts Alive in the form of local business gift cards, and Nancy Hammond Editions is doing giveaway contests on the gallery's facebook page to treat their customers and support their local favorites like Lighthouse Bistro and Fado Irish Pub.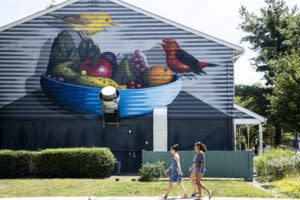 West Annapolis Streetscapes. Photo courtesy of VAAAC.
Good Eats People gather around food, and our city's restaurants provide some of the best atmosphere for locals and visitors alike to enjoy a good meal, a cocktail, and conversation. While dine-in seating is unavailable, foodies can get their fix from carry-out service and keeping a watch on sweet gift card deals on social media. Currently there is a SUPER COOL interactive map HERE showing which restaurants have carry-out and curbside pick up available, 'cause who wants to go to the grocery store right now??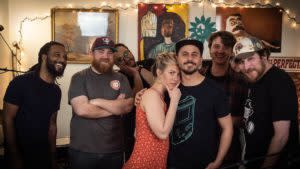 Woodtree House performers. Photo courtesy of the author.
Music to our ears My favorite silver-lining however, has been enjoying Annapolis's vibrant music scene online. Admittedly, I am not always out on the town late enough to catch my favorite performers, but I am happily enjoying the facebook live events of Jimi Haha's 2020 Quarantour and Skribe and Shawn Shakya's Live from the Woodtree House performance. All of Naptown's favorite regulars can be seen (at any time of day!), including Black Rhinoceros, Ruben Dobbs of Swampcandy, Mixed Business, and Alexander Peters (to name a few) on their respective facebook pages. Pressing Strings has released their aptly named new album "Settle In" to give us an upbeat soundtrack to spring. Part of the proceeds of this album go to Annapolis Musicians Fund for Musicians (AMFM), an organization being backed by all the artists mentioned above. Their mission is always to provide a financial cushion for dedicated musicians who may fall on hardships for any number of reasons, and are needed now more than ever in the community. To quote Brian from the latest living room Mixed Business concert:
"What are you going to do? We gotta play music, we gotta continue on."
Continue on we will. Whether your next visit to Annapolis is next month or six months from now, I have faith these lovely folks will be ready to share with you a painting, serve you a drink, and play you a song.
Until then, let us bring Annapolis to you.