As people began staying home last year, my Instagram feed became filled with people learning how to make bread from scratch. Like stir-crazy frontier folk, we seemed to meet the moment with a collective "goodbye gluten-free, hello sourdough!" I myself contemplated jumping in, but luckily Steven O'Leary perfected the craft of crust long before I had to stumble through it. Now with a morning wake up call and a worthwhile wait in line, I can get my bread, coffee, and pastry fix for the week from Black Market Bakers!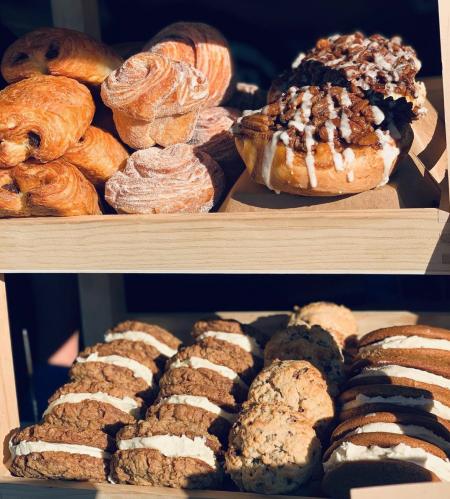 Their offerings change weekly so it's best to arrive early for the best selection! Image courtesy of Black Market Bakers.

 

If genetics play any role in one's ability to cook, the genes run strong within the O'Leary family. The patriarch Tom and his wife Jeanie help their son Brendan operate the popular Chevy's Fresh Mex Annapolis and Arundel Mills restaurants. When not at Chevy's, Tom can be found cooking with his son Steven at their gourmet catering business O'Leary Catering. As all of our favorite restaurants tried to navigate the uncertainty of the pandemic, Chevys rode the wave of closures, limited reopening, and new protocols as gracefully as any restaurant owners could. With event planners postponing events indefinitely, O'Leary Catering too was put on hold. 

 
Black Market is Born
But out of misfortune comes innovation, and Steven's bread-making curiosity quickly made him the breakout star of this year's foodie scene. Steve's mom Jeanie, an interior designer with a decent-sized contact list, started taking orders via text and delivering bread to friends and neighbors. (Go mom!) Word quickly got around and by the end of Summer 2020, Black Market Bakers became official with its bright blue kitchen trailer that serves as the weekend pop-up bakery in the Chevy's Annapolis parking lot.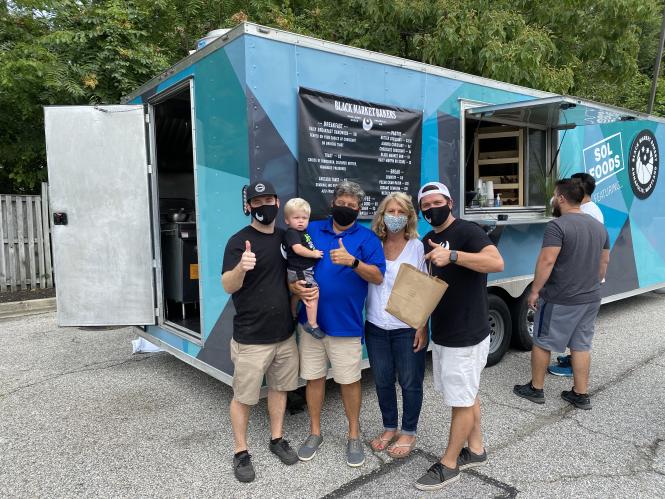 It's a family affair! (L-R) Steven, Tom holding one of his grandsons, Jeanie, and Brendan. Image curtesy of the author.

 

"Our busiest weekend yet!" is a record that seems constantly broken by the number of patrons that line up dutifully week after week, and bring a friend or post pics of their goodies online to spread the word. The past few weekends, the temperature has been dropping and the fanbase is only growing. I see Instagram stories from excited foodies showcasing their perspective in line with tags of "32º F", people with umbrellas in hand, and the sun barely coming up. If the old saying is true "there's no such thing as bad weather, only bad clothes" then this crew comes prepared! Nothing can stop these people, and once you try for yourself you will understand completely.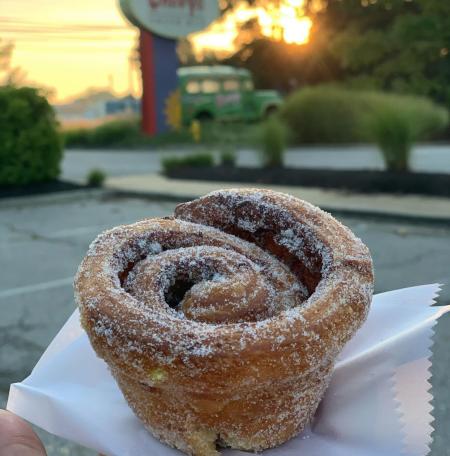 Rain or shine, Black Market Bakers serves their amazing baked goods in the parking lot of Chevy's Fresh Mex every weekend. Image courtesy of Black Market Bakers.  
Dedicated to their Craft
Things were not so easy out of the gate though, and if it weren't for their dedication and tenacity as a family unit, Black Market Bakers may have never opened up shop. While Steve reflected on their journey so far, he was humble and awestruck by the community's embrace of their business, but chuckled while recalling their opening weekend. The night before their 7am debut, a glitch in the cooler had caused all of their bread loaves to prematurely rise and flatten, rendering them unusable. Panic-stricken but optimistic, they looked around at what they did have to offer for the weekend, which happened to be a lot of scones! Some may have considered that a sign to call it quits, but lucky for all of us they came back for more.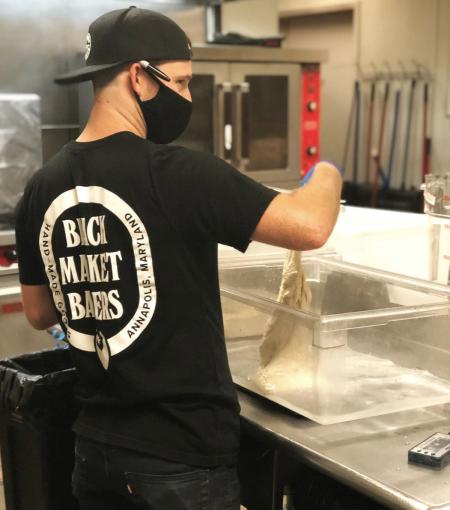 Steven O'Leary works behind the scenes prepping the weekend's fresh baked bread! Image courtesy of Black Market Bakers.

 

If you're not much of an early riser or a fan of long lines (I am neither) you can risk missing out on a few of the weekly specials and still be amazed at everything you bring home. My favorites include a loaf of bread for the week (or three days if its the garlic parmesan flavor), a breakfast sandwich, an iced coffee (no matter the temp) from Brewing Good Coffee, and some Black Market buns, oatmeal cream pies, berry shortbread bars, and any other sweets I can stock up on to satisfy my cravings until the following weekend.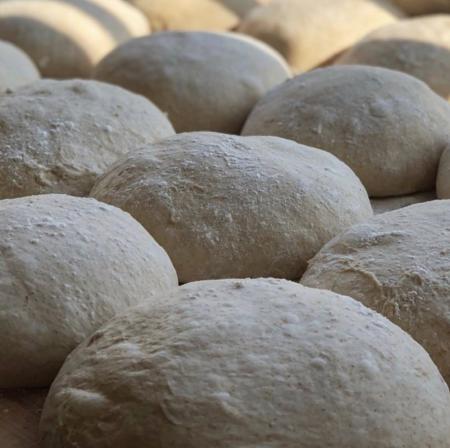 Fresh bread dough rises at Black Market Bakers. Image courtesy of Black Market Bakers.

 

For now Black Market Bakers is only open on weekends so mark your calendar and set your alarm. You will not be disappointed! And if you don't feel like sharing any their delicious baked goods (I wouldn't share either) spread the love by purchasing a Black Market Bakers gift card. Be sure to follow them on Instagram and Facebook so you can stay up to date on their menu and weekly specials. Maybe I'll see you in line!