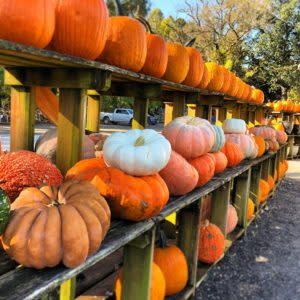 Pumpkins lined up at Misty Valley Farms in Crofton. Photo courtesy of Misty Valley Farms.
2020 may be winning the award for our most frightful year in recent history, but the fun of fright is just around the corner! Halloween is this weekend, and while there may be some shake-ups from normal tradition, there are plenty of great ways to celebrate the spookiest time of year in Annapolis and Anne Arundel County.
Pick a pumpkin from the Patch
Pumpkin watercolor print. Art work courtesy of LBo Craft.
Whether you're a pumpkin painter or carving connoisseur, the first step to getting in the spirit is getting outside to the pumpkin patch. There are dozens of unique varieties available for the picking and each farm has something special to offer. If you're looking for a place to burn off all that candy-induced energy, Maryland Sunrise Farm  has a ton of amusements including an 8-acre corn maze, a bounce pad, hayrides, a petting zoo, pedal carts and tractors, and giant lincoln logs. For the Harry Potter fanatics in your life, there are broomstick swings, Kings Cross Station, the flying car, witch's brew, a wand shop, and more! Be sure to get your tickets for weekend trips in advance.
If you're looking a for a more low key stroll out in the country, Doepkens' Farm  is a picturesque flower farm that has been operating for over 100 years. With kittens meandering about, mums galore, and pumpkins of every size and color to choose from, a walk amongst the great rustic barns and silos will surely be the ticket to serenely soaking up some fall vibes.
Once you've picked out the perfect pumpkin, you could swing by Art Things at Maryland Hall  for some markers and paint, or the Crabby Quilter in West Annapolis to grab some fabric and transform your selection into a masterful work of art.
Boo a neighbor this Halloween weekend
First off, the idea of "booing" someone doesn't sound very nice, but this year it's all the rage! While we're all doing our best to maintain social distance, people are leaving pleasant surprises on their neighbor's doorsteps as a sign of appreciation and good cheer. For the friend who deserves something extra special (perhaps you do too!), there are wonderful shops about town to find lovely treats and gifts.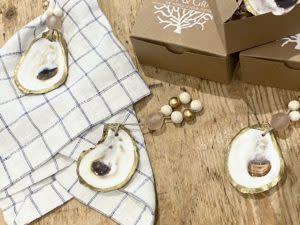 An oyster charm to adorn a bottle of wine (or Lyon Rum ) or a handmade pottery piece filled with candy would be a great touch. Image courtesy of Revival.
Revival  in West Annapolis is something great that has come out of 2020! Showcasing high quality home decor and specialty finds for kids and adults, this boutique is a great space to wander in search of a thoughtful treat. An oyster charm to adorn a bottle of wine (or Lyon Rum ) or a handmade pottery piece filled with candy would be a great touch. If your friend is a lover of luxury, silk masks and bath bombs may be in order. For your own table scape, you could pick up one of Season to Season's fabulous succulent pumpkin centerpieces.
Boho babes rejoice! You can always find something fun at Mango + Main on Maryland Avenue. Featuring fair trade artisan goods ethically sourced from around the globe, the rich colors, bold patterns, and quality textiles are an autumn-lover's dream come true. Fun pom-pom strand decorations, warm gloves for cooler temps, and artisan baskets to hold a candy stash would really warm your friend's heart. And all in the name of social-responsibility and supporting small business!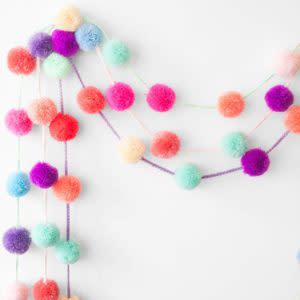 Great gifts for "booing" your neighbor abound at local Maryland Ave, Shop, Mango + Main. Image courtesy of Mango + Main.
For the Chesapeake Bay enthusiast, you can find all your coastal living needs in the Gallery of Kim Hovell , located at Circle Creatives in the Arts District. Known for her impressionistic paintings of oysters, beach scenes, and sea life, Kim offers a fantastic selection of gifts showcasing her imagery. From masks and yoga mats to dishware, pillows, and an incredibly popular line of candles, you can mix and match a great collection of goodies.
Sweet Halloween Treats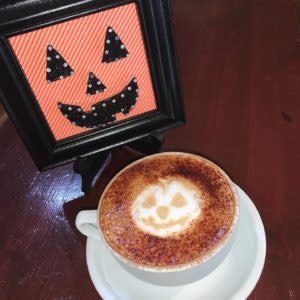 A Nightmare Before Christmas latte is sure to be a spook-tacular winner with your family this Halloween Weekend! Image courtesy of Bean Rush Cafe.
After all this thoughtful "booing", you're bound to need some caffeine and sugar to keep up the Halloween spirit! Luckily this is a pumpkin-spiced foodie's favorite time of year, when all the coffee shops and bakeries roll out their best concoctions.
Bean Rush in West Annapolis is letting the community's creativity shine, debuting the Nightmare Before Christmas on their seasonal menu after holding a "Create Your Own Latte" contest. The winning entry, flavored with cranberry, peppermint, and chocolate, is a must try. They plan to include the runner up Pumpkin Brittle, flavored with pumpkin and toffee nut, on a future menu as well. Fall staples include caramel apple cider, and for the health conscious (shouldn't we all be by now?) apple spice and ginger grapefruit Wild kombucha. Of course there are plenty of savory baked goods to pair with your beverage, from their banana and pumpkin breads to croissants, pecan bars, and biscotti.
Next door to Bean Rush is Rutabaga,  a juice bar famous for their toasts, bowls, and other healthy grab-n-go lunches to help you power up. I am most excited for their seasonal addition of the Pumpkin Spice Smoothie Bowl. Comprised of house-made cashew milk, butternut squash, pumpkin puree, creamy banana, and pumpkin spice, topped with sliced bananas, coconuts, and pepitas, this is a decadent indulgence you don't have to feel guilty about.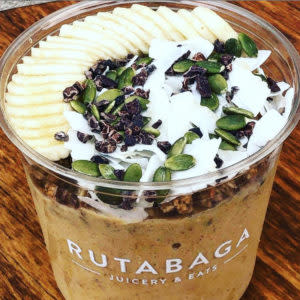 Pumpkin spice smoothie bowl is new on the menu at Rutabaga. Image courtesy of Rutabaga.
The newest bakery game in town is simultaneously "the secret I don't want to get out" but also "the name I want to shout from the rooftops", known as Black Market Bakers.   A weekend morning pop-up bakery trailer located next to Chevy's Fresh Mex, these guys are flavor mad-scientists, coming up with pastries so irresistible you'll need to stock up for the week. A new menu debuts weekly, but recent favorites include apple bread pudding, pumpkin pie cinnamon rolls, and a peanut butter cup whoopee pie. For those not impressed by all things pumpkin & Halloween, there was a maple bacon scone not that long ago so keep your eyes peeled for the possibilities!
A Grown-Up's Halloween Holiday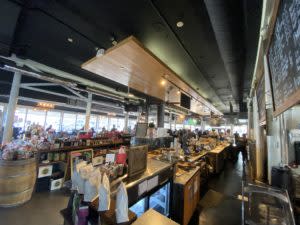 The Annapolis Market House plans to have a spook-tacular weekend of boos and brews in their outdoor "Market Space' for Halloween. Image courtesy of Visit Annapolis.
As for festivities on Halloween weekend, there are plenty of ways to celebrate. Stella from One Petticoat Lane  is hosting one of her fab porch parties on Thursday from 3pm-7pm, (rain date is November 4th) where you can find fun accessories and out-of-your-comfort-zone fashion. What better time to debut a new look than the day that's perfect for dressing up?
Once you find a killer outfit, head to Annapolis Market House  for some seasonal libations, like apple cider sangria. The Market will be in the spirit with decor and spooky specials, and celebrating the dawning of oyster season!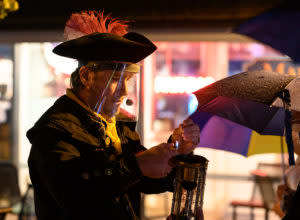 A spook-tacular celebration isn't complete without a ghostly tour of Annapolis. Image courtesy of Web Wright for Watermark.
Explore Haunted Annapolis by land and by sea with Watermark Tours. On Thursday, they're offering the Special Historic Hauntings cruise and walking tour if you'd like to hear the tales of ye' old pirate scalawags and nautical myths. The tour continues on foot, and while you're in the mood for pirates, check out the Tall Ship Lynx that is docked at the Harbor through Friday!  If you're not in the mood for Trick or Treating on Saturday, Watermark is also hosting the Once in a Blue Moon cruise to enjoy the mystical full moon reflecting on the water. It's sure to be a magical night!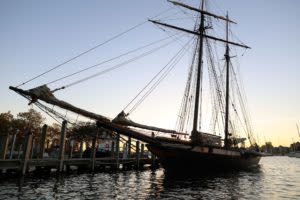 The Tall Ship Lynx will call City Dock home through October 31st! image courtesy of Visit Annapolis.
Let the "scariest" day of the year be a time for some fun, no matter how big of a kid you are.