The Annapolis area is rich with natural resources and outdoor adventures. From bay to forest, I love the opportunities we have for fresh air right in our backyard. Due to COVID-19, Marylanders are mandated to avoid non-essential public spaces and keep our distance, but there are a few places where we can still safely play in nature. One of the local favorites is Bacon Ridge Trail.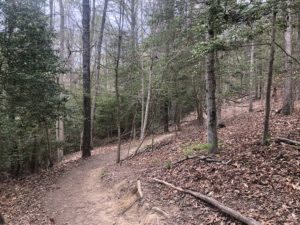 Photo courtesy of the author.
Plug 1801 Hawkins Rd, Annapolis, MD 21401 into your GPS to find the trailhead near Crownsville. You can't miss the small parking lot that sits at the main entrance. The trail can attract a decent crowd of hikers and bikers especially on a nice weekend. If the lot is full, there's plenty of nearby street parking along Hawkins Rd.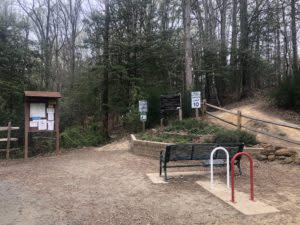 Photo courtesy of the author.
Bacon Ridge is a 5.5-mile figure-eight loop that consists of moderate hills yet is suitable for all skill levels. Although the foot and bike traffic can be heavy, the trail is well groomed and provides a sturdy path for walking, jogging and dirt biking. As the path weaves through the forest, it's easy to feel transported to a remote wonderland and get lost in the moment. Luckily, the moment is all you're lost in because the path is well marked with signs at key intersections that direct you back to the parking lot.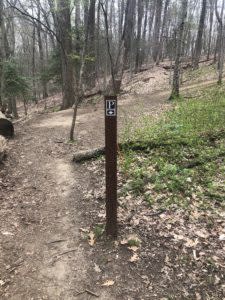 Photo courtesy of the author.
The trail is a popular destination for those on foot and dirt bikes, and both parties are very respectful of the other. There's more than enough nature to go around! Since the trail isn't particularly difficult, anyone from young children to senior adults enjoy strolling along the dirt paths. What about the pups? Yes, dogs can also get in on the family fun as long they're on a leash.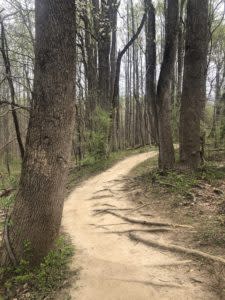 Photo courtesy of the author.
Depending on the time of year, the forest can be very dense. Whether you're engulfed in lush vegetation or stretching your eyes through a sea of trunks, there's a mysterious wonder you won't want to miss. A graveyard of twisted American steel, including a Ford Super Deluxe Coupe from the 1940s, hangs on the edge of the path near the trailhead. The story behind this unexpected cove seems to be just as mysterious as the sight itself, but it begs us to think it's a legendary tale.
Fresh air is exactly that during this time when we're encouraged to stay indoors. As long as you abide by the state's social distancing policy, it can be refreshing to hit the open trails, engage in some exercise, see the sites and enjoy our local nature - and Bacon Ridge Trail checks all of the boxes.
Read more about the Bacon Ridge Natural Area here.