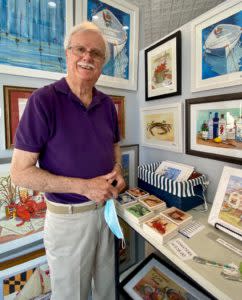 Dave Murphy stands with his art at Gallery 57 West in downtown Annapolis. Photo courtesy of Dave Murphy.
Activity was beginning to ramp up on a sunny Friday morning in downtown Annapolis, when I met up with Dave Murphy. He had suggested that we get together at the Annapolis Visitor's Center satellite location at City Dock where he has been volunteering for two years.
Face Behind the Mask
Not even the pandemic can keep him away from his duties as a volunteer. Wearing his face mask and eager to answer my questions, I spent some time with him inside the booth. He was welcoming to visitors as they stepped up to the sliding-glass window of the brick structure under the turquoise awning. Murphy found joy in these interactions, easily handing out helpful maps and brochures while engaging in friendly conversation with guests.
"What's the best restaurant for breakfast?"
"I'm looking for a great place to go fishing."
"Where can I take a boat tour?"
And of course, "What is there to do around here?"
Dave Murphy
Dave Murphy is originally from Cleveland, Ohio. He relocated to Annapolis in 1961 when he joined the U.S. Army. After his service was complete, he put down roots in the beautiful area he grew to love. The funny thing was, when Murphy was 17 years old, his family sold a boat to new owners who were taking their purchase to the Chesapeake Bay. An area, at the time, unfamiliar to the Murphys. It was quite a coincidence that it turned out to be the very place that won his heart.
Out of the service, Murphy began a career in human resources with Woodward & Lothrop, working in DC for five years. Building on that experience, he moved on to a corporate executive position with the Marriott Corporation, retiring after 25 years. His love for the city and the Bay led him to his art.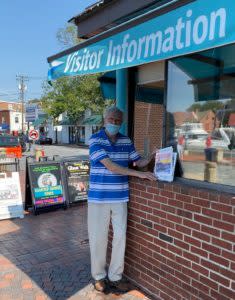 Dave Murphy volunteers with the Annapolis Visitor's Center Information Booth at City Dock when he isn't working with the Annapolis Arts Alliance. Photo courtesy of author.
Dave Murphy's Art
Dave's art career was initiated in retirement. For awhile, Murphy lived on the eastern shore and began his new calling by taking classes with John Pringle of the Kent Island Federation of Art. Afterwards, he studied with Barbara Jablin of St. Michaels for 10 years. She is well know for her exquisite watercolor paintings. Murphy said that he tried oils and acrylics, but found watercolor to be his preferred medium.
His subject matter by choice relates strictly to the Chesapeake Bay region, capturing its memories and peaceful mood. He uses brilliant colors in his works of still life and waterscape, highlighting themes like crabs, watercraft, structures by the water, and wildlife around the Bay. Currently, his art is on display at his webpage, The Treasure Chest and Pixel Print & Post on the eastern shore, and the newly opened Gallery 57 West.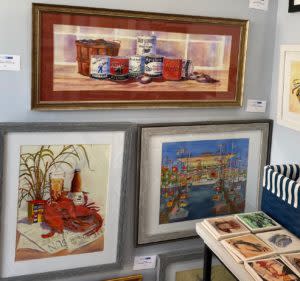 Dave Murphy's watercolor paintings are for sale at Gallery 57 West in Annapolis. Photo courtesy of author.
Murphy is active in the Annapolis Arts Alliance, a non-profit organization dedicated to all the arts in the area. It was initiated in 2003, through the efforts of Mayor Ellen Moyer, when she invited a diverse group of artists to come together. Their goal is to be a collective voice for everyone interested in art.
Murphy recalled Arts Alliance shows at the Annapolis Maritime Museum where he served as curator and popular Pop-Up-Shops during holiday time at the Annapolis Towne Centre and on Main Street. Even with his busy volunteer schedule, he still finds time to remain active in Gallery 57 West in the midst of the pandemic.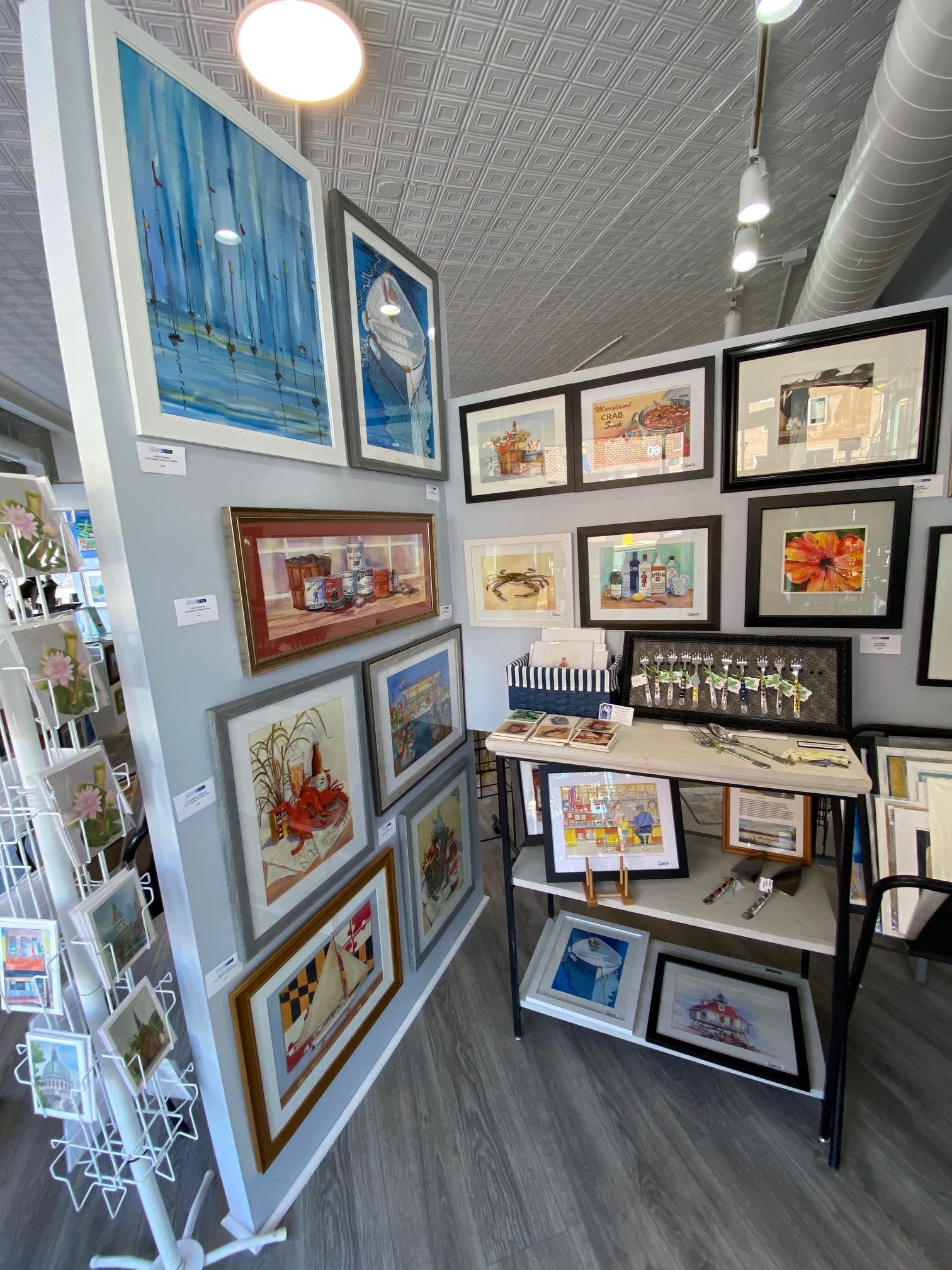 Many local artists of the Annapolis Arts Alliance showcase their art at Gallery 57 West. Photo courtesy of author.
Gallery 57 West
Gallery 57 West recently opened during the pandemic with a ribbon cutting ceremony from the city. In order to accommodate new tenants, the space was totally renovated and it sparkles. This brightly colored shop pops with a wide variety of artwork created by members of the Arts Alliance.
When you are on West Street, be sure to stop by, visit and look around. One of the talented artists will be on-hand to greet you! You might even meet, Dave!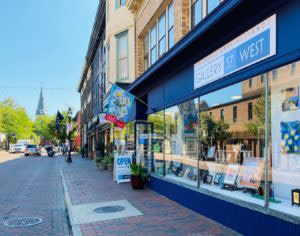 Gallery 57 West sits at the corner of Cathedral and West Street in Annapolis where Dave Murphy volunteers with fellow artists. Photo courtesy of author.