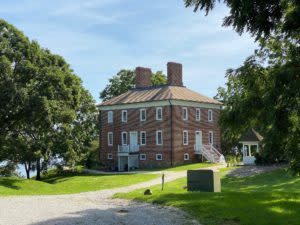 The William Brown House c. 1760 was built as an upscale tavern at Historic London Town and Gardens. Photo courtesy of the author.
In this time of uncertainty are you searching for safe and interesting outdoor spaces for the entire family? Do you enjoy beautiful gardens, exploring historic structures, ambling through a colonial history museum, or taking in captivating views of the South River? Historic London Town and Gardens offers all of this and more.
Diana Klein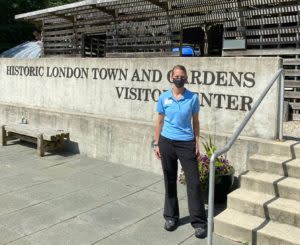 Face Behind the Mask: Diana Klein is the Director of Public Programs at Historic London Town and Gardens. Photo courtesy of the author.
When Diana Klein accepted the position as Director of Public Programs, relocating from Michigan to Maryland, she thought her biggest challenge would be the change in climate. But Diana soon realized that wasn't the only change with which she'd have to contend.  Klein was hired just prior to the onset of the pandemic. Coming on board, her focus went from implementing existing programs to brainstorming with other staff to create new options with strict limitations due to COVID-19.
Lauren Silberman
Lauren Silberman, Deputy Director since 2015, says that London Town has lost a lot due to the pandemic. The School Tour program, which provides significant revenue, came to a halt. The same was true, at first, for the facility's waterfront venue for weddings and other social gatherings. As an update, weddings are back on the calendar in accordance with State and County guidelines.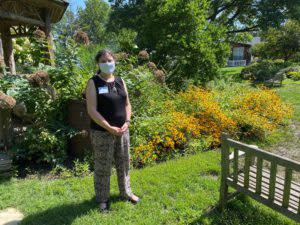 Face Behind the Mask: Lauren Silberman is the Deputy Director of Historic London Town and Garden. Photo courtesy of the author.
With a positive perspective, Silberman could see the silver linings. London Town was able to proceed with a planned onsite parking lot expansion project during the period of reduced activity. Additionally, thanks to the supportive community, there has been an increase in memberships. Attendance is improving week after week, with many new found visitors discovering this magnificent and educational outdoor space.
London Town Navigates the Challenges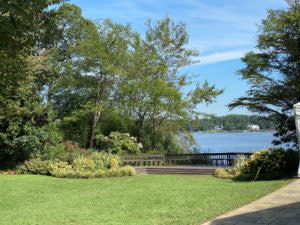 Historic London Town and Gardens sit on the South River. Photo courtesy of the author.
The phased reopening plan for London Town, a 23 acre park, was hatched as soon as restrictions were eased. They began by opening the gardens, followed by the visitor's center and restrooms, and then finally the historic structures and exhibits.
Klein and Silberman acknowledge that the cut back on staff and volunteers has been challenging. Previously, historic buildings were manned by personnel who provided information to visitors and answered questions. Modifications were made to create self-guided tours with new signage containing more details about the structures. In addition, changes were implemented to ensure all buildings were accessible and safe.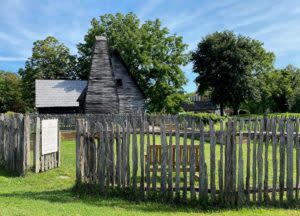 The Lord Mayor's Tenement at Historic London Town and Gardens. The gardens are currently open to the public. Photo courtesy of the author.
Of course, visitors and staff must wear masks at all times and everyone has done their part to cooperate with the new guidelines. Masks are available at the visitor's center as well, along with hand sanitizer.
London Town Upcoming Programs and Events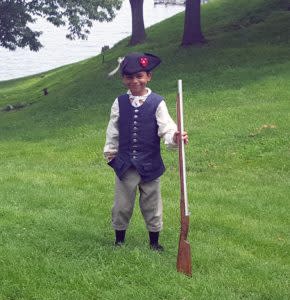 A boy in Colonial dress roams the grounds as a historic interpreter. Photo courtesy of London Town, taken pre-COVID.
Klein is working tirelessly on plans to serve homeschool students. During the school season, they will offer unique homeschool programs that provide hands-on learning experiences for homeschool families in colonial history and science in the gardens for children ages 6-12. Pre-registration is available now for all programs and precautions are in place to ensure the safety of students and educators.
Groups will be small and limited and all of the programs will occur outdoors. Their website offers a full list of programs which begin September 9th.
In addition to children's resources, check out these adult events and discover more opportunities at London Town and Gardens:
Colonial Cocktails: Fish House Punch & Mint Julep
Thursday, September 24, 6:30pm
The biggest fundraiser in support of the gardens
Annual Fall Plant Sale, Saturday, September 26, 9am to 2pm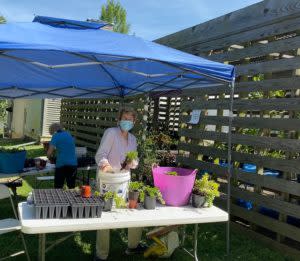 Volunteers prepare for the Annual Plant Sale, the largest fundraiser for Historic London Town and Gardens. Photo courtesy of the author.
London Town, Looking Ahead
Klein, Silberman and Executive Director, Rod Cofield, are looking forward to breaking ground on the property later this year for the Phillips Foundation Educational Pavilion. This project is possible thanks to Maryland Heritage, Phillips Foundation, and private donors.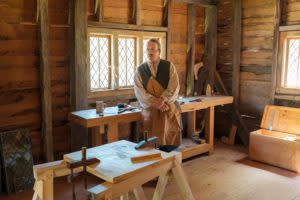 The Carpentry Shop at Historic London Town and Gardens. Photo courtesy of London Town taken pre-COVID.
Klein looks to the future with the goal of implementing new and timely programs for children. Especially when so many will begin their school year with virtual learning.
"Although one-third of museums may not survive the pandemic challenges, we are looking forward to going full steam ahead as soon as that can happen," says Silberman.
Watch their website or register for emails for information on special events that will soon celebrate the 50-year anniversary of London Town being open to the public.