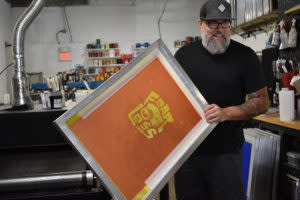 Matt Reese is the man behind the designs of Blk Ankr Originals and the recent t-shirt campaign to support area businesses during the pandemic shutdown. Photo courtesy of Madeline from the ArtFarm Fearless Photography Camp.
When I first met Matt Reese of Blk Ankr Originals,  we were set up as neighboring screen printing vendors at a festival in the Annapolis Design District.  Some might frown upon their competition, but Matt and his employees could not have been more gracious. Once the event slowed down, we were able to wander from our booths and check out each other's wares. We became fast friends, and I purchased pillows from his original design brand, Johnny Knuckles, that I still admire today.
Printmaking
Print Makers of all sorts are a dying breed. At a time when traditional processes are easily ousted by technology, an enthusiasm for old-school techniques has experienced a resurgence. Screen printing is a labor of love that is actually fun to learn, and quite empowering. If you have something to say, you can be author, producer, and publisher of your ideas because of your ability to make multiples of the same image.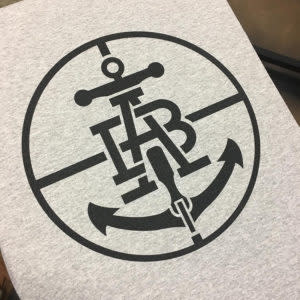 Bulk Ankr T-Shirts, hot off the press. Photo courtesy of Blk Ankr Originals.
Printmaking is the reason for global literacy as we know it, and technically the "OG" of going viral. International networks of print makers share their tricks of the trade online, at events, and through workshops. By breeding the next generation of printers and creating a strong collaborative community they hope to ensure the art form's longevity.
The Face Behind the Mask
Perhaps it is this print maker spirit, or the fact that he is just an all-around awesome guy, that makes Matt Reese such an inspiration. Matt's sense of collaboration and his motivation to help - make him someone you want to have in your corner during a crisis. We all came to know this in 2018 after the Capital Gazette shootings.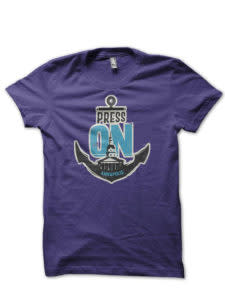 Press on Annapolis T-Shirts were printed and sold to raise money for the Capital Gazette Families Fund. Photo courtesy of Blk Ankr Originals.
Local artist, musician, and fellow print maker Aaron Yealdhall of Skribe created an illustration reading "PRESS ON ANNAPOLIS," as a response to the Capital Gazette tragedy. The artwork was quickly utilized as a t-shirt design that Matt personally printed. With more than 1,000 shirts sold, the project raised over $30,000 to benefit the Capital Gazette Families Fund.
In the face of tragedy or challenge at such an unimaginable scale, it is easy for any person to feel powerless and shut down.
Matt Reese
"Start where you are, and work with what you have." – Arthur Ashe
This is the mantra that helped Matt react yet again with a sense of purpose when the world stopped for COVID-19. The local restaurants, businesses, and bands that give Annapolis its character were forced to close to help flatten the curve. Matt came to know these members of the community well as his regular customers, printing uniforms for wait staff or band merchandise for local artists.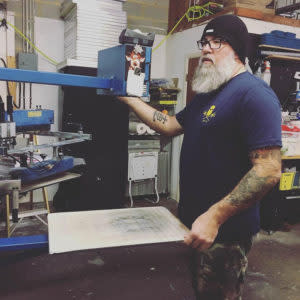 Matt 'Pee Wee' Reese working at his print shop in the Annapolis Arts District. Photo courtesy of Blk Ankr Originals.
Instead of getting lost in a social media or Netflix black hole (no judgement), Matt got to work. While alone in the shop, he launched "Stronger Together– even from a distance." It's a campaign to raise money and show support to the Annapolis businesses we love through custom t-shirts.
The premise was simple. Businesses sent Matt their logo or worked with him on a design, the shirt would be posted for sale in Matt's shop, and $10 from every shirt sold would go directly to that business. Nearly 100 different restaurants, salons, bands, shops, and businesses were represented.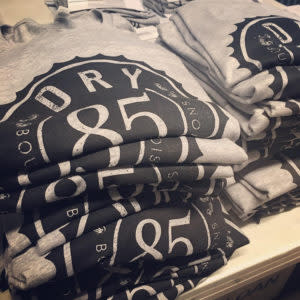 Dry 85 Shirts were printed as part of the fundraiser for businesses during COVID-19. Photo courtesy of Blk Ankr Designs.
"Stronger Together –even from a distance"
Matt launched the project on March 26, and within 24 hours nearly 100 shirts sold! This put $1,000 in the hands of struggling small businesses. After a month, the "Stronger Together –even from a distance" campaign raised over $23,000. Orders came in from 38 states, DC, Germany, Canada, and the UK. Matt asked shoppers to please post a picture of themselves wearing their shirt and to tag the small business they chose to support, giving everyone a much needed advertising boost as well.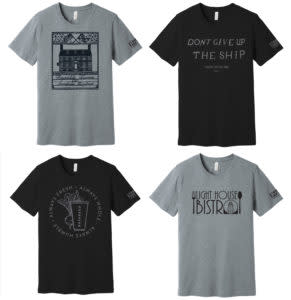 Just a few of the shirts designed and sold as part of the 'Stronger Together' campaign to support area restaurants. Photo courtesy of Blk Ankr Originals.
Zachary's Jewelers soon joined the fun. An Alore bangle bracelet was presented to one lucky winner who purchased a t-shirt between May 5-6, 2020. Every purchase during that time frame was eligible to win. The promotion helped boost sales and benefit the fundraiser. Zachary's also had a logo shirt for sale, but chose to donate their proceeds directly to the "Feed Anne Arundel" program.
With so many businesses lifting each other up in such an uncertain time, Annapolis once again proves it's neighborly appeal. Annapolis is thankful for heroes behind the mask, like Matt Reese from Blk Ankr, who inspire with their creativity and compassion.