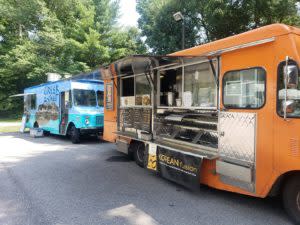 Greek on the Street and KoCo Korean Food Trucks hanging out at the Crofton Farmer's Market. Photo courtesy of the KoCo Truck Facebook Page.
Food trucks offer two things most restaurants in Annapolis and Anne Arundel County cannot, lots of fresh air and standing room space. Although lines are not as long as they usually are this time of year, food trucks are still seeing a decent share of foot traffic despite current circumstances. Right now, the consensus for a great food truck experience is not speedy service, but how comfortable service can be.
For starters, masks are essential and safe distancing is in full effect. Many food trucks are even offering online ordering by credit cards as a minimal contact option. Of course, the best survival tools remain the same as they were before COVID-19; great food, good people, and award-worthy customer service. So, if you need new flavors to add to your food bucket list, here are four food trucks that I am loving.
Dèjá Roux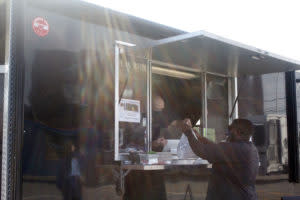 The Dèjá Roux food truck specializes in Louisiana Creole Comfort Food. Photo courtesy of author.
Let us raise a spoon full to the Dèjá Roux homemade peach cobbler to the charm, hospitality, music, and array of good food flowing from this truck. I have never been a fan of shrimp – but Dèjá Roux's Shrimp Po Boy with the special Remoulade sauce, made by owner Kenneth Bosset, is a flavor-packed combination of perfection. Add a side of Cajun fries and a slice of honey cornbread to your meal, and you will know how food tastes in food heaven. If you are looking for an authentic taste of Louisiana Creole Cajun cuisine, you can find Dèjá Roux at the Earleigh Heights Fire Department every Tuesday through November. You might catch me in line too!
Jackson's Bakery Curbside Cupcakes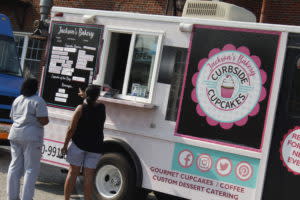 Dessert Food Trucks are just as popular as their counterparts, Curbside Cupcakes delivers with bold new flavors alongside the classics. Photo courtesy of the author.
I have a sweet tooth, possibly 32 of them, and Curbside Cupcakes can satisfy all of them. With flavors like Cookies 'n Cream, Lemon Berry, Strawberry Lemonade, Dulce de Leche, Key Lime, Snickerdoodle, and more, owner Latonya Jackson has truly created gourmet flavor combinations for every cupcake lover. My favorite is the Banana Pudding cupcake. From the Nilla Wafer cookie on top to the hint of spice, I was instantly reminded of a younger me – waiting anxiously in the kitchen for my mother to finish her homemade banana pudding. So, if you are looking for love in a cupcake, drop by Earleigh Heights on Tuesdays, and maybe we can grab dessert together.
Greek on the Street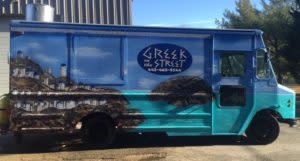 Greek on the Street has a loyal following, check out their Facebook page to find out where this food truck will show up next! Photo courtesy of Greek on the Street.
In the mood for some authentic Greek food, but not prepared to take a trip to Greece? No worries! Greek on the Street is bringing the Mediterranean to a sidewalk near you. I am a fan of the Falafel platter served with Greek salad, seasoned white rice, housemade Greek dressing, tzatziki, and pita slices. Sounds delicious, right? But maybe you are more of a chicken or gyro fanatic. Would you rather have a grilled shrimp pita wrap? My husband says it is his favorite, so I would say it is also a winner. Need to find out what street Greek on the Street will be on next? Check out their Facebook page for weekly schedules.
KoCo Korean Fusion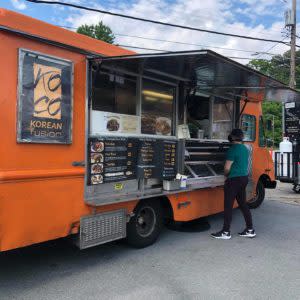 KoCo Korean Fusion Food Truck is aways a hit at Food Truck Tuesdays at Earleigh Heights Volunteer Fire Department. Photo courtesy of Food Truck Tuesdays Facebook Page.
Since we are talking about food that packs a flavorful punch, then we must mention Korean Fusion. With its unique blend of Korean and American cuisine, this truck is a hit for the Foodie with adventurous taste buds. Nevertheless, average taste buds can easily fall in love with Korean Fusion too. My husband and I rarely agree on foods covered in sweet or tangy sauces. Yet, we both could agree on the Spicy Chicken with its bold, sweet and spicy flavors, with an array of delightfully seasoned vegetables over a perfect bed of rice. You can grab your bowl of deliciousness on Tuesdays at Earleigh Heights Fire Department.