History buffs will be delighted to know that Anne Arundel County is home to more than 100 properties listed on the National Register of Historic Places. It's likely that on the way to the BWI Airport you have noticed the Benson-Hammond House, a stately white structure with a red tin roof located just off Aviation Boulevard in Linthicum.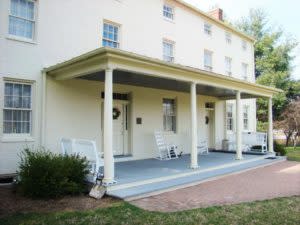 Photo courtesy of Benson-Hammond House Facebook Page
Quick History
Added to the Register in 1990, this brick dwelling, was originally constructed as a two-story farmhouse in the 1820's by farmer, Thomas Benson. The dwelling, on 273 acres was atypical of 19th century architecture and has been classified in the Greek Revival style. Benson was a truck farmer who provided products such as tobacco, wheat, fruits, and vegetables. Truck farming was a method of harvesting and marketing produce, relying on seasonal immigrant labor. This was a typical use of farmland in the northern section of the county at the time.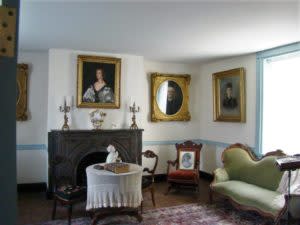 Photo courtesy of Benson-Hammond House Facebook Page
The property passed to his son Joseph, who had 14 children and needed to expand the house. For that reason, the dwelling acquired its current appearance in 1855 when an addition on the north side and a third floor were added to create more space for the large family. Due to hardship issues after the death of Joseph Benson, his wife had to sell the property. It was purchased by brothers John Thomas and Rezin Howard Hammond. The latter brother lived with his family on the farm and continued the same type of farming operation.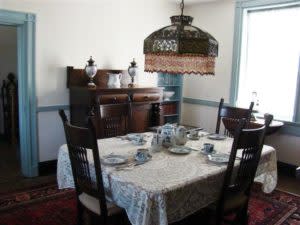 Photo courtesy of Benson-Hammond House Facebook Page
In 1947, the tract of land was purchased during the acquisition of property for the construction of Friendship Airport, now the Baltimore/Washington International Thurgood Marshall Airport. The house was the only structure not demolished during development, however it was in serious disrepair. By agreement between the Anne Arrundell County Historical Society and the Maryland Aviation Administration in 1975, the house would be restored and maintained. In 1982, the Benson-Hammond House opened to visitors.
The Museum
This stately historic home and outbuildings operate as a museum and serve as the last standing farmhouse on the large tract of land that is now the airport. The museum is fully decorated with authentic vintage furniture and accessories throughout. There are many donated items that reflect the Victorian age in permanent and special exhibits such as quilts, clothing of the era, china, antique weapons, and artwork. The third floor is home to 400 vintage and antique dolls - one of the largest collections on the east coast. Tours are available and volunteers serve as docents. There is also a gift shop and an educational store on the premises.
Upcoming Special Events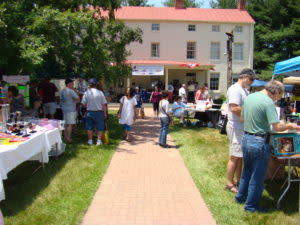 Photo courtesy of Ann Arrundell Historical Society
When the Benson-Hammond House reopens, visits and tours on the second Saturday of the month will resume as well as these special monthly events:
Spring Flea Market - Wide variety of items to browse 30th Annual Strawberry Festival - Food, drink and craft vendors, featuring strawberry wine Day Lily Extravaganza - Sale of those beautiful Free State Day Lilies for your garden Fall Flea Market/Craft Fair - Crafters and vendors galore Holiday Open House - Annual event with refreshments and memories