We first visited Goshen Farm for the Spring Open House event in April. Following the shaded winding access road to a parking area, we began the adventure of self-touring this unique 22-acre parcel located behind Cape St. Claire Elementary School. It's one of the few existing examples of a Colonial farm in Anne Arundel County. The property is under the ownership of the Anne Arundel County Board of Education and consists of open space, open meadows, walking trails in the woods, educational and community uses. The farm is open to members, their guests and to the public for certain special events.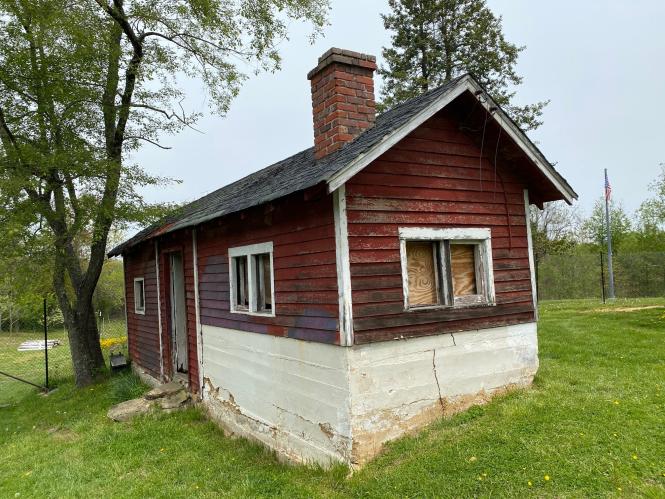 This little building is located close to the farmhouse and has a built-in cool box, drain, and chimney. It is still standing and is in fairly good repair. Image courtesy of the author.

 
History
Goshen Farm has a history dating back to 1663, then known as Leonard's Neck. The 290 acre site was passed down until the late 1780s, when it became known as Goshen Farm, consisting of over 179 acres with a two-story house of four rooms. Based on the 1800 census, nine slaves were living on the property to help work the farm. In 1810, it had increased to 12 slaves.
After a series of owners and portions of land being sold, the site was purchased in 1942 by Dr. Morris L. Radoff, (author and archivist for the state of Maryland, serving from 1939 to 1975)  and his wife May.  At the time, the property still operated as a farm with chickens, horses, goats, and cattle. Additionally, the owners raised flowers and herbs.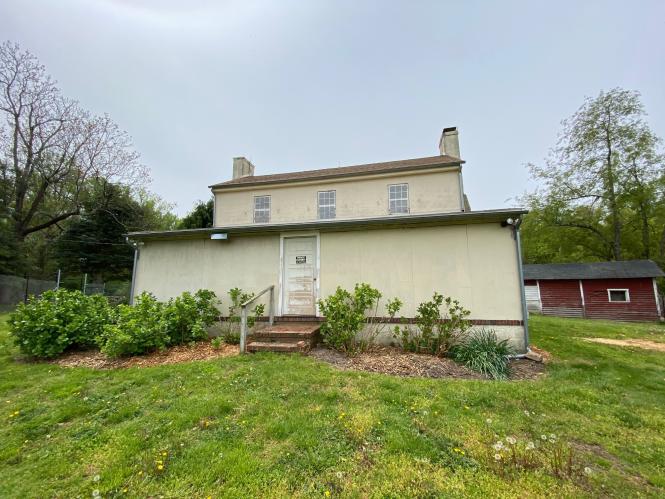 The Farmhouse - Built @1790 owned by John Pettibone Gardiner. Four additions to the rear were constructed over the years. Image courtesy of the author.

 

During the development of Cape St. Claire, Radoff received offers to purchase his farm, but he wasn't interested. However, in 1967 the Anne Arundel County Board of Education purchased 30 acres for the construction of an elementary school. Subsequently Radoff sold the rest of the land for the location of a junior high school. He negotiated a Living Trust so he and May could live out their lives on the remaining farm. Radoff passed away in 1978 and his wife, in 1991.

 

The farm and house soon fell into disrepair.

 
Goshen Farm Preservation Society, Inc.
In 2007, Goshen Farm Preservation Society was established to restore and preserve the historic farm and residence. The Society is dedicated to documenting and sharing the unique legacy of Goshen Farm and intends to identify, protect, and facilitate the study, preservation and communication of knowledge regarding other historically significant sites associated with the farm.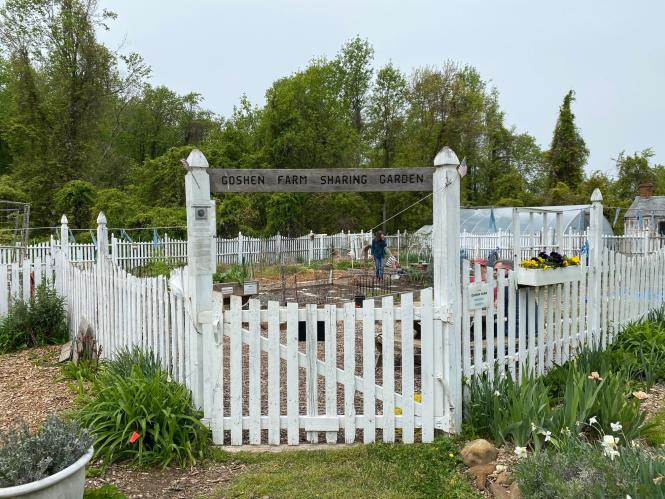 The Sharing Garden. Image courtesy of the author.

 
Membership
There are lots of volunteer opportunities for members if you love to be outdoors. It's easy to donate to this worthwhile preservation project and join as a member online. Membership includes:
•     Low annual fee of $20 per member or $35 per household is tax deductible
•     Discounts on event tickets and merchandise
•     Participation in the Sharing Garden
•     Become a part of local history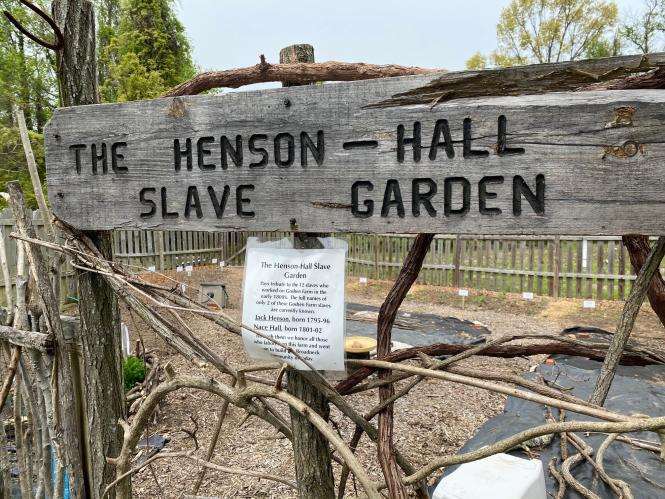 Based on the 1800 census, nine slaves were listed as living on the property. In 1810 it had increased to 12 slaves. Image courtesy of the author.

 
Sharing Garden
The Sharing Garden is a lovely community area safely located behind a white picket fence for Goshen Farm members to plant and tend their own garden plots. It also provides opportunities for kids to plant, grow, and harvest healthy food while having fun.
Plots are 10x10 or 5x20.
All members enjoy water supply, wood chips, and a supportive community environment.
Annual rate is $25 per plot for GFPS members only.
For more information contact Bob Nestruck, Goshen Farm Sharing Garden Committee Chair
Rules and Guidelines are outlined here.
•     Wine Tasting and raffles - August 21 - fundraising and raffles
•     Free Friday Night Summer Concert Series - family friendly, pack blankets, snacks, music by local artists.
•     Fall Open House - September 18, 10am-4pm.
Learn more about the vision and mission of Goshen Farm by watching their video.