There is something magical about peeking through gardens, exploring behind gates, not knowing what you might find around the next corner. I have been on the Annapolis Secret Garden Tour many times, and it never ceases to inspire and delight. For me, it conjures up memories of reading The Secret Garden as a child, the possibility of great discoveries hidden behind vines and walls, leading to an appreciation of beauty, self-discovery, and happy endings.  It is also a reminder of the childhood joy of simple exploration, back in the days when it was easy to embrace adventure in one's very own back yard. The Secret Garden Tour is a wonderful opportunity to take an afternoon, or two, to appreciate and explore Mother Nature in her finest, in the private gardens around the historic district of Annapolis!
The Hammond-Harwood House Museum is located at 19 Maryland Avenue. image courtesy of Annapolis Discovered.

 
Murray Hill
The Secret Garden Tour, hosted by the Hammond-Harwood House, travels within certain areas of Annapolis each year, making it easily walkable for exploring gardens at your own pace, within close proximity to one another. This year the tour will take place in the beautiful neighborhood of Murray Hill. Murray Hill is a wonderful area of Annapolis, with many statuesque historic homes and gorgeous gardens, located between West Street and Spa Creek. It is the perfect setting for the garden tour and will undoubtedly provide a lovely afternoon in which you may ramble about as freely as the flowers, vines, and brambles you may discover.  Within Murray Hill, a charming community that is 130-years-old, you will find a mix of very established trees, shrubs, and perennials, along with fun annual plantings and creative garden features that may change year to year, based on the whimsy of the gardeners behind the blooms. No matter what you find, the gardens chosen will be sure to inspire you, with the passionate plantings of the avid gardeners that reside within these homes.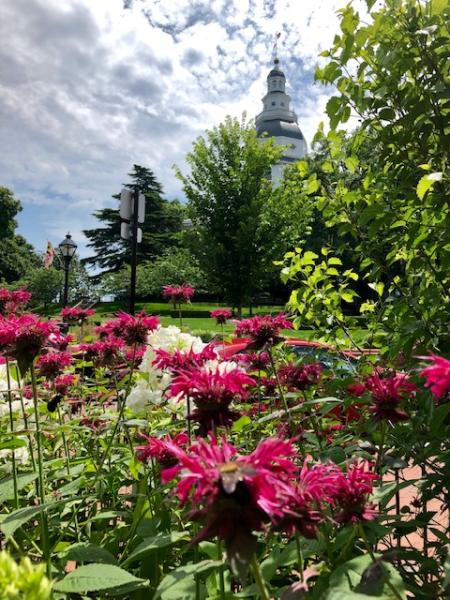 The Maryland State House is located on State Circle and is surrounded by lovely gardens and plantings. Image courtesy of Annapolis Green.

 
How to Attend
The Secret Garden Tour is always the first weekend of June in Annapolis and, after a virtual tour of gardens last year, it happily returns this year with the opportunity to explore gardens around town in person!  The tour will take place on Saturday June 5th and Sunday June 6th from noon to 5:00 pm.  It is hosted by the Hammond-Harwood House and you may purchase tickets ahead of time on their website, or purchase and pick up your tickets on the day of, at the tour headquarters located at 32 Southgate Avenue, Annapolis MD 21401.  The tickets are good for both days and are $30 in advance and $35 on the day of the tour. It is a rain or shine event.
All proceeds will go to the beautiful colonial landmark, the Hammond-Harwood House, which has existed on Maryland Avenue since 1774. The Hammond-Harwood House is now a museum, with tours offered, in which you may learn about historical Annapolis and view their unique collection of colonial furniture and art.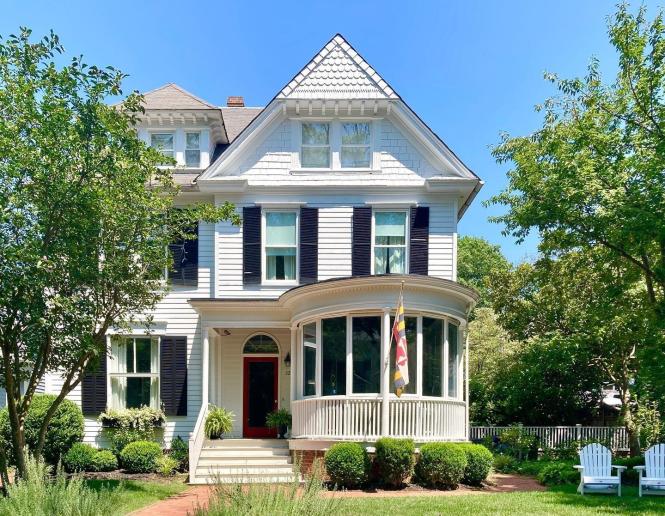 32 Southgate Avenue is the official headquarters of this year's tour. Image courtesy of Front Doors of Annapolis Instagram Page.

 
Enjoy the Tour!
The Secret Garden Tour is a great way to get inspiration for your own yard. I have incorporated several plants into my own garden that I first discovered on garden tours of the past. It is such a unique and wonderful opportunity to visit gardens, planted with care, that may not otherwise be visible to the average passerby. The tour is a celebration of the hard work that goes into gardening, the colorful rewards shared with all on the tour, and a joined appreciation of this work's worthiness in creating something so beautiful. I encourage you to go get inspired, explore, and discover for yourself, while enjoying a perfect afternoon on the Secret Garden Tour.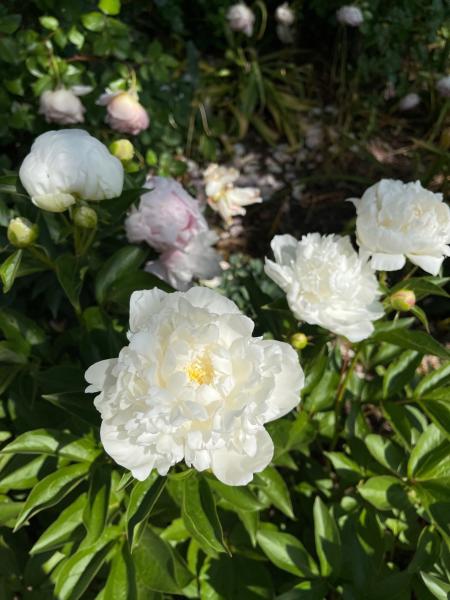 For more details on group discounts, parking, etc. please explore the Hammond-Harwood House website at https://hammondharwoodhouse.org