**Note: This article was updated on December 21, 2022
Whether past or in the making, Annapolis is a showcase of history. From its prominent placement along the Eastern Barbary Coast of North America to its rich colonial history and beautiful curation of colorful homes and cobblestone streets. Annapolis has historical landmarks and no shortage of historic restaurants and pubs.
So grab your friends and family and get to know our town's history, one pint at a time!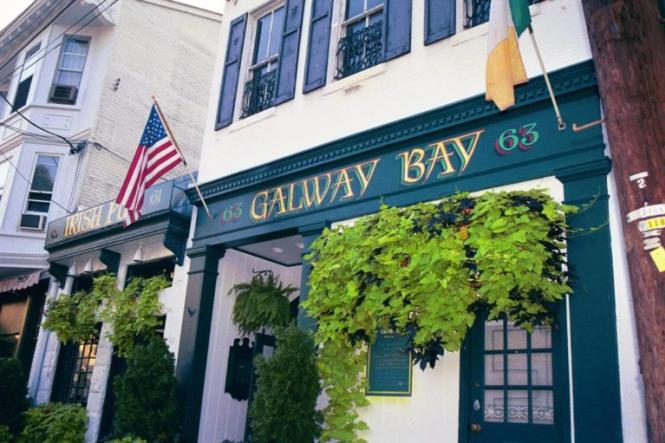 Formerly the home of the historic 'The Little Campus Inn,' the building now houses the famous Irish Pub, Galway Bay.
Image courtesy of Galway Bay.
Some places thrive on heritage, tradition, and good friends. Galway Bay is one of those places. Part of their heritage and holiday tradition includes friends and family gathering around their tables and enjoying tall glasses of the famous Galway Bay Eggnog. The buildings that house the popular Irish Pub were built between 1897-1903.
63 Maryland Ave.
Annapolis, MD 21401
(410) 263-8333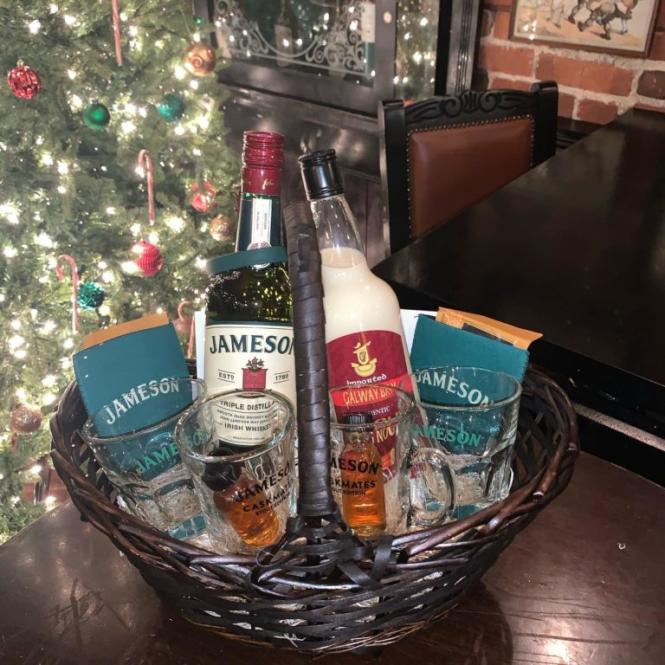 Galway Bay is well known for its authentic imported Irish Eggnog.
Image courtesy of Galway Bay.
The Drummer's Lot is tucked away, practically hidden in the historic Maryland Inn. Beyond its threshold is an old-time, charming cocktail of family and elegance. Open since 1784; you can enjoy your cocktail much the same way Kings and Heads of State may have done in colonial times! Keep your holiday pub crawl classic with a Bourbon Old Fashioned made with lots of holiday cheer and fresh fruit.
16 Church Cir
Annapolis, MD 21401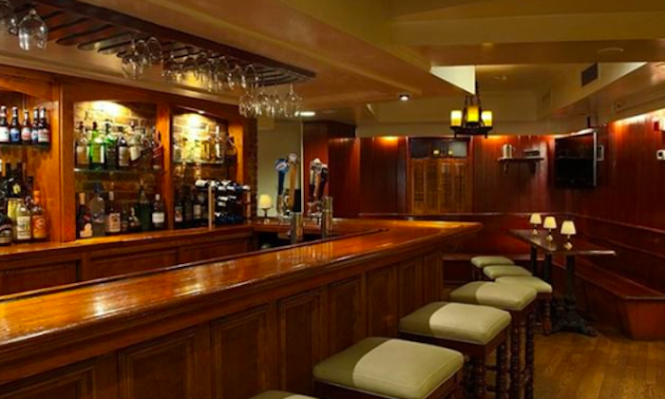 The Drummer's Lot is one of the oldest and most historic pubs in town!
Image courtesy of Historic Inns of Annapolis.
Are you looking for the holiday spirit of fun? Once known as the Crown and Dial Tavern in the 18th century, Rams Head Tavern should be a top landmark on your pub crawl route. Whether it is one of their seasonal beer launches or a not so Plain Jane Bloody Mary, Rams Head Tavern has a taste for you and your buds.
33 West Street
Annapolis, MD 21401
Phone: 410-268-4545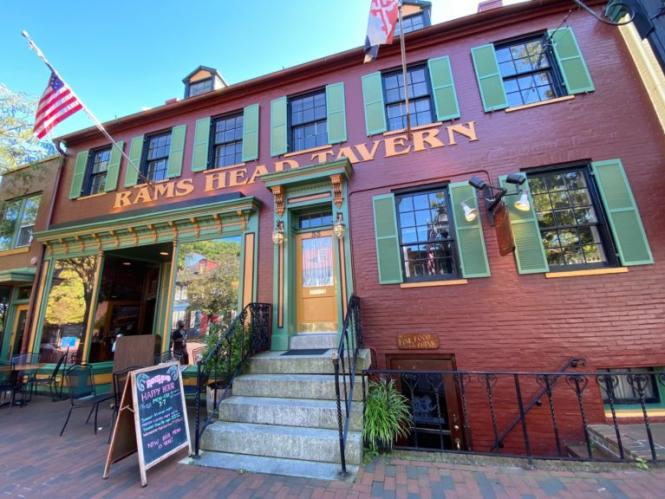 Rams Head Tavern sits on West Street and carries a wide variety of beer, ale, and lager!
Image courtesy of Visit Annapolis.
In the mood for a pint-size holiday party with your pub crawl? Your night should end at The Fed House, founded in 1830. The Federal House Bar and Grille will put some pep in your holiday step with live music every night. You can warm your body at their outdoor fire tables and your spirit with a delicious holiday cocktail. Or, lift it with a FedHead favorite like the Champagne Super-Nova.
22 Market Space
Annapolis, MD 21401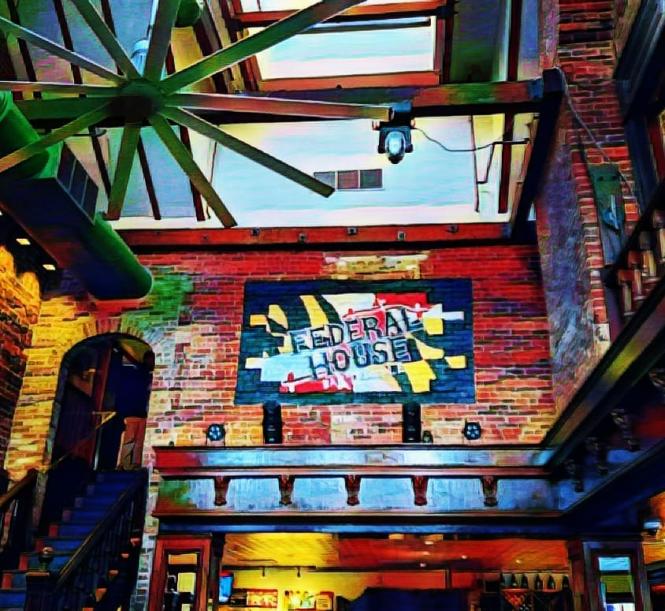 Interior of Federal House Bar and Grille, a historic pub on Market Space.
Image courtesy of Federal House.
As the name suggests, this tavern has been around the block. The pub was the original kitchen and 'Hat Shop' of William Reynolds, according to their website. And the large brick fireplace beckons you to sit and stay awhile. Maybe you want to enjoy the holiday season in the spirit of the United States forefathers; if so, you must make a stop along your pub crawl at 1747 Pub and take home a glass of George Washington's Eggnog.
7 Church Cir
Annapolis, MD 21401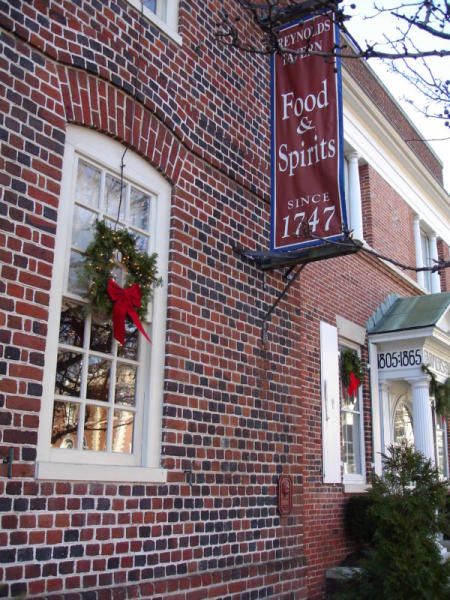 The historic 1747 Pub has served food and spirits for hundreds of years!
Image courtesy of Visit Annapolis.
Founded in 1750, this establishment is one of the oldest continuously operating taverns in America. Stop in for delicious oysters and cozy cocktails by the fireplace on the ground floor. Or, venture to the second level for their infamous piano bar and delightful array of signature cocktails and draft beers.
2 Market Space
Annapolis, MD 21401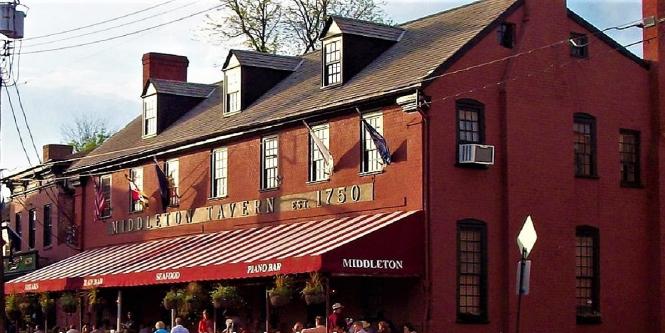 Middleton Tavern was founded in 1750.

 
Harold Black
This subterranean speakeasy was founded in 2022, but the building was built on the remnants of 3 19th-century structures for the Annapolis Banking & Trust Company in the first decades of the 20th century, according to the Maryland Historical Trust. Enjoy a festive Italian menu and curated cocktails in this cozy bar, located beneath Acqua al 2 at the corner of Church Circle and Main Street.
236 Main Street
Annapolis, MD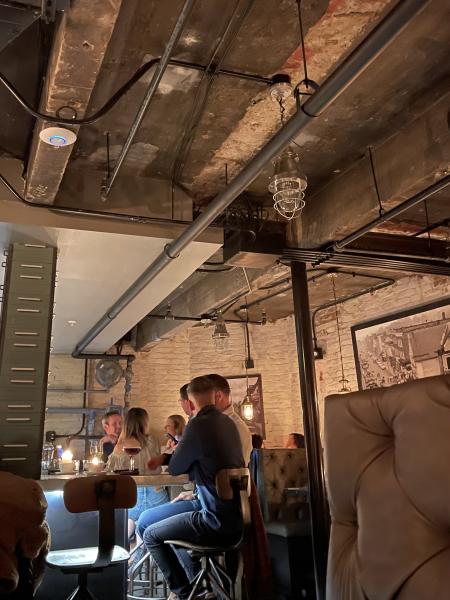 Harold Black beneath Acqua Al 2 at 236 Main Street, Annapolis.

 
Parley Room Annapolis
You will find the Parley Room on the ground floor of the historic Capital Hotel on State Circle. The building has undergone a complete renovation and dates between 250-300 years old, but The Parley Room draws upon the 1920s for its inspiration. It evokes a pleasing aesthetic visually and gastronomically- the food is inventive, with build-your-own charcuterie boards featuring duck breast, torched tuna, and bespoke cocktails. This new bar will surely be a classic Annapolis staple for years to come.
25 State Circle
Annapolis, MD
Parley Room was founded in November 2022.

 

Regardless of what stops you make along your historic pub crawl, have fun, eat well, drink merrily, and cherish the comfort of friends and family. Cheers!