There's nothing more personal than an Amazon gift card.  – Said no one.
We've all done it. Last-minute pressure gives way to practicality and you find yourself at the drugstore on December 24. Gift-giving can actually be fun and easy - if you know where to look.
Buying local art is a great way to not only show direct support for the people who make our city beautiful, but to give something special to the ones we love. Local by Design has grown to two brick and mortar locations– one in Downtown Annapolis and one in Westfield Mall– featuring over 100 creative businesses to love all year round, as well as a weekend Artisans Market in their original gallery in the Annapolis Design District. The gallery serves as working studios as well so you can see the artists at work!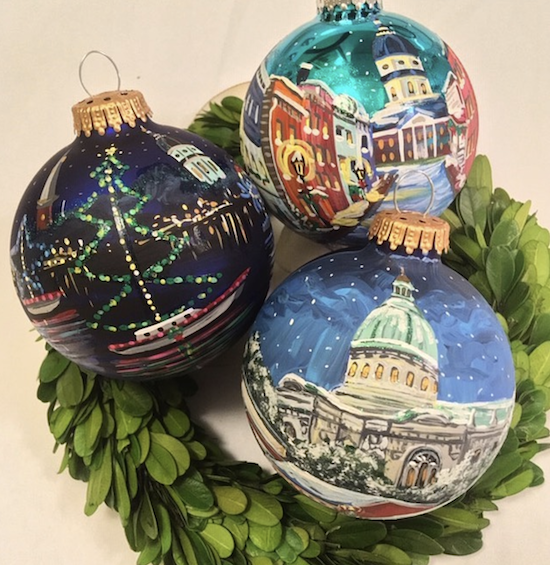 Local by Design came about from providing local artists and makers a premier retail space without having to go at it alone. The result is a collaborative mix of handmade treasures including everything from painted glassware and funky wine stoppers, to lanyards and dog leashes. Dad will love a silk tie, printed coaster, or Citizen Pride print! For an elegant monogrammed piece, check out Mayo Monograms on the Local By Design site, where you can also shop online for goodies. For your crafty loved ones, consider a night out with an ornament painting class or holiday sign-making workshop.
HERE. a pop-up shop has been popping up around Annapolis since 2013. Somehow after 29 shops, HERE. never disappoints for a unique shopping experience. Year after year, nothing makes an impression quite like their holiday shows. Exuberant window displays, decadent parties, and flowing signature cocktails will help you get your cheer on.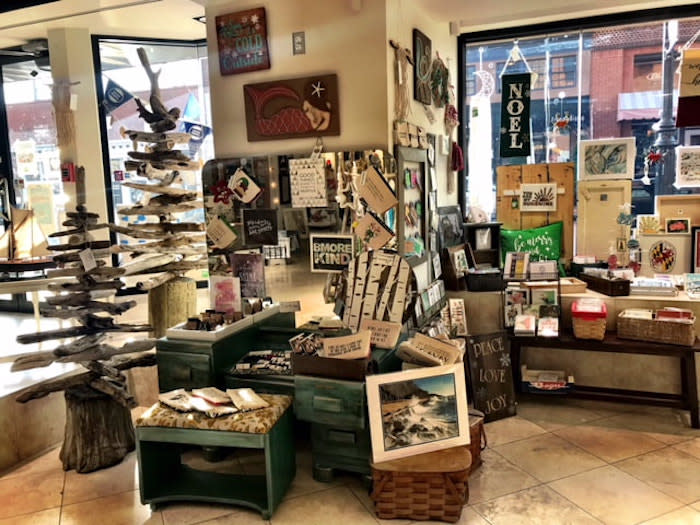 The heart and soul of the shops are rooted in owner Ellen Lunay's love and appreciation for the local talent she curates, which has been the shop's philosophy from the beginning with Ellen's co-founder, Amy Altenburg Bellhorn. HERE even has its own custom line of wares, including signature beanies, coffee mugs, art prints and more that are collaborations with some of their favorite artists.
Whether a budding star or seasoned professional, much of the imagery celebrates living the good life by the Bay. Annapolis skylines, imagery of the seashore, and the iconic Maryland flag are just some of the things you'll find sported in a variety of home goods, jewelry, & fashion pieces for the ladies and gents on your list.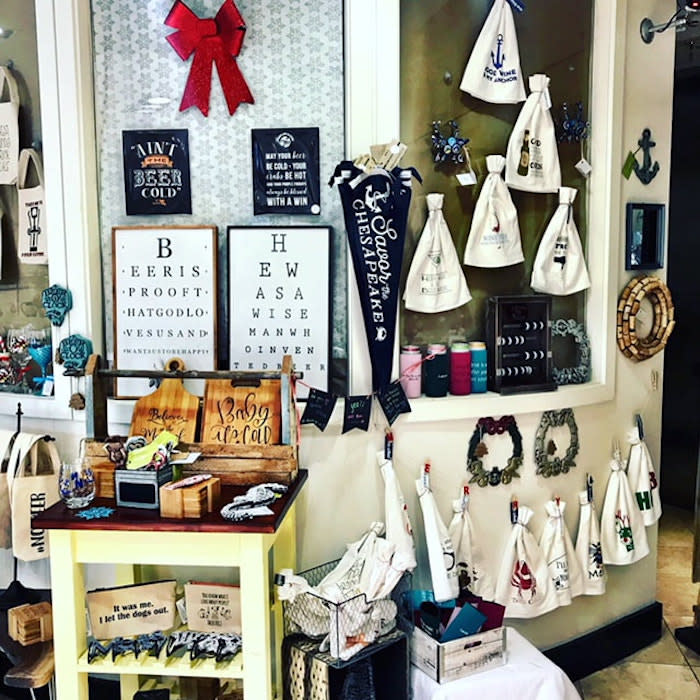 HERE's holiday shop at 53 Maryland Ave will be open daily from Black Friday, November 29th with their official Grand Opening on Small Business Saturday– through December 22nd, including all three Midnight Madness nights! Don't miss it.
Also inspired by the pop-up business model, local arts organization Annapolis Arts Alliance has been showcasing the breadth and expanse of its members' talent through an annual retail exhibit of their own. The Arts Alliance is a member operated non-profit organization that has made an outstanding presence in Naptown's art world through the dedicated work of its members, especially Board President Elizabeth Ramirez, owner of Wimsey Cove Framing & Art in the Annapolis Design District.
This year the AAA has not one, but TWO pop-ups for all your gift giving needs. With 150 member artists skilled in a variety of media, shoppers can find an array of artworks from small sculptures and jewelry to large oil paintings and photographs at a range of price points. Because the shops are run as a co-op, you can meet the artists, ask questions about their process, and maybe even see them demonstrate their techniques!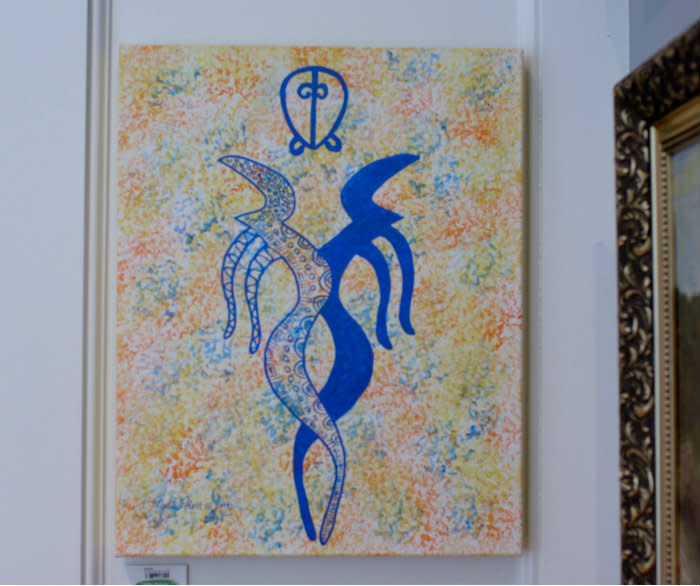 The Alliance is currently open at the Annapolis Towne Center at 1915 Towne Center Blvd until December 24, and at 232 Main St for the entire month of December - including all three Midnight Madnesses! This year's Arty Party is November 21, and the Towne Center will also be hosting a number of kid friendly festivities, including their new Fire & Ice Festival on December 7 and Santa's Cottage from November 23 - December 24. Chocolate Binge Festival will be December 8, just a short walk from AAA's Main St. Pop-up. 
Annapolis is a great springboard for creative entrepreneurs to launch their dream. There is no better example of such a success story as a leather-wallet-turned-national-handbag-enterprise known as Hobo. With their flagship store still located in the heart of Downtown Annapolis, Hobo prioritizes quality above all else since the very beginning. Quality paired with impeccable style makes for artistic leather products that just look better with age. Their color options and bag styles add special flare while always being super functional, from longer travel to everyday outings. Hobo bags definitely take the guess work out of buying for the fashion forward ladies on your list!
Once you've secured most of your list, there's no nicer touch than some stocking stuffers and a personalized ornament for the one you love. A Christmas to Remember has just what you need for a sentimental memento to wrap up 2019.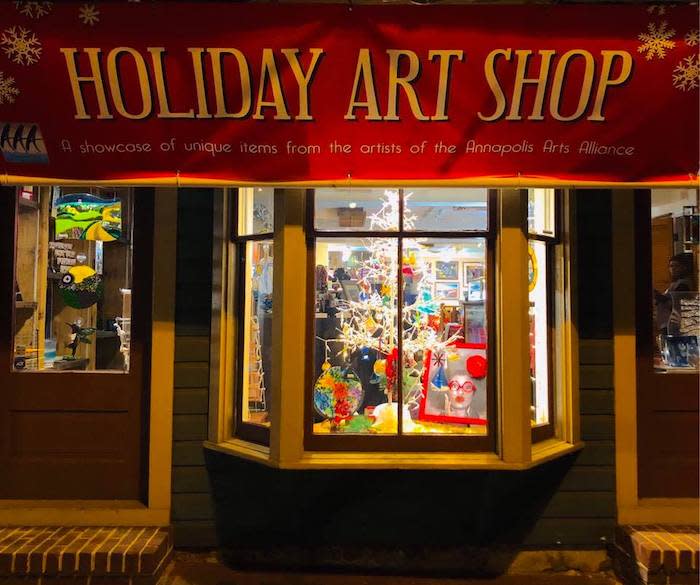 Whether you're celebrating a new baby in the family, an engagement, or want something special to represent the whole family, A Christmas to Remember is a perfect stop in your Midnight Madness shopping to commemorate the things worth celebrating in life. They even have ornaments that will make your family LOL or nerd out over their favorite action hero. You also can't go wrong with stocking stuffers like those sassy Blue Q socks!
What better way to tell someone they're one-of-a-kind than giving a gift that's one-of-a-kind?