Though it's very easy to reach, just a hard left off of Rowe Boulevard, the main road into downtown Annapolis, visitors may think West Annapolis is simply a large residential neighborhood surrounded by water, Weems Creek to the West and the Severn River to the North. And even Annapolis residents and season ticket-holding Navy football fans may not know that it offers anything beyond the small shopping center that includes Graul's Market, Walgreens, Naval Bagels, and Bella Italia.
But as a lifelong Annapolitan who grew up in Admiral Heights, the neighborhood just across Rowe from West Annapolis, and caught the school bus on Annapolis Street, in the heart of the district, I'm happy to report that there are plenty of great dining destinations hidden away in this under-the-radar region.
Better yet, nearly all of them offer carryout, delivery, or both, making now the perfect time to try one. Or two. Or three. Or nine. So here's a little taste of each: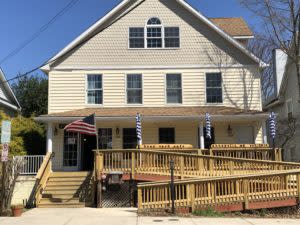 Bean Rush Cafe. Photo courtesy of the author.
Owned by a husband and wife who formerly operated private charter yachts in the Caribbean, Bean Rush is a roasting, baking, and sandwich-making company. The cozy café is my sister's favorite place to meet for a long chat over coffee, but I was happy to learn that the entire beverage menu of signature coffees, lattes, cappuccinos, and espresso drinks is available for online ordering. Bean Rush also offers carryout and curbside pickup of its eclectic menu of breakfast items, pastries, soups, salads, and hot and cold sandwiches and paninis – including at least one vegetarian or vegan soup option daily.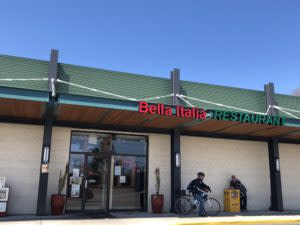 Bella Italia. Photo courtesy of the author.
If you're craving anything Italian, from a gluten-free pizza or pasta to a full family dinner, this place has it. Located in the Graul's shopping center, the restaurant quickly became my family's go-to for pizza thanks to its wide selection of NY-style, thin crust pies covered with plentiful toppings, but it really does have something for everyone. Perfect for these times, it offers carryout, online ordering, and delivery of its full menu – including beer and wine!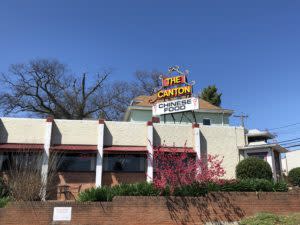 The Canton. Photo courtesy of the author.
Located next to the Graul's shopping center, the family-run Canton has been serving authentic Cantonese cuisine since 1962. While it offers an attractively-priced lunch buffet and full dinner service in its retro-style dining room during normal operation, I've actually only sat there once. However, I've probably eaten carryout from the Canton well over 100 times in my life, as it always has been and always will be my family's and my go-to for Chinese food in Annapolis. Its huge menu has something for everyone, from traditional dishes such as Peking Duck and Moo Goo Gai Pan, to every kind of rice and noodle dish you can think of – plus my personal favorite, steamed chicken and shrimp and vegetables. The portions are huge, especially given the price, and service is super-fast and –friendly whether ordering carryout or delivery.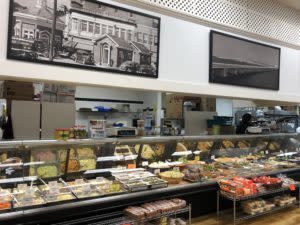 Graul's Prepared Foods. Photo courtesy of the author.
The first grocery store I set foot in, Graul's happens to be celebrating its 100th anniversary this year. It's known for offering hard-to-find items and, since its recent renovation, a great collection of historical black and white photographs of the Chesapeake region that you won't want to miss. However, it also offers a litany of fresh carryout items including breakfast all day; sandwiches, salads, and burgers; fried chicken and deli salad; prepared dinners; and a bakery full of desserts. While Graul's doesn't offer delivery (at least yet!), all of these items are available made-to-order, call-ahead, or grab-and-go.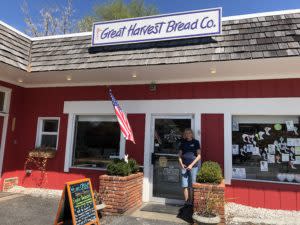 Great Harvest Bread Co. & Owner Pam Storm. Photo courtesy of the author.
Great Harvest caught my attention as soon as it opened thanks to what you can see through its windows: a huge oven and bakers baking. It kept it once I discovered its ever-changing menu of unique and seasonal loaves, from High Country Crunch to Guinness and Gouda, and its wide variety of equally-unique homemade muffins, scones, and cookies (the plentiful samples and intoxicating odors don't hurt either). While empty grocery store shelves are one reason why now is a great time to order or grab a few fresh-baked loaves, here's another: Great Harvest is helping fight hunger by baking and delivering one loaf of bread to the Stanton Center and Centro de Ayuda for every $5 its customers donate to the cause.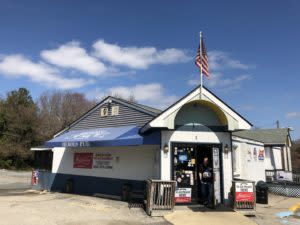 Heroes Pub. Photo courtesy of the author.
While Heroes' big TVs and 48 on-tap beers make it a sports-watcher's and happy hour aficionado's paradise, it also has a surprisingly broad menu with pub fare both typical (wings, burgers, fries, etc.) and not (New York strip steak and Ahi Tuna). The full menu is available for call-ahead curbside pickup.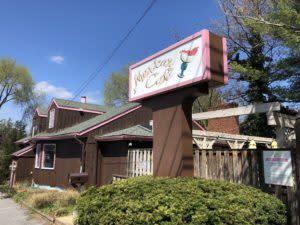 Mexican Cafe. Photo courtesy of the author.
Formerly located in Bay Ridge, the Mexican Café has been transporting guests to a "Mexican state of mind" in its West Annapolis location since 2010. Perhaps best-known for its bottomless baskets of fresh-made corn chips and big margaritas, the restaurant is offering its full menu of tacos, burritos, enchiladas, and café specialties – plus 18-, 22-, and 27-ounce margaritas! – for delivery, carryout, and curbside orders.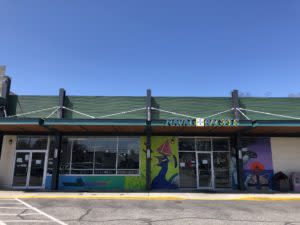 Naval Bagels. Photo courtesy of the author.
A full-service bagel shop, Naval Bagels offers 20 flavors of boiled and baked bagels (including Old Bay!); 16 specialty Breakfast Bagels, from "the" Naval Bagel (lox, cream cheese, tomato, onion, and capers) to the El Jefe (steak, Oaxaca cheese, scrambled egg, and salsa); and Lunch bagels including the top-selling Avocado Delight. They'll substitute or add anything you'd like plus even put it on bread or a wrap, so your wish really is their command when ordering your carryout, curbside pickup, or delivery.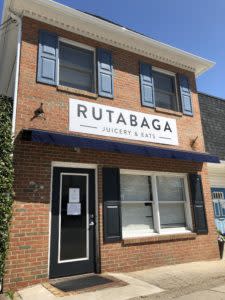 Rutabaga Juicery & Eats. Photo courtesy of the author.
Although Rutabaga has chosen to close its doors to carryout, it has launched a brand new way to make its menu of whole-ingredient, nutrient dense, plant-based food available to customers: Rutabaga At Home. Operating Tuesday through Friday, the contactless service is offering next-day delivery of not only the juices, sandwiches, and salads that Rutabaga is known for but also add-ons such protein powders and CBD products.
With so many different cuisines and so many huge menus to choose from, it's pretty safe to say that if you get a taste for it West Annapolis has it.
Happy eating!
Note: Because restaurants' hours of operation and delivery services change on a regular basis, please visit their website or call to confirm.
 

Address

 

 

Website

 

 

Phone

 

 

Bean Rush Café

 

 

112A Annapolis St.

 

 

 

410-263-2534

 

Bella Italia

 

 

609 Taylor Ave.

 

 

 

410-216-6061

 

Canton

 

 

11 Ridgely Avenue

 

 

 

410-280-8658

 

Graul's

 

 

607 Taylor Ave.

 

 

 

410-269-5103

 

Great Harvest Bread Co.

 

 

208 Ridgely Ave.

 

 

 

410-268-4662

 

Heroes Pub

 

 

1 Riverview Ave.

 

 

 

410-573-1996

 

Mexican Café

 

 

609 Melvin Ave.

 

 

 

410-626-1520

 

Naval Bagels

 

 

609A Taylor Ave.

 

 

 

410-263-1344

 

Rutabaga Juicery & Eats

 

 

116 Annapolis St.

 

 

 

410-267-0261