Maryland Avenue is one of my favorite streets in Annapolis, and one of my favorite places to wind away an afternoon or evening.  While things are different these days, here are places you can get a taste of the Avenue to go.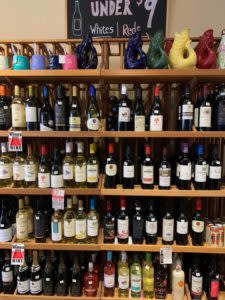 Wine at Annebeth's. Photo courtesy of the author.
Annebeth's
I'm always charmed by what's on array in this store, whether I'm picking up a bottle of wine or need a last-minute gift. They are open Monday through Saturday from 12 to 9 pm, and Sundays from noon to 8 pm. They limit no more than 10 people in the store at one time, use copious sanitizer and maintain safe distancing. They sell a varied selection of international wines and beers; all sorts of specialty snacks like MD-made Fisher's popcorn, VA's own Route 11 potato chips and baked cheese sticks; plus gourmet chocolates and sweets. (I'm personally crazy for their rice krispie treats from The Crispery.)  Depending on the day you'll also find local milk and eggs, and sandwiches and salads from Palate Pleasers. If you want to brighten someone's day with your delivery, ask them to create a gift basket for you.
Annebeths.biz, 410-990-9700
Brown Mustache Coffee. Photo courtesy of Brown Mustache Coffee website.
Brown Mustache Coffee
Set in the back of Old Fox, offerings ridiculously good coffee and gift cards. They have coffee drinks like lattes, iced coffee and chais, 12, 16 and 20 ox/ They also have bagged coffee from Ceremony Coffee Roasters, bottled Wild Kombucha from Baltimore, and a selection of chocolates and pastries. Order online at brownmustachecoffee.square.site  and they'll bring it to you curbside. While you're there, Old Fox has a slew of books and a "date night with a book" that includes a wrapped book, bottle of wine and package of fudge.
Brownmoustache.com, 410-216-4574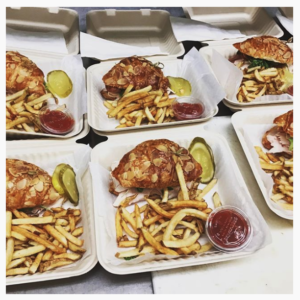 Harry Browne's take-out. Photo courtesy of Harry Browne's Instagram.
Harry Browne's
This iconic spot on State Circle is offering carryout service daily from 12 to 7 daily. The menu is posted online and features starters like crap dip and their award-winning Maryland cream of crab soup. Lite fare spans flatbreads and sandwiches, and entrees include their tasty tagliatelle Bolognese, roasted salmon and filet mignon. They also have comfort food selections of dinners for two, from lasagna to crab cakes. They also have wine and beer to go, and can offer children's menu on request. Call to order and they'll give you up a pickup time; typically 15 minutes or so. Someone brings the food out, runs your card back inside, and you're on your way!
Harrybrownes.com, 410-263-4332

Galway Bay. Photo courtesy of author.
Galway Bay Irish Pub
The Maryland Avenue staple was actively doing carryout, but made the decision this week to stop carryout.  But they are continuing to look for ways to serve the community. On March 31 they delivered 100 meals for nursing staff at Anne Arundel Medical Center, via a donation from a private donor. They will continue to facilitate customer donations, as well as their own to local first responders. Please reach out them directly if you would like to participate.
Galwaybaymd.com, 410-263-8333
Potato Valley Cafe. Photo courtesy of the author.
Potato Valley Café
This lunchtime favorite is offering carryout starting at 11 am daily, and running until 3:30 pm or so, as demand dictates. The main draw are their oven-roasted baked potatoes, topped with more than twenty fillings and toppings, from classics such as bacon, cheddar and sour cream to wilder concoctions like chicken curry; spinach, feta and roasted garlic mix; or even beef chili. They also have great sandwiches (I like the turkey, bacon and Havarti).  The menu may shift a bit as ingredients and requests change, so ask when you call in your order. You can pick it up inside or they'll run it out curbside, whatever you're most comfortable with.
Potatovalleycafe.net, 410-267-0902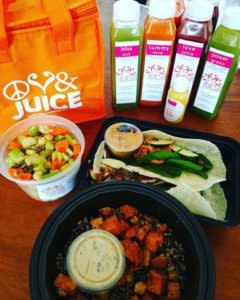 RASA Juice Shop to-go. Photo courtesy of the author.
RASA Juice Shop
Many of us are using this unexpected home time to get healthier, and RASA is the perfect partner for this. This storefront offers a daily array of organic juices and smoothies, plus vegan and gluten-free snacks like banana-oat muffins, veggie hummus wraps and butternut squash-and-roasted cauliflower soup. They offer grab-and-go and curbside delivery at the shop, from noon to 3 pm Monday through Saturday. They also offer delivery for orders of $50 or more within 20 miles of RASA, and discounted delivery for orders more than 20 miles from the shop. Same day orders can typically be delivered by 4 pm; call them in the morning and they'll set you up.
Rasajuiceshop.com, 410-570-4597