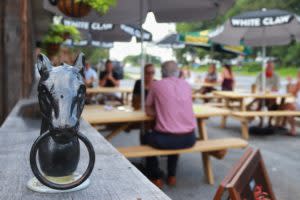 Dark Horse Annapolis is the newest bar and restaurant on the Annapolis Neck! Photo courtesy of Charlotte Faraci.
It's a bold move to open a bar in the middle of a pandemic and make it a winner. But that's exactly the plan at the aptly named Dark Horse, the newest bar and restaurant on Annapolis Neck, which recently opened on August 7.
Dark Horse Annapolis
There's been a bar at 985 Bay Ridge Rd. for decades; most recently, the Ebb Tide. However, when the proprietors of Ebb Tide decided to give up their lease, the team behind Annapolis Smokehouse—Steve Gaines and Jennifer Krohn, and Ryan and Kristian "Pinky" Gaines—were intrigued. They have a loyal following with their first restaurant, so Dark Horse was a natural next step.
"What drew us was the location and character of the building," says Ryan. "We really wanted to open a sports bar, and we wanted to keep that bar open."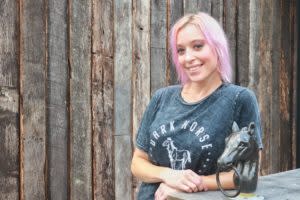 One of the proprietors of Dark Horse, Kristian "Pinky" Gaines, is excited to welcome guests to their latest restaurant venture. Photo courtesy of Charlotte Faraci.
Dark Horse uses the same footprint as Ebb Tide, but with lots of updates. Outside, wood planking gives it a rustic cabin vibe and picnic tables with umbrellas offer al fresco dining. Inside, the large rectangular bar remains the focal point. There is ample seating at the bar and at small, socially distant tables that replace the former booths. The side room has been turned into a dining room, with plenty of TVs for watching sports. 
Timely Updates
During COVID, the bathrooms were re-plumbed to feature hands-free faucets. Masks are a requirement for entry, and "if you're standing you have to find a seat immediately," says Pinky. They keep their indoor capacity well below the state guideline of 50%, and close at 10 pm. "We want our staff to feel safe," says Ryan.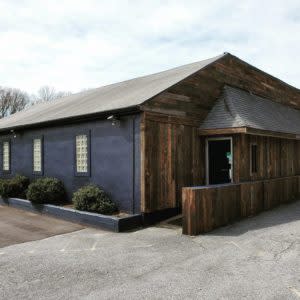 Dark Horse Annapolis is located at 985 Bay Ridge Rd. Photo courtesy of Dark Horse Annapolis.
Décor is minimal for now, and that's intentional. "Some people say it feels very industrial, but I feel like character is something you earn," says Ryan.  Their friends and customers are already helping with that. The iron horse at the entrance (which you can rub for good luck) was a gift from their contractor. Another regular customer brought in an old photo of Coney Island, home of Nathan's Hot Dogs, which ties in with their menu.  
"Hot dogs go great with sports," says Ryan. Theirs, from Baltimore-based Binkert's German Meat Products, are made with beef and pork and come in 12 styles. Some are simple like the Classic Coney; with meat sauce, onion and yellow mustard. Others are locally inspired like the Chesapeake; topped with hot crab dip, cheddar and scallions. You'll also find the Sweet Carolin(e)a; with pulled pork, BBQ sauce and cole slaw; and the Mac Dog with mac-n-cheese, crumbled bacon and scallions.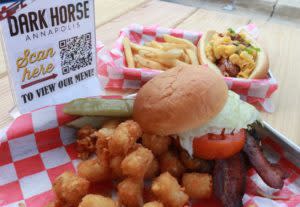 Burgers and tots, hot dogs and fries; the new menu offers something for everyone! Photo courtesy of Charlotte Faraci.
Burgers were an Ebb Tide staple and the Dark Horse burger is even better. With myriad toppings to choose from and a side of fries or tots, this classic will not disappoint. The Dark Horse menu also includes wings, oversized hot pretzels, deviled eggs and more- which mean you won't go hungry, even if the game goes into triple overtime. 
Hometown Vibe
The proprietors are avid music fans, and once COVID-19 restrictions are lifted, the new main bar will feature live music. "We'll start with bands on Saturday nights, and then roll out a music program with something happening every night, like karaoke, trivia, or open mic nights," says Pinky.
The shutdown did push their April opening back by five months, but Pinky sees a positive side. "The silver lining is, it helped us fine-tune the building and curate a rock star staff," she says. It includes James Hansen and Rich Sharpe, two popular bartenders from the Ebb Tide days, and Troy Chittum, well known in Annapolis from his years at Stan and Joe's and Fado. "We all know each other through friends, directly and indirectly," she adds. "The beauty in it was that we could create a real team."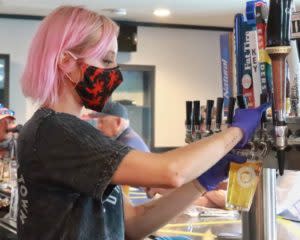 All of the staff follow the latest COVID-19 guidelines set forth by the state and county and all customers must wear masks in common areas before they are seated. Photo courtesy of Charlotte Faraci.
As for the future, "we want a place where people can relax and hang out," says Pinky. "We want this to be everyone's first stop, last stop and middle stop." From what we saw on our visit, with Jen and Pinky greeting customers like old friends and trays of tasty food going out to happy customers, they are well on their way to being a huge success. This is one dark horse we're betting on.
For more blogs written by Annapolis Foodies, click here!