"Our goal is to service hardworking men and women with quality footwear," said Kevin Campbell, store manager.
Overlook Boots is a local family-owned boot retailer. It's owned by the grandniece of Ron Snyder, owner of the property, which includes a separate building leased to Return to Oz, a consignment shop. Opening just six months prior to the arrival of Covid, a majority of Overlook's sales activity has been online.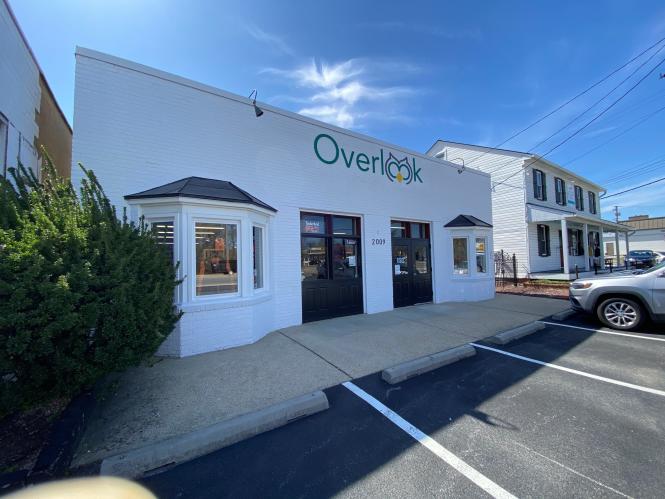 Overlook Boots is located near Old Solomon's Island Road on West Street.

 

Located at 2009 West Street, the 40' X 120' structure is used for an online sales operation and storage of merchandise with an active storefront. The remodeled retail area is filled with attractive displays of many brands of footwear and outdoor apparel and accessories.

 
Boots and More
Boots of all kinds and styles are available. Brands include Thorogood, Timberland, Carolina, Wolverine, and more. Footwear for outdoor professionals is the specialty of  Overlook Boots,  the only store in Maryland where you can walk in and buy these items. Whether you are looking for hunting, hiking, steel toe, military, or work boots, Overlook is the place to check out.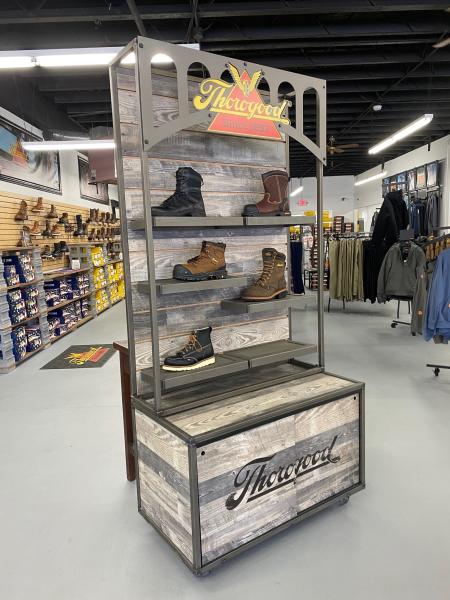 A special feature of their Grand re-Opening will be a boot show sponsored by Thorogood, a leader in the industry and an employee owned business since 1892.

 

The website provides a comprehensive listing of boots for men and women with photos and descriptions. Discounts are offered for police, fire, and  EMS. Western boots are in stock however, in early summer a section specializing in western boots and related products will be rolled out.

 

Products are not limited to footwear. There are lines of men's clothing by Timberland Pro and others, featuring flannel, fleece, as well as sweatshirts, jackets and pants, including fire resistant wear. There are power tools and auto movers, a robotic lawn mower. I took a close look at a selection of supple leather tote bags with a rich, earthy aroma. Kevin told me they are handmade by an artisan in Lancaster, PA.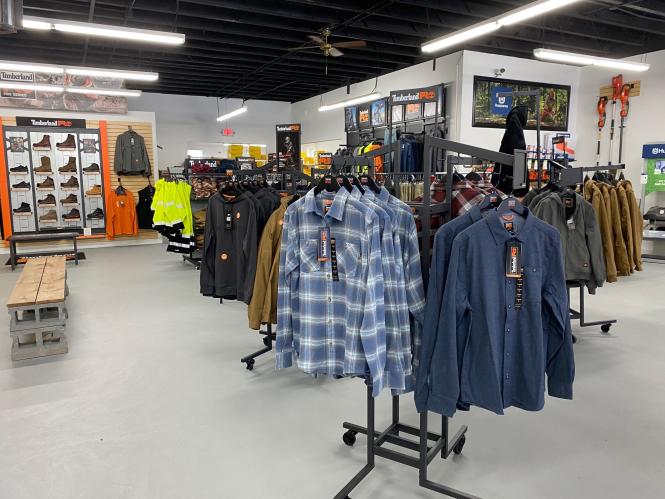 More than workwear, Overlook also carries handmade goods from regional artisans.

 
Grand Reopening Event - May 15th
Mark your calendars now! Overlook will be hosting a "Grand Reopening" event on Saturday, May 15th. At the celebration, refreshments from a local restaurant will be served along with live music entertainment. A special feature will be a boot show sponsored by Thorogood, a leader in the industry and an employee owned business since 1892.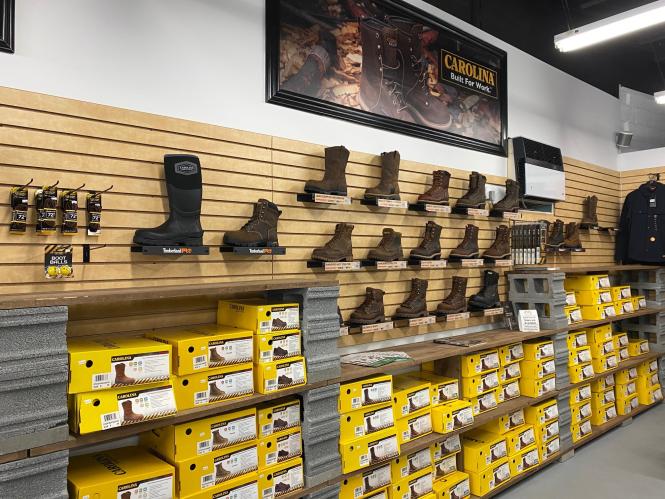 Overlook offers a discount to police, fire and EMS workers.

 
History of the Building
Back in the 1920's, the corner property was owned by Sam Finkelstein. The warehouse was constructed in the mid-1950s, where a concrete block structure had burned down. Marlene Weinberg, one of Finkelstein's daughters recalls the large building was built with a reinforced ceiling in case a second floor was ever to be added. As the warehouse was being designed, her father included two front windows to reflect colonial treatment in the spirit of Historic Annapolis.
The purpose was to serve as an accessory structure for display and storage of inventory related to the antique business located in his white frame two-story dwelling next door. The inventory consisted mainly of furniture and large items.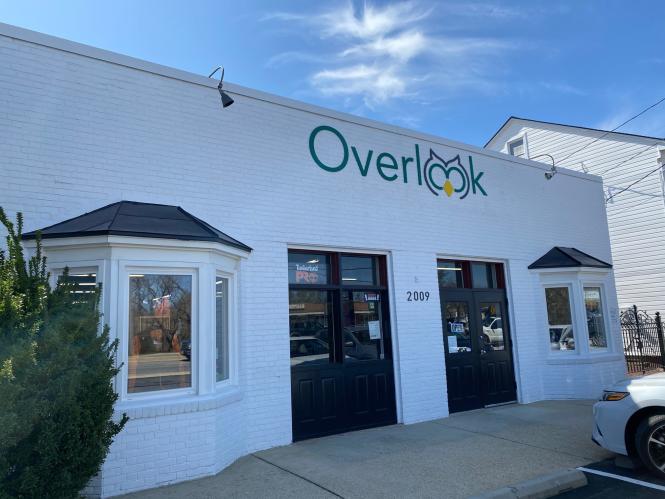 Back in the 1950's the building was built by Sam Finkelstein, the two front windows were installed to reflect colonial treatment in the spirit of Historic Annapolis.

 

For awhile, space in the oversized warehouse near Annapolis Town Center, was leased to Chesapeake Cutters, to accommodate  large computerized machinery utilized to cut sails. There are overhead doors on the back of the building, accessed by Solomons Island Rd for truck deliveries.

When Finkelstein passed away in 1984, and the warehouse was eventually emptied of all of the inventory, Marlene fondly remembers visiting the space with her young daughter, Stacy who enjoyed the vacant building as her own private roller skating rink.

The property was then leased and later sold to Snyder who also operated an antique business on the site. Over those years, the warehouse was used as a market for the sale of antiques in individual booth spaces. Today it has been transformed into a retail space for modern workwear.