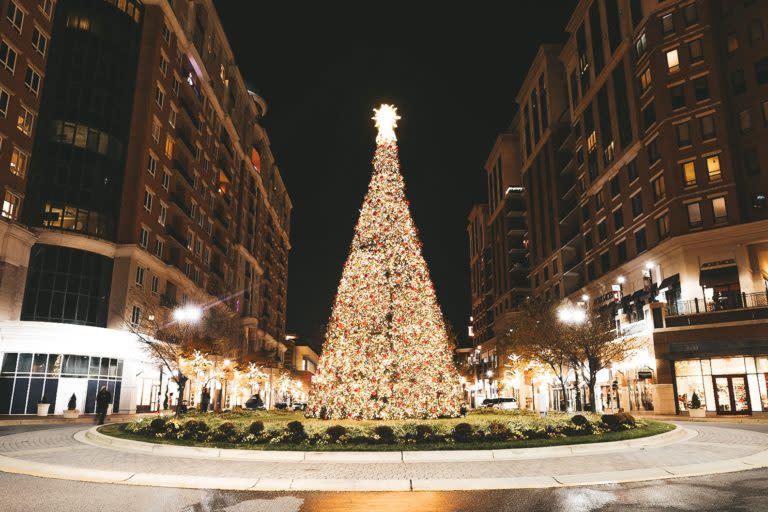 Annapolis Town Center offers a walkable outdoor shopping experience with a mix of local and national retail stores. Image courtesy of Annapolis Town Center.
During this holiday season, you may be interested in shopping in wide-open spaces with easy parking for holiday gifts and special purchases. To save time driving around town, you might prefer somewhere that also includes on-site grocery shopping, with restaurants to grab a delicious bite to eat, or carry-out meals for later. Check out these four local shopping centers with lots to offer when it comes to shopping, dining, and offering convenient curbside services.
Annapolis Town Center
Annapolis Town Center is a destination for locals and visitors to the area, combining shopping, restaurants, services, along with a festive venue to walk around. Refer to their webpage for special offers, including these:
Scout & Molly's Pop Up Shop until 12/30, offering a variety of women's clothing, jewelry, gifts, and accessories.
Meet Santa at his cottage until 12/24. See the webpage to make reservations.
Beautifully Wilde Boutique 12/18 – 12/20  Don't miss the opportunity to step into this mobile air-stream boutique, filled with women's clothing and gifts.
Sit. Play. Pop Up Shop until 12/27 for pet lovers.
 
Clock Tower Place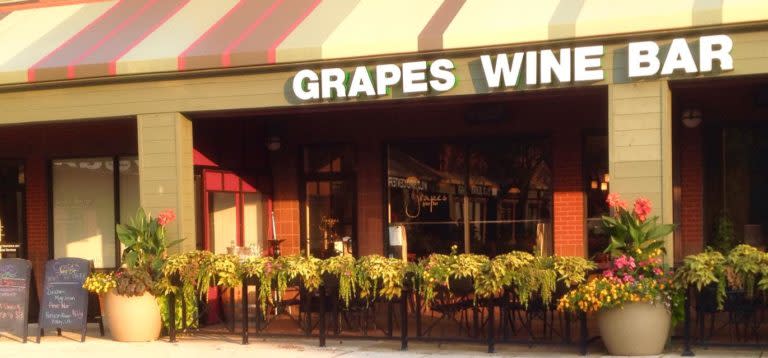 Grapes Wine Bar is located in the outdoor shopping center at Clock Tower Place. Image courtesy of Annapolis Discovered.
Clock Tower Place fronts on Forest Drive with unique shops, a wine bar, and services. Enjoy the convenient access and parking to visit these establishments and more. This shopping area is affectionately known as SoFo (South Forest Drive).
Annapolis Harbor Center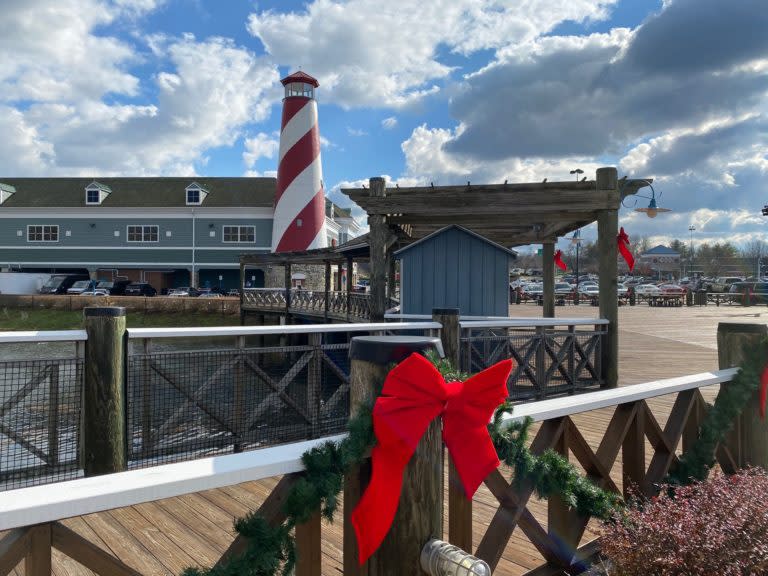 Annapolis Harbor Center has plenty of outdoor space to shop and keep your social distance. Image courtesy of the author.
Annapolis Harbour Center is a popular place to shop with lots of inviting stores and a variety of eateries with both sit-down and carry-out options. There's also a lovely outdoor sitting area with a water feature to enjoy, if you bundle up.
The recently opened Taichi Bubble Tea boasts an extensive variety of teas and a delicious menu of poke bowls, ramen, sushi, and more. You can order to your specific taste online and pick up or dine inside.
See their webpage for sales, deals, and promotions at stores like DSW Shoes, Athleta, Loft, GAP, and Ulta Beauty.
There are services such as Pure Barre, Deluxe Nails Spa & Salon, For Eyes, Fresh Market, and the Amish Market.
 
Festival at Riva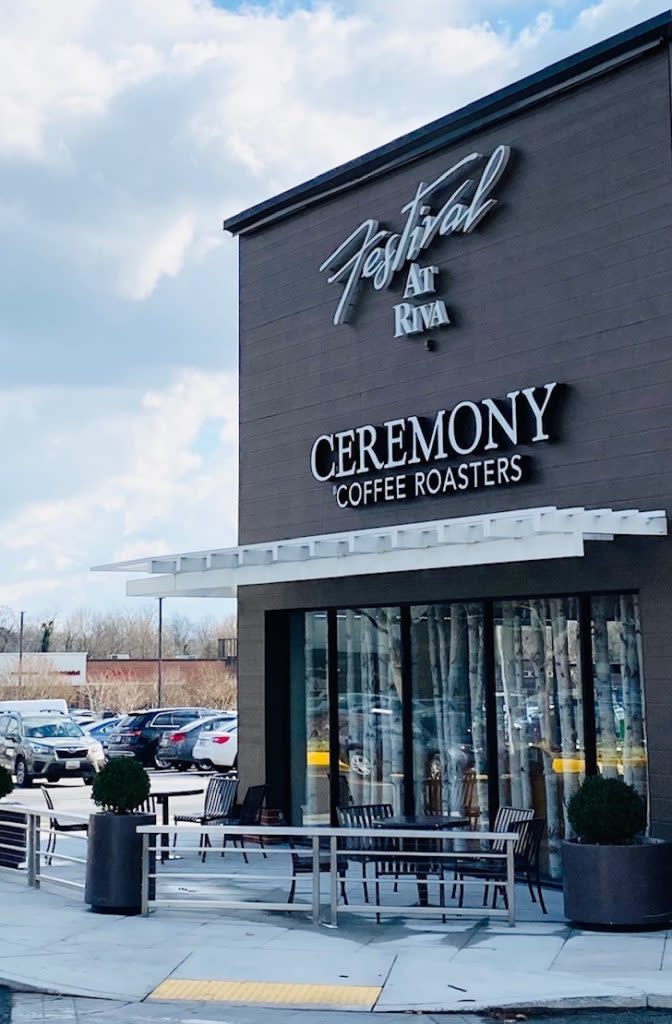 Ceremony Coffee Roasters is an Annapolis favorite at the Festival at Riva shopping center. Image courtesy of the author.
Festival at Riva is comprised of over 40 exciting stores and restaurants for your shopping and dining adventures. Sales and special deals are available on their website. Be sure to take a look as you run through your gift lists. Restaurants are available for pick up and delivery services.
Finally, there's a Holiday Window Decorating Contest going on until 12/18. You can view from the sidewalk or from your car. Be sure to stop by and vote for your favorite. See the Festival at Riva Facebook page for details.