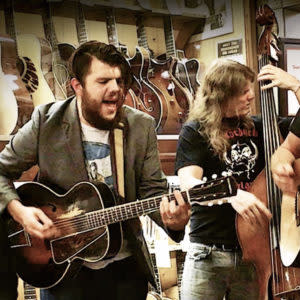 Mixed Business Duo plays at Ketch 22 as part of their live music series this month. Photo courtesy of Mixed Business.
Summer may be fizzling out, but you'd never know it upon spending time in Annapolis. Maryland's nice weather can last well into November, so we're taking full advantage of the sunshine with outdoor dining, paddle boarding, and beer garden parties. But don't forget: such activities should be enjoyed with a killer soundtrack. Luckily, there's plenty of great, live music to go around.
Dinner Under the Stars
One of Annapolis's most Instagram-able scenes includes Dinner Under the Stars along West Street. Known for its artsy flair, this part of town is home to public art, cafes, and galleries, including the new Gallery 57 West showcasing work from Annapolis Arts Alliance. While you wander down the cobblestone cafe-lit street, the sounds of guitar strumming elevate the atmosphere to a new level.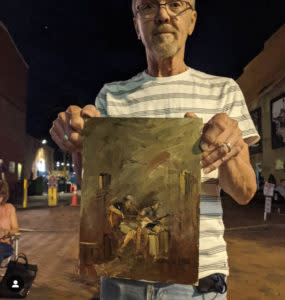 Artist, David Diaz, produces a plein air painting of the Skribe Duo during Dinner Under the Stars' live music series. Photo courtesy of Dinner Under the Stars Facebook Page.
This week there will be featured musical acts all Labor Day weekend, from September 2nd through the 6th, coinciding with the First Sunday Arts Festival. Another straightaway of music follows the 9th through the 13th. Performers include Alexander Peters, Wheelhouse, Timmie & Tambo, Caleb Stine, Doug Segree, Chris Sacks, Alyssa Shouse, and Hardway Connection. Usually in the evenings from 6pm–9pm, you can check out the full schedule at the Dinner Under the Stars Facebook page.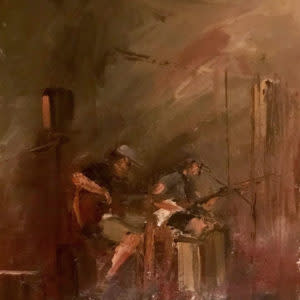 Skribe Duo by artist, David Diaz. Photo courtesy of David Diaz.
If you're looking for a waterfront scene along with local, live music, you can experience the same vibe at Market Space near City Dock. Jamming all Labor Day weekend, afternoon and night, you can find concerts by Skribe Duo, Ryan Kozel, Seth Kibel, Larry Lay, and Sean Hetrick. If you missed them on West Street, Chris Sacks, Doug Segree, Alyssa Shouse, or Alexander Peters can also be found at Market Space this weekend.
Alexander Peters has a busy month, playing the Beer Garden at Hopkins House in addition to his gigs Downtown. Located in Gambrills, the Hopkins House is the birthplace of Johns Hopkins, known as the namesake for world renowned Johns Hopkins Hospital and Johns Hopkins University. Historians are working to restore the house, and in the meantime, are utilizing the beautiful grounds for outdoor entertainment in order to publicize their mission.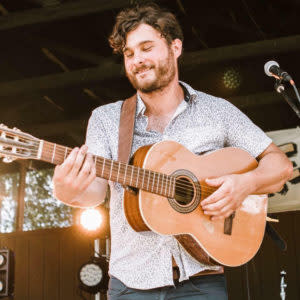 Alexander Peters has a busy September schedule playing in downtown Annapolis as well as the Hopkins Beer Garden in Gambrills. Photo courtesy of Alexander Peters.
You can catch Peters' live music performance on the 25th of the month. Local favorites Pressing Strings will also be playing the Hopkins House Beer Garden this weekend on the 4th from 5:30–8:30, followed by Skribe on the 18th.
Waterfront Hang-outs
With upbeat rhythms and soulful singing, it's no wonder Pressing Strings is an Annapolis favorite. Enjoy their big sound without the big crowds in their upcoming outdoor gigs, including The Point Crab House and Ketch 22. What goes better together than seafood and song? If you're in the mood to move around more than crack crab claws, you can also check them out at Eastport Democratic Club on the 12th, a local's gem of a venue in the Maritime Republic of Eastport. Get familiar with the Pressing Strings sound with acoustic performances every Sunday morning with front man Jordan Sokel. There's no better live stream for sitting outside with a cup of coffee!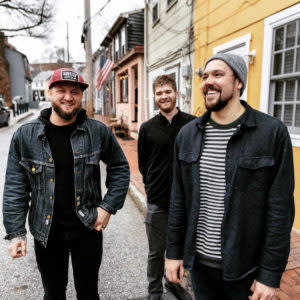 Pressing Strings. Photo courtesy of Pressing Strings.
Mixed Business Duo, Joey Mitchell and Brian Forte, will also be playing outside the EDC this Saturday evening. (Lots of Labor Day concert hopping to do!) You can catch Joey's upright bass and Brian's stellar vocals at Ketch 22 every other Wednesday if you are looking for more of a low-key weekday jam on the water.
Really Waterfront Hang-outs
Speaking of "on the water," there has been no cooler start-up concert series than Capital SUP's X Live Music events. There will be live music every Friday in September with performers Doug Segree on the 12th and Ted Bowne from Passfire on the 19th. Paddlers will hit the water around 5:30 and music will start at approximately 6pm. No board? No problem! Capital SUP rents everything you need and even provides lessons if you want to get the hang of it before you set out to sea. So far, paddlers have enjoyed the sounds of Sokel, Skribe, and Sean Hetrick on the floating stage.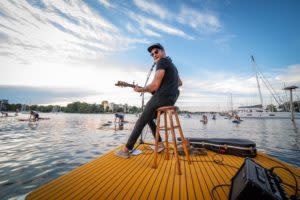 Sean Hetrick plays to an exclusive audience during Capital SUP's concert series. Photo courtesy of Capital SUP.
Sounds of Annapolis, Anywhere
If you're not quite ready to venture out, virtual concerts are still going on strong on Facebook. Check out Jimi Haha's solo acoustic couch concert every Wednesday at 8pm, and get ready for Jimmie's Chicken Shack full band line-up for a live stream on September 19th.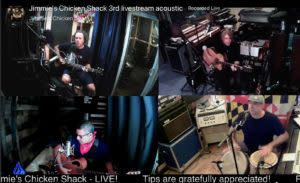 Jimmie's Chicken Shack performs at a Facebook Live concert. Photo courtesy of Jimmie's Chicken Shack.
Other impromptu live music performances pop up from time to time if you like such pages as Charles Kavaoosi, Shawn Shakya, Skribe, Swampcandy and more. Another bonus to the online concerts, you can view past performances to get familiar with these local faves before coming to town.
Even though its been a heck of a weird summer, the best parts of Annapolis– its local artists, musicians, shops, and restaurants– are still here to help us enjoy the good life.
Dinner Under the Stars- Live Music Schedule
Sept 2 Wheelhouse 6:30pm-9:30pm
Sept 3 Timmie & Tambo 6pm-9pm
Sept 4 Alex Peters 6pm-9pm
Sept 5 Alyssa Shouse 6pm-9pm
Sept 6 Caleb Stine 6pm-9pm
Sept 9 Hardway Connection 6:30pm-9:30pm
Sept 10 Chris Sacks 6pm-9pm
Sept 11 Timmie & Tambo 6pm-9pm
Sept 12 Alex Peters 6pm-9pm
Sept 13 Doug Segree 6pm-9pm
Market Space- Live Music Schedule
Sept 3 Chris Sacks 6pm-9pm
Sept 4 Larry Lay 5pm-9pm
Sept 5 Skribe Duo 12pm-3pm
Sept 5 Doug Segree 6pm-9pm
Sept 6 Seth Kibel 12pm-3pm
Sept 6 Ryan Kozel 5pm-8pm
Sept 10 Alyssa Shouse 6pm-9pm
Sept 11 Sean Hetrick 6pm-9pm
Sept 12 Seth Kibel 12pm-3pm
Sept 12 Timmie & Tambo 6pm-9pm
Sept 13 Alexander Peters 12pm-3pm
Sept 13 Ryan Kozel 5pm-8pm
Pressing Strings
Sept 2 @The Point 5-8
Sept 3rd @Julep 6-8
Sept 4 @John Hopkin's House Gambrills 5:30-8:30
Sept 5th @Founder's Tavern Pasadena
Sept 12th @Eastport Democratic Club 5-8
Sept 16 @The Point 5-8
Sept 23 @Ketch 22 5-8
Sept 24th @Knoxie's Table 5:30-8:30
Sept 30th @The Point 5-8
Jordan Sokel FB livestream 10am every Sunday