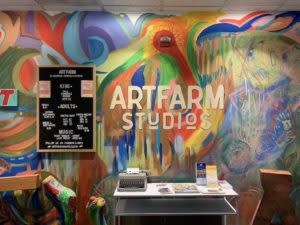 ArtFarm Studios offers two upcoming camps as part of their August summer camp series. Photo courtesy of Visit Annapolis.
Summer camp in Annapolis is often ruled by outdoor activities, like sailing and boating. However, Annapolis is also a haven for the Arts! Our historic town on the Bay is privy to an amazing community of local artists who have made it their mission to inspire the next generation of artists. Because of this influence, the younger folks in Annapolis are able to enjoy summer art camps in addition to traditional summer activities; all thanks to local businesses and organizations who prioritize the arts.
Camp Safety
A camper at Maryland Hall wears a face mask during her Art Class. Safety is a priority at all of the in-person summer camps. Photo courtesy of Maryland Hall.
Although back-to-school is quickly approaching, virtual and in-person summer art camps are occupying kids through the end of August. Each camp is taking the necessary precautions, i.e.; temperature checks, washing equipment, social distancing, and mandatory masks. All in an effort to ensure the campers stay safe and healthy.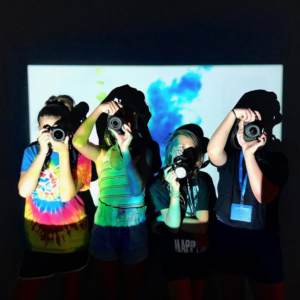 Fearless Girls Photogrpahy Camp in action. ArtFarm also offers a Graphic Design class as part of their summer camp schedule. Photo courtesy of ArtFarm.
ArtFarm champions artists and the art community in Annapolis through classes for adults as well as children. They also offer gallery showings and live performances in their Annapolis Arts District studio. Still to come this summer, their Fearless Girls Photo Camp for advanced and returning campers will run August 17th to August 21st. This week-long camp encourages young female photographers to "own your image" and allows them space and support to build confidence as an artist.
This eye-opening experience is lead by professional photography instructors and includes day trips walking around downtown Annapolis. Kids interested in the digital arts have the opportunity to learn about the fundamentals and importance of good design during the Graphic Design Camp, August 24th to August 28th. With most of the program being hands-on designing, a laptop with Adobe isn't required to participate.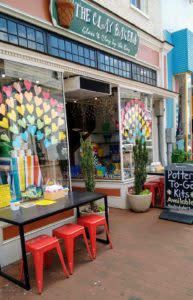 The Clay Bakers offers their ArtRageous Summer Camp for kids through the end of August. Photo courtesy of author.
A local favorite for amateur and professional artists alike is The Clay Bakers pottery studio on Main Street. In August, kids ages 6+ can enjoy the great outdoors during their ArtRageous Summer Camp, August 17th to August 21st. Campers create artistic projects through a variety of mediums such as pottery painting, glass fusing, clay sculpting, tie-dye, wheel throwing, and much more. By promoting creativity and imagination, the campers are able to try a new artistic medium that they may not experience in traditional art classes.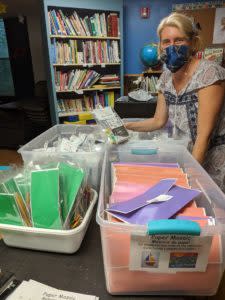 Pictured, museum volunteer Molly Estabrook; as she packs the first batch of 'Creativity' Kits for Chesapeake Children's Museum. Photo courtesy of Chesapeake Children's Museum.
The Chesapeake Children's Museum is going completely virtual with their summer art camps this year. They are calling it Art from Afar and for a fee you can receive a curated, downloadable art kit for your little one. One program, Creating with the Masters; gives young artists the opportunity to learn about and draw inspiration from the lives and works of Marc Chagall and Claude Monet, to name a few. They also offer virtual Girl Scout badge activities. For a full listing, visit their website.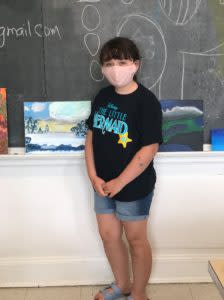 A student at Maryland Hall for the Creative Arts stands with a finished painting at their most recent summer camp. Photo courtesy of Maryland Hall.
Maryland Hall is proceeding this summer with a modified summer art camp schedule with an emphasis on social distancing. Campers interested in drawing pet portraits and music have the option of a digital camp experience. Classes revolving around clay work, pottery, and of course drawing, painting, and collage are taught in-person at Maryland Hall. The art camp schedule at Maryland Hall for the Creative Arts is updated weekly on their website.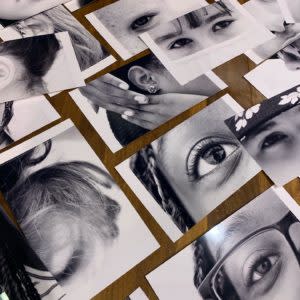 Completed Photography Projects from ArtFarm's Fearless Girls Summer Camp. Photo courtesy of ArtFarm.
Although, Art summer camps may look a little bit different this year, there are still many opportunities for artists of all ages, abilities, and interests to find a camp that works for them! Whatever you choose, be sure to sign up quickly as summer is quickly coming to a close.