On a recent crisp fall day, I had the pleasure of visiting with Suzanne Shoap, Director of Sales at the Hilton Garden Inn & Homewood Suites in Hanover. She graciously took me on a tour of the newly renovated hotel, which is essentially two brands under one roof, located in the heart of the BWI/Arundel Mills region.
 
Homewood Suites
On certain floors, you'll find a total of 99 Homewood Suites rooms suitable for extended stays, perfect for long business trips and multi week training programs for the various government entities and corporate businesses in the area. Each suite has a fully functioning kitchen, and is also larger than my first condo.
 
Hilton Garden Inn
On other floors, you'll find 151 signature Hilton Garden Inn rooms more fitting for shorter stays. Book them for a girl's trip to the Baltimore/Washington area or a weekend visit to Maryland Live! Casino and the Arundel Mills entertainment district. With the recent renovations completed in September, the dual brands reopened as one entity under the Hilton umbrella. The previous inhabitant in the physical space was Live! Lofts, one of two hotels owned by nearby Live! Casino.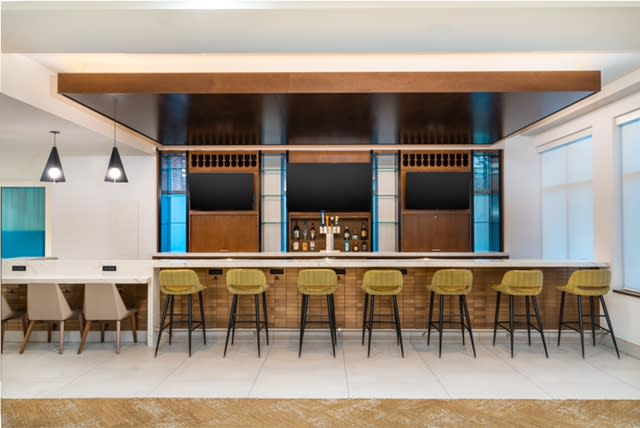 The Lobby Bar is a great place to relax after a day of shopping in Arundel Mills Mall. Image courtesy of Hilton.
Walking into the lobby, I was struck by how crisp, clean and expansive it was. Maybe I watch too much HGTV, but the brand has the idea of "open concept" down pat. On lobby right is a bar ready to serve, plush seating and a giant flat screen that I envision many a guest screaming at during March Madness. The hotel has a soon-to-be fully functioning restaurant available to all guests. (Closed due to current Covid protocols) However, I hear their current grab-and-go breakfast is just as good! The "sundry" shop, if one can even call it that, is like a fancy little convenience store. On my way out, I was reluctant to grab a cheese stick and iced tea for fear of ruining the perfectly curated display!
 
Get to know the BWI Region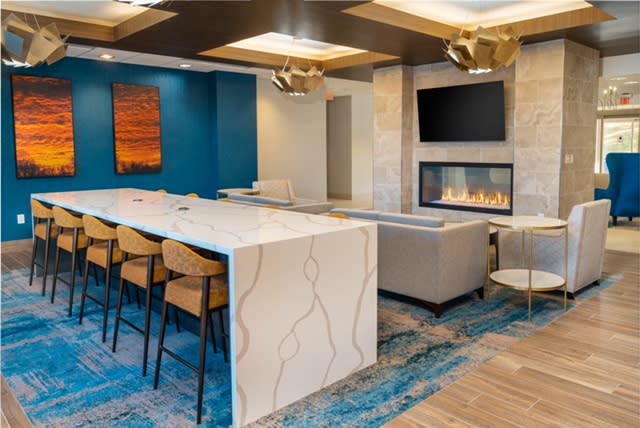 Unwind with family after a day of sight-seeing in the open concept lobby. Image courtesy of Hilton.
Suzanne, a native New Yorker, has been in the regional hotel and lodging industry for the better part of 25 years. At a time when the industry has experienced challenges unlike ever before, she has every right to express concern or hand wringing. However, to the contrary, her positivity and hopefulness about the future is infectious. If there were concerns about the current climate, they don't shine through. "We have a new, energetic General Manager and an amazing team offering true hospitality. Our guests are constantly praising our team for being so nice and helpful. Even with masks on, a guest can still see a true smile!" she told me. When guests, both short and long term come to stay in the BWI Region, there are many options to keep themselves busy and their bellies full. The nearby restaurant options are endless, with everything from Mexican (Los Portales) and Thai and Asian (Little Spice and Luk Fu) to delicatessens, Maryland crab cakes and everything in between. I mean, if you don't order crab cakes while you're visiting Maryland, were you even there? 
Spin a dial, head in any direction the arrow lands, and you'll find something to do. Almost within walking distance is the Arundel Mills entertainment district which has something for everyone. Maryland Live! Casino if you're feeling lucky, Mission Escape Room if you're feeling brave, and Arundel Mills Mall if you're feeling like you need to exercise your credit cards. To the north and just a short drive away is Baltimore where you can visit a museum or take in a Ravens or Orioles game, depending on the season. To the east lies historic Annapolis with all of its charming shops, boating and seafood. And finally, to the South by a short hop is Washington, DC. Nothing goes on there. Just kidding. Check out the H Street NE and 8th Street SE Corridors for their restaurants, the Smithsonian Museums, or walk along the National Mall.
 
Customer Service is a cut above
I travel quite a bit for my 9-5 job and I've stayed in many hotels and I can say with certainty that the Hilton Garden Inn & Homewood Suites Hanover can match almost all of them. Their services, amenities (too many to list in one article), as well as their cleanliness and kindness are all top notch. For the longer-term guests who are more likely to need it, there are laundry and dry cleaning services. I found there is plenty of space to stretch out after a long day, whether in the room or in one of the hotel's inviting outdoor gathering spaces.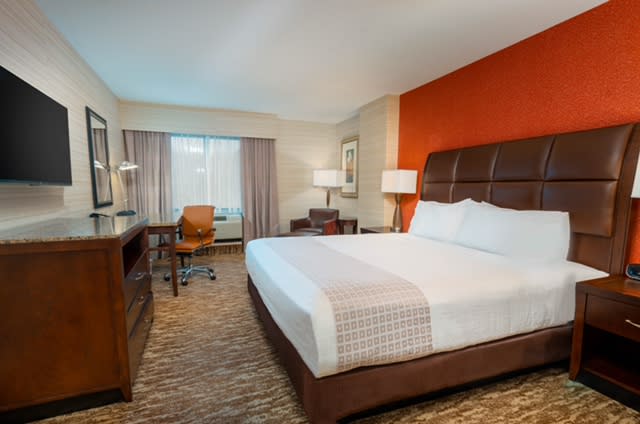 The rooms are spacious so you can settle in and get comfortable for your weekend trip or extended stay. Image courtesy of Hilton
Suzanne says that it's common to really get to know the extended stay guests. She loves learning who they are as individuals and what their interests are, and being able to rattle off their names when they step off of the elevator. "I think the personal touch is appreciated even more with everything we have all been going through during the pandemic. Basic human kindness and friendliness go a long way, especially when you are on the road," she said. In these unprecedented times, I couldn't agree more.