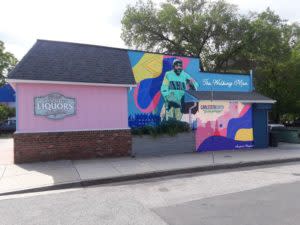 The final 'Walking Man' Mural at Pinkey's Liquors on West Street, Annapolis, MD.
Images Courtesy of Comacell Brown Jr. and the Walking Man Mural's Facebook page.
The Muse
With each new wall, Annapolis is telling its history and culture through the language of public art. I'm sure Carlester Smith would have never considered himself a cultural icon when he walked up and down West Street for years and years, but he might be the single-most well known figure in Annapolis, even to those he never spoke to.
For 40 years, you could find an animated Carlester walking West Street with bag in hand, picking up litter and giving a wave and a smile to passerby. His noticeable presence earned him nicknames such as "West Street's Walking Man", "Walking Lester" and "Carlester, the Bag Man," and in closer circles, his family nickname "Buckwheat." Whatever you call him, Carlester is a local legend.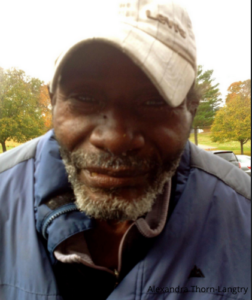 Carlester Smith, Annapolis' 'Walking Man'. Images Courtesy of Comacell Brown Jr. and the Walking Man Mural's Facebook page.
After arthritis pain took its toll and kept Carlester homebound, people in the community took notice of his disappearance and began inquiring on social media for updates. When word got out that his family was in need of medical supplies for Carlester's sister to provide full-time care, a small fundraiser turned into an outcry of love and support. A humble ask of $200 closed out at just over $23,000 in donations towards Carlester's needs. Annapolis was more than willing to lend a hand to the walking man they missed seeing on the streets of Annapolis.
The Artist and Activist
Pretty soon, we'll all be able to see Carlester's smiling face on West Street again, larger than life and this time in bold, bright colors. Comacell Brown Jr., also known as Cell Spitfire, is one of Annapolis' most talented multi-disciplinary community art activists and entrepreneurs. When he's not designing for clients such as Raven's quarterback Lamar Jackson or 50 Cent, he is a Teaching Artist for the non-profit organization Future History Now. He's also a frequent collaborator with the organization's founder Jeff Huntington and fellow teacher Deonte Ward. Most recently, they completed a memorial mural installation for George Floyd at City Dock. Comacell is also a recent graduate of the Leadership Anne Arundel's Flagship Class of 2020. With his many talents, its no wonder Comacell's name kept circulating when talk of the mural began.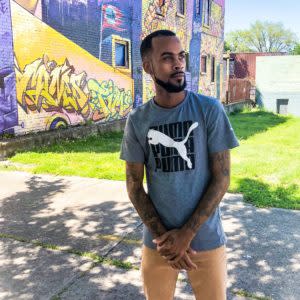 Comacell Brown, Jr. a.k.a. Cell Spitfire, - The Artist and Muralist who will be painting the tribute to Walking Man.
Images courtesy of Comacell Brown Jr. and the Walking Man Mural's Facebook page.
From the Artist...
It means a lot to me to be blessed with this opportunity to lead on this project. As a true Annapolitan I know how much Carlester dedicated his life to this city and this mural is the least we could do to commemorate all he's done. This is a small token of our appreciation. 
It came about through a post on facebook with city residents asking for a mural or something everlasting to do in his honor and I was tagged by over 75+ users requesting that it be me and the rest is history in the making. 
The inspiration of the design came from bright and bold colors that represents how he stood out whenever you saw him walking through the city cleaning up trash, waving his trash bag and directing traffic like a professional. I will also be adding a powerful quote on the mural that I will show on the reveal. The colors also compliment the pink color already on the building.
-Comacell Brown, Jr.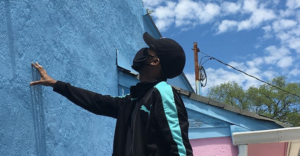 Photo of Comacell Brown, Jr. prepping the wall for the mural. Images Courtesy of Comacell Brown Jr. and the Walking Man Mural's Facebook page.
The Art
Comacell's canvas will be Pinkey's in the industrial district of West Street. The jumpstart of the mural's initiative can be credited to Janice Hayes Williams and Comacell, and a virtual concert has helped fund half of the mural's expense so far. Carlester and his family experienced the special evening at home, where messages of love and appreciation from the community were shared, including an appearance from Annapolis Mayor Gavin Buckley. Performances by musicians, locally and from all over the world, made up a 5+ hour live stream. Jimi Haha, who worked with Jeff Huntington to paint a portrait of Carlester several years ago, sang a cover of James Taylor's "Walking Man." An original song written for Carlester was performed by Annapolis native Harrison Cofer, and the very appropriate "I'm Gonna Be (500 miles)" was covered by Acoustic Cafe.
Carlester's positive spirit and good citizenship earned him a citation from Governor Larry Hogan this month as well.  At a time where most of us feel overwhelmed in our ability to make a difference in the world, Carlester is a beacon of hope. His simple acts of kindness and the consistency of his presence made every Annapolitan's day brighter; for decades, as he walked down West Street. With Comacell Brown's new mural, we'll be seeing our beloved Walking Man soon.
To track the murals progress and contribute to its creation; go to facebook.com/carlestersmithannapolis. Checks can also be mailed to P.O. Box 5736 Annapolis MD 21403, made payable to ACF/Carlester Mural.