Annapolis is quickly becoming a festival town, and we take great 'Pride' in our annual parades. And this year, we're excited to see the return of the Annapolis Pride Parade and Festival the weekend of June 3-4, 2023. If you've never been to an Annapolis Pride event, it's an excellent opportunity to engage with the LGBTQIA+ community and celebrate the kick-off to Pride Month! So, let's get started.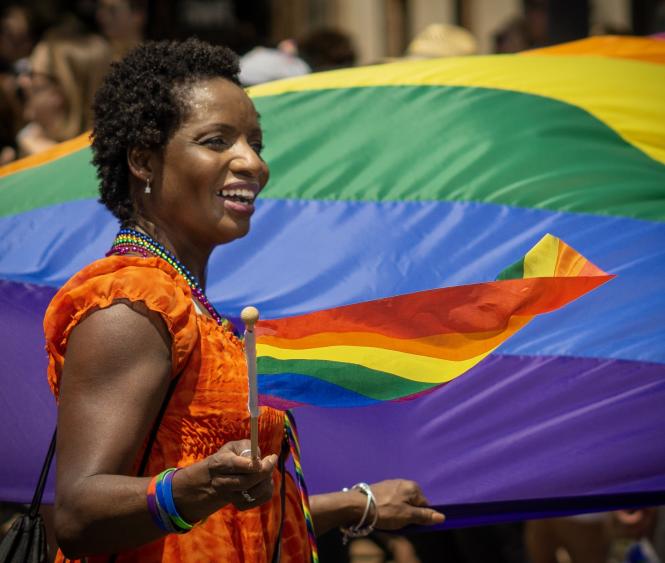 Image courtesy of John Goucher.
 
Express Yourself: Protecting LGBTQIA+ Youth. This year's parade and festival theme centers on protecting the tens of thousands of local young people who face increasing hate and assaults on their mental health.
Celebrate with thousands of LGBTQIA+ folx and allies. Last year's parade and festival were wildly successful! Nearly 10,000 attendees came out to show support for our LGBTQ+ community.  
LGBTQIA+ Visibility and Inclusion Matter! Support and uplift LGBTQ+ youth and help to create and patronize safe spaces. Join us for this family-friendly event to show your support.
Free PRIDE Swag! Many marching groups and vendors will give out Pride swag, resources, and product samples along the West Street to Calvert parade route.
Over 200 Festival Vendors! With over 200 vendors expected, there's something for everyone! Tons of community resources, faith groups, food, local artisans, and businesses.
Music & Entertainment! Don't miss our entertainment lineup on two stages at the festival featuring Bryce Brown, L. Rodgers, Honey Sol, C. Rafter, Ronshaye Clark, M.E.G.A. YOUTH, Priddy Music Academy, and more! Nationally renowned indie artist, whatever mike, will headline the music portion of the festival. 
More Amazing Food! Thirty-five food trucks and local restaurants will sell food at this year's event. 
Celebrate Early! Celebrate in Annapolis, then head to D.C. on June 10, Delmarva Pride on June 17, or Salisbury, Baltimore, and Frederick on June 24. Annapolis has one of the earliest June Pride celebrations around the mid-Atlantic, and it was voted Best Regional Pride Parade by the Washington Blade in 2022.
There's an app for real-time information. Annapolis Pride has collaborated with Where in Annapolis to provide real-time parade and festival information through their app, free from Apple's App Store or Google's Play Store.