Wild Kid Acres could be the most unique farm/petting zoo you will ever find and it's located just outside of Annapolis on the Mayo peninsula in Edgewater. Most of the rescued animals roam together freely. You'll find chickens, turkeys, goats, horses, pigs, cows, and alpacas on this quaint farmette. No visit is complete without a photo of Tina, a Highland cow, who also pregnant.

Gerardo Martinez is a USNA Grad and farmer in Edgewater, MD. Image courtesy of the author.

 
The Farm Family
How did this little farm in Edgewater come to be? It all started with the Martinez family. Gerardo Martinez, a Naval Academy graduate of the class of 2011, served in the Marines. Subsequently, he worked in corporate life, operating a leadership development firm. Because of his experience, he was contracted to perform a leadership evaluation in Cameroon, Africa. Martinez and his wife, a DC lawyer, lived in the jungle for two weeks on a church property that operated as a farm. It was there he fell in love with the agricultural lifestyle and decided to buy a farm upon their return.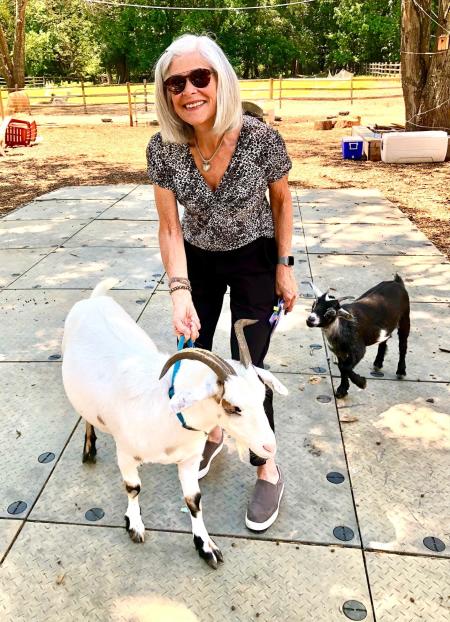 Visiting the goats makes everyone smile! Image courtesy of the author.

 

The five acre property they found and later bought on Central Avenue was in a state of disrepair. The dwelling on the site was condemned, the rear of the property had been used illegally as a dump, and there was a huge overgrowth of vegetation. Getting the farm up and running was no small task. Martinez worked with the original owner who was very much in favor of the site being used as a farm. After purchase, he made himself an expert in construction and took on the project of building a new home for his family, by himself. It was this perseverance that poised Martinez and his family for the next chapter of their farming life, the start of a new business, Wild Kid Acres!

 
Wild Kid Acres
From the start, the Martinez family began rescuing animals to live free-range on the farm. It didn't take long for Gerardo to realize that their neighbors and community were interested in what was happening on his property! Many passersby would stop and pull over just to see the goats wandering around his farm. A woman who came often appeared one day with a sign she had made, and suddenly Wild Kid Acres was born.
Everyone lives in harmony at Wild Kid Acres. Image courtesy of the author.

 

Martinez says he quickly came to understand how animals have a positive impact on mental health. From petting them to care for them, the connection between animal and human runs deep! He began to embrace the mental health aspect of his surroundings. According to the Wild Kids website, "Mental, emotional and physical health are at the forefront of every activity we do on the farm."  To that end they have even "partnered with Blossom Therapeutic Services to offer farm therapy."  They are hosting their first Summer Enrichment Camp for kids this August that focuses on animal assisted therapy.

 

Another big hit in the community is their Goat Yoga and Pilates in the Pasture. Getting fit and enjoying Mother Nature while you are at it has never been more fun! Wild Kid Acres also offers a HIIT/Crossfit class that uses the farm equipment as part of the routine. $10 for Adults and $5 for kids. For a list of all of their events and classes head to their website.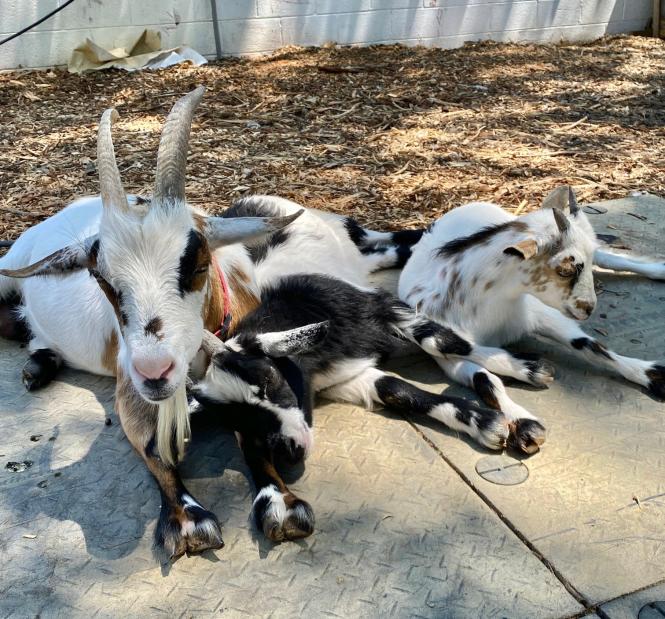 No goats were harmed in the making of this Goat Yoga Class, we promise! Image courtesy of the author.

 

The farm is a true working farm, don't let all of the events fool you! They raise chickens and collect eggs daily, they milk the goats and cows and also maintain 17 hives in their own apiary. When the goats are not busy practicing yoga, you will find them eating and managing any overgrown vegetation on the farm.

 
Collaboration is Key
In the Farm's short tenure it has blossomed to be a gathering place for the community. To date, Martinez has:
•     developed local partnerships including a tree service, a composting business and therapeutic services,
•     emphasized educational projects, and
•     included volunteers and internships to build fences, engage in livestock management and assist with cleaning, clearing, and restoring the rear of the property.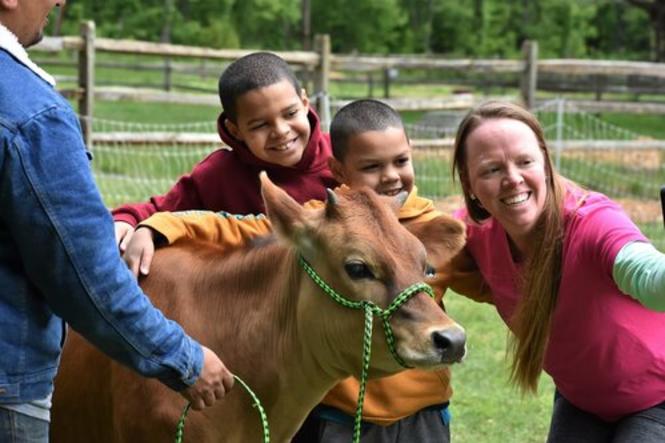 "Mental, emotional and physical health are at the forefront of every activity we do on the farm."
Image courtesy of Wild Kid Acres.
To broaden the mental health aspect, a therapy program for visitation with the animals has been arranged during the week dedicated to giving people access to the comfort of these animals. Martinez also plans to partner with the Mayo Farmer's Market in the coming months, plant a community garden, provide a myriad of educational opportunities, and is in the process of raising funds for a brand new community barn- details on their Facebook page.
Currently the farm is open to families and visitors on weekends by appointment only. Tickets can be purchased for visits on the webpage. Plan your visit to Wild Kid Acres today and remember to say hi to Tina, she loves visitors!