Proudly docked at the Annapolis Maritime Museum, Wilma Lee is one of 22 remaining active skipjacks in Maryland. Currently, she is the only one located in Annapolis, since returning to the Chesapeake Bay from Ocracoke, NC when the Museum purchased the sailing vessel in 2018.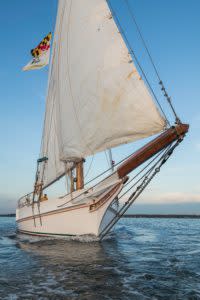 Photo courtesy of Jay Fleming
The Wilma Lee is a beautiful sight at 47 feet on the deck and 75 feet overall, including the bowsprit and the davit. Her majestic mast is nearly 65 feet tall. Twin John Deere 150hp turbo-charged engines provide her power.
Skipjacks
Skipjacks, the traditional Chesapeake Bay workboat became the official State Boat in 1985. Dating back to the 1890s, fleets of them dredged oysters from the floor of the Chesapeake Bay. At the height of production at the end of the 19th and beginning of the 20th centuries, there were as many 2000 skipjacks.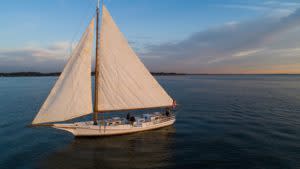 Photo courtesy of Jay Fleming
As the last working boat under sail in the United States, skipjacks have a shallow draft with a centerboard and carry a single mast, two-sail sloop rig. These V-bottom boats sit low in the water and are powerful in light winds. The few skipjacks that remain are considered a national treasure in danger of extinction.
At one time, oyster beds were plentiful and easy to harvest, but as the oyster population decreased, the draft of the skipjack was required to safely access them in shallow waters. Certain restrictions placed on the harvesting of oysters included the prohibition of dredging under power except for use of a push boat and the number of days a week permitted to dredge.
History of Wilma Lee
Wilma Lee was built in 1940 by Bronza Parks in Wingate, MD for two of his uncles. He is recognized for the construction of up to 400 boats beginning in 1920. At first, the skipjack was jointly owned by Asbury Lewis and Orville Parks. She was named after Parks' older daughter, "Wilma" and Lewis' granddaughter, Barbara "Lee". This was Bronza's first skipjack, and it's believed that based on the construction, he most likely used Orville's Joy Parks design as a model.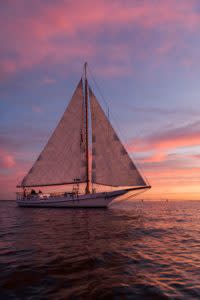 Photo courtesy of Jay Fleming
In 1962, ownership passed to Ralph L. Ruark, Bronza's son-in-law. He sailed Wilma Lee in the Deal Island races and won in 1963, 1964, and 1977. After Ruark became ill, he sold the vessel to Robert Wilson in the late 1980s and the skipjack continued to be used as a workboat.
Herb Carden purchased Wilma Lee in 1995, and moved her to Kinsale, VA. He rescued her after she was damaged by running into the Tilghman Island drawbridge and she had to be dismantled. During a five-year restoration, she was converted to a cruising yacht with additions such as air conditioning, comfortable sleeping quarters, electric refrigeration, stove, oven and diesel engines.
In 2012, Wilma Lee was donated to Ocracoke Alive, a non-profit with the mission of supporting cultural, artistic, educational, and environmental activities on Ocracoke Island. She was used as a Coast Guard inspected 42-passenger vessel. Due to financial issues involved to repair the wooden vessel after damage by Hurricane Arthur, Ocracoke Alive decided to sell her. Going full circle, Wilma Lee returned to the Chesapeake Bay in 2018, when purchased by the Museum.
What's Next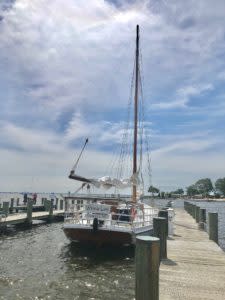 Photo courtesy of the author.
According to Captain Rick, the Museum has exciting plans for the restored and repaired Wilma Lee. Beginning July 5, the boat will be activated as a teaching tool for summer camp children. She will be available for events including cruises to enjoy Wednesday night sailing races, and a schedule of sunset cruises. With a capacity of 43 passengers, two crew, and one captain, watch for upcoming announcements.