Given Maryland's nearly 400 years of history – it became a colony in 1632 and a state in 1788 – you could easily spend a month in the state and visit a different historic site, museum, or attraction every day.
But if you're big on history and short on time, just a few days spent in and around Annapolis and Anne Arundel County is enough to give you a taste of the state's very diverse history – plus a look at the pivotal role it's played in our nation's development.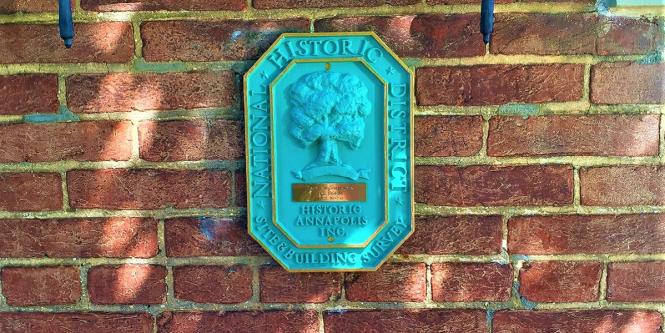 An historic marker from Historic Annapolis denotes the building's architectural and historical significance.

 

 

There's no better way to get an extensive, yet highly-efficient lesson in the history of Annapolis – a city known as the "Athens of America" during colonial times – and a look some of the many beautiful brick buildings in which much of it took place than on this 90-minute tour.

 

Leaving from the Annapolis Market House, you and your colonially-clad tour guide will visit landmarks including the Maryland State House where, during its short stint as the nation's capital, General George Washington resigned as General of the Continental Army and the Treaty of Paris was ratified; the William Paca House, where Maryland's third governor and one of its four signers of the Declaration of Independence lived; and Middleton Tavern and Reynolds Tavern, where Paca and his peers, in stark irony, discussed the nation's independence and bought slaves such as Kunta Kinte, whose memorial you'll also visit at City Dock.

 

Tours are offered once per day, Thursday through Monday, at 10:30 a.m.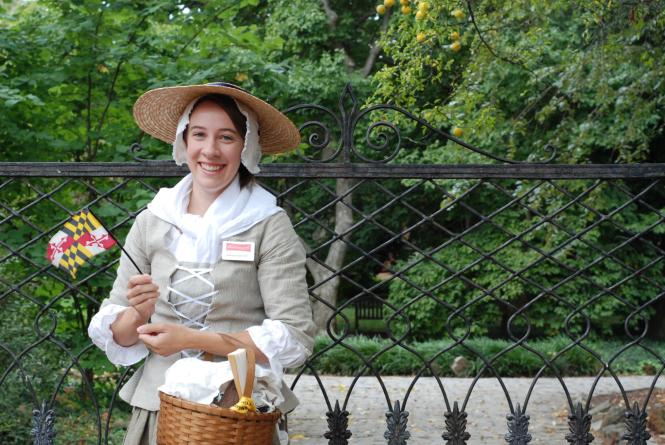 Learn the history of Annapolis with your colonial clad tour guide from Watermark Journeys. Image courtesy of Watermark.  

 

After grabbing a quick lunch at the Market House, you'll be in a perfect position for a water taxi ride from City Dock to the Annapolis Maritime Museum, in Eastport. Located in the former home of the McNasby Seafood and Oyster Company, the waterfront museum will teach you about how important the Chesapeake Bay was, and still is, to the region's economy and ecosystem through diverse exhibits, art, and artifacts, including Bay-built wooden boats. 

 

"Anne Arundel County is known for its deep and long-standing connection with the Chesapeake Bay, and our museum allows visitors to explore and connect with the region's maritime heritage and the ecology of the Bay in unique, hands-on ways," says Alice Estrada, President and CEO. "The visitor experience is focused on a cultural heritage that is slowly fading from modern memory. We often say that the local lore and history shared in the museum are not found in textbooks, and we're proud that they create an authentic, enriching and memorable experience."

 

Annapolis Maritime Museum is open Tuesday through Sunday, 10:00 a.m. – 3:00 p.m.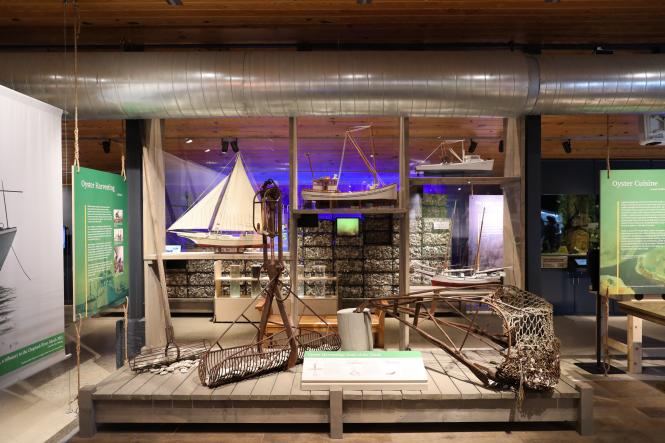 Learn more about the history of the Chesapeake Bay and its ecology at the Annapolis Maritime Museum. Image courtesy of Visit Annapolis.

 

 

Back downtown, you won't want to miss Maryland's official museum of African American heritage, the Banneker-Douglass Museum (BDM). Aiming "to improve the understanding and appreciation of America's rich cultural diversity for all," BDM serves to document, interpret, and promote African American history and culture through diverse exhibits.

 

The museum reminds perhaps better than any other that Maryland, like much of America, was founded under the system of slavery and that the Emancipation Proclamation did not immediately produce the racial equality and harmony that we still seek, but also celebrates African-American history and culture in Maryland and beyond.

 
Discover African American Heritage and History at the Banneker-Douglass Museum. Image courtesy of Visit Annapolis

 

"Maryland's rich, diverse history offers something for everyone, and our museum reflects that," says Chanel Compton, Executive Director of BDM. "Our exhibits not only provide a wealth of information but also enhance your understanding of this region's people, traditions, and culture, while offering  insights to where society has been and, importantly, where it's going."

 

Located in the historic district of downtown Annapolis, at 84 Franklin Street, the Banneker-Douglass Museum is open Tuesday through Saturday, 10:00 a.m. – 4:00 p.m. Admission is free, however donations are encouraged.

 

 

On your way out of town, make sure to stop at the Carr's Beach Mural. The mural is a vibrant, 150-foot-long art showcase that celebrates and preserves the history and legacy of a local beach destination that, just 50 years ago, drew tens of thousands of African-Americans to the Annapolis Peninsula to watch live performances by iconic music legends such as Ray Charles, Stevie Wonder, and Aretha Franklin.

 

"During a time of racial segregation, the beach served as a space for Blacks to gather, perform and entertain free from racial prejudice," says Mattie Fenton, Executive Director of the Maryland Cultural and Conference Center (MC3), which partnered with renowned muralist and Annapolis native Comacell Brown, aka Cell Spitfire, to install the mural. "Today, Carr's Beach is rarely recognized for what it was: a defining moment in Annapolis's history. The mural seeks to remedy that and, while serving as its own art, highlight the often-glossed over history of Black performing arts in Annapolis."

 

 

 

 

If you opt to travel South from Annapolis, London Town offers a unique look at Maryland's colonial history, architecture, and horticulture through an "everyman's" (and everywoman's) lens. First opened to the public in 1971, the 23-acre park exists as a reconstructed "lost" colonial village and living history museum made possible by decades of archaeological discoveries by professionals, citizens, volunteers, academic students, and even school children.

 

"We offer a look at what early settlers were doing on a day-to-day basis and where they were doing it, plus the ability to touch and feel the tools that they were doing it with, says Rod Cofield, Executive Director of London Town. "It's hands-on history in a common person's town, and it really highlights how important the Chesapeake Bay and its tributaries were to shaping and sustaining the region's economy and culture well before roads and bridges." London Town has also been named as a Site of Memory associated with the UNESCO Slave Route Project. The heritage site aims to tell the story of all of its inhabitants, many of them slaves.

 

London Town is open Wednesday – Sunday, 10:00 a.m. – 4:00 p.m., and offers 30-minute outdoor walking tours at 11:00 a.m. and 2:30 p.m.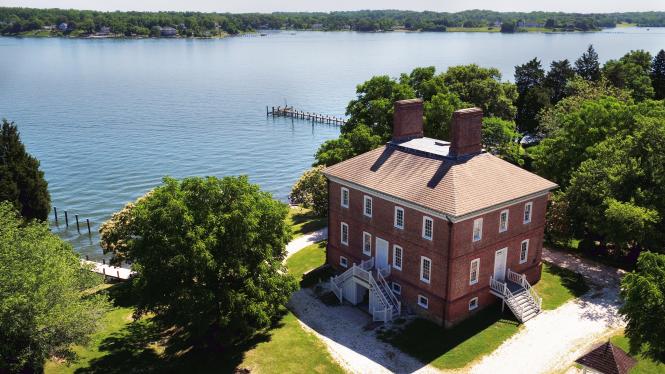 The William Brown House is now open for tours after an extensive renovation. Image courtesy of Annapolis Discovered.

 

 

If you choose to go North from Annapolis, the B&O is the first must-visit museum in the Baltimore area.

 

Located on a 40-acre site where Baltimore businessmen, surveyors, and engineers set about building the country's first commercial long-distance track, and first passenger station, in 1829, the museum is recognized as "America's railroad museum" at "the birthplace of American railroading." It celebrates these designations and aims to "reveal the drama of American railroading, its people, culture, and legacy to a wide and diverse audience" by displaying nearly 200 pieces of locomotives and rolling stock, hundreds of thousands of artifacts, and an extensive collection of scale model and toy trains. The B&O even offers visitors the chance to experience some history firsthand by taking a ride along the nation's first mile of commercial railroad and, on rare occasions, watching the massive turntable in the beautiful Roundhouse in action. Perfect for train enthusiasts of all ages, the museum offers many children led activities throughout the year.

 

The museum is open Monday – Saturday, 10:00 a.m. – 4:00 p.m. and Sunday, 11:00 a.m. – 4:00 p.m.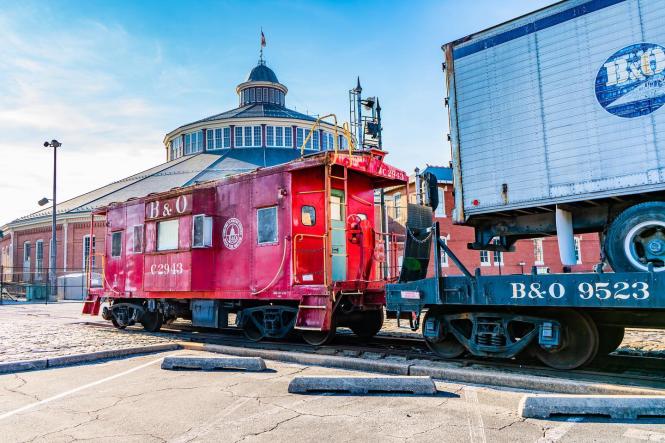 The B&O Railroad Museum offers something for everyone! Image courtesy of The Only Vimal.  

 

Three miles West of the B&O and located in what was once a thriving oyster cannery and port, the BMI celebrates the work and workers, that make up Baltimore and Maryland's industrial legacy. A legacy that includes helping create the first railroad and the linotype, publishing the first African-American newspaper, and becoming the oyster-canning and umbrella capital of the world. 

 

"The museum is designed to engage visitors of all ages and will be a walk down memory lane for older visitors who can share their or their parents' memories of days past with their younger family members," said Claire Mullins, Director of Marketing & Events.

 

BMI's wide array of engaging educational exhibits allow visitors to take a step back in time by touring an 1865-era cannery and, from the early- to mid-1900s, a garment loft, machine shop and forge, pharmacy, print shop, fuel station, communications gallery, and steel mill. For more highly-visible history, you can even walk underneath the 1937 Mini-Mariner, the flying prototype of a WWII PBM flying boat bomber, and check out Baltimore, the oldest steam-powered tugboat in the country. 

 

The museum is open Tuesday – Sunday, 10:00 a.m. – 4:00 p.m., Parking is FREE.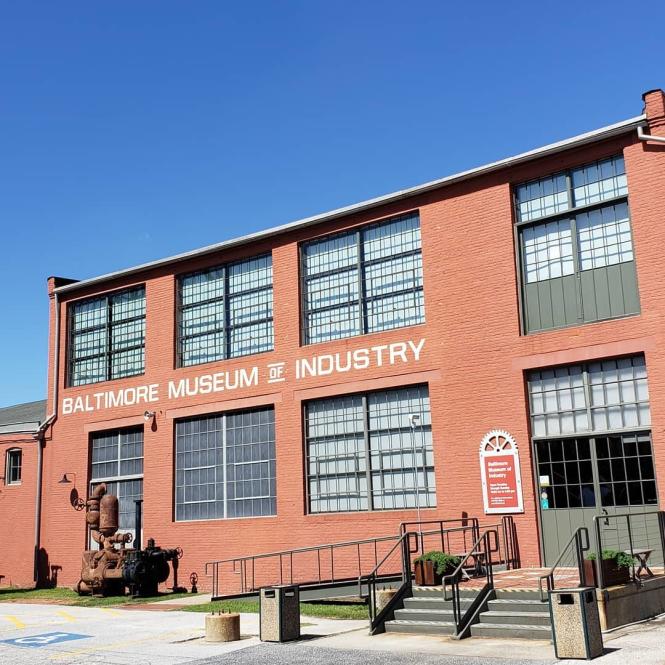 The Baltimore Museum of Industry was once a thriving oyster packing plant. Image courtesy of Mid Atlantic day Trips.

 

 

Just a mile West of BMI, close enough for a walk, Fort McHenry is known first and foremost as the birthplace of the Star Spangled Banner. Francis Scott Key wrote "The Defense of Fort McHenry," a poem that was later set to music and became our national anthem. Key's inspiration was the fact that "our flag was still there" after days of bombardment by British forces during the War of 1812.

 

Visitors can learn about the Battle of Baltimore and the writing of the anthem through video and exhibits. Visitors can also embark on a self-guided tour of the Fort's well-preserved fortifications, buildings, and artillery ranging from the War of 1812 to World War One. In addition they can watch, or even participate in, a flag change, and take in views of both the peninsula and Baltimore while walking along the Sea Wall Trail.

 

While the Fort's visitor center and gift shop are currently closed, the Fort is now open daily, from 9:00 a.m. – 5:45 p.m.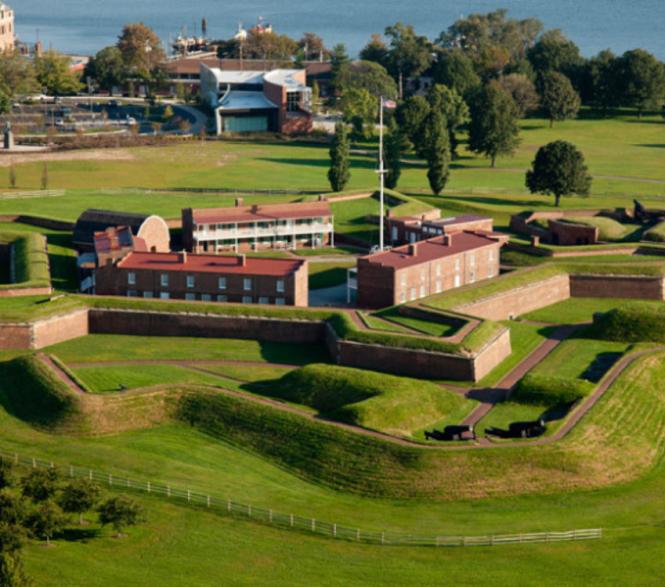 Fort McHenry, where Francis Scott Key penned the national Anthem during the War of 1812. Image courtesy of Visit Baltimore.  

To plan your stay to this vibrant region of history and heritage, visit our website.