If you really want to get people trash-talking around Annapolis streets, just ask them where you can get the best cream of crab soup. That question alone is enough to silence a room, sending people to grab their pitchforks, draw their lines of loyalty and prepare for battle. But somewhere in the kitchen of Ports of Call restaurant at the Doubletree by Hilton Annapolis, executive chef Charles McKnew is too busy to engage; he's methodically stirring his vat of multi-award winning cream of crab soup that he has been serving up to his fan base for decades.  Don't believe me? Google his name and check out all of his accolades online (and his famous recipe!)  Go ahead. I'll wait.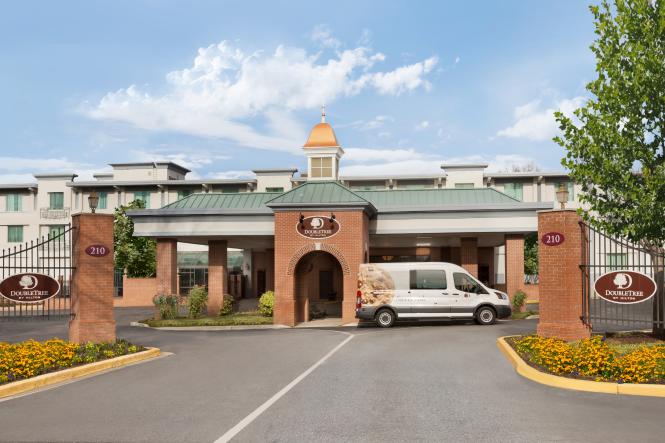 The Doubletree by Hilton Annapolis is conveniently located just off Route 50 in Annapolis. Image courtesy of Doubletree by Hilton Annapolis.

 

The Doubletree by Hilton Annapolis, tucked off of Riva Road and across the street from the bustling Annapolis Town Center is proud to stake claim to Chef McKnew. But Chef McKnew is only a part of what makes this hotel special. First, if you know anything about the Doubletree brand, you'd know that upon check-in, everyone in your party is greeted with a warm, freshly baked signature chocolate chip cookie. Now I don't know about you, but I've baked my fair share of chocolate chip cookies in my day and NOTHING compares to what the Doubletree is known for. That alone is worth an overnight stay.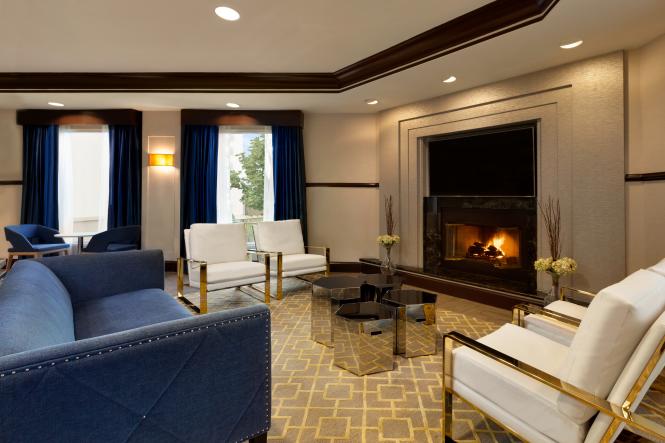 The cozy lobby is the perfect spot to wait for the Doubletree Shuttle to take you to historic downtown Annapolis. Image courtesy of Doubletree by Hilton Annapolis.

 

In 2019, every one of the 219 guest rooms was fully refurbished to accommodate the vast array of groups who consistently stay here, from government business, to military endeavors, religious groups, conferences, reunions, weddings and the list goes on. Aside from the accommodations, the Doubletree by Hilton Annapolis has 12,000 square feet of meeting space, 11 separate meeting rooms, and two separate ballrooms fitting 350 and 200 people respectively. On any given day, you'll see guests at the hotel milling around, in town for a famous Annapolis boat show, a Navy football game, a lacrosse tournament or to cheer on the culmination of the famous ultra-endurance "Race Across America" which starts 3000 miles away in California and ends minutes from the Doubletree by Hilton Annapolis at city dock in downtown Annapolis.

 

Speaking of Navy football, the Doubletree by Hilton Annapolis is the host and home to the USNA Navy football team. On weekends when Navy plays at Navy-Marine Corps Memorial Stadium, the players and coaches gather the night before for a team dinner and overnight accommodations. As USNA sponsor parents to Navy football players, my husband and I know first-hand how special this is, especially for the families coming to see their sons play and having a chance to spend time with them at the Doubletree by Hilton Annapolis the night before a big game.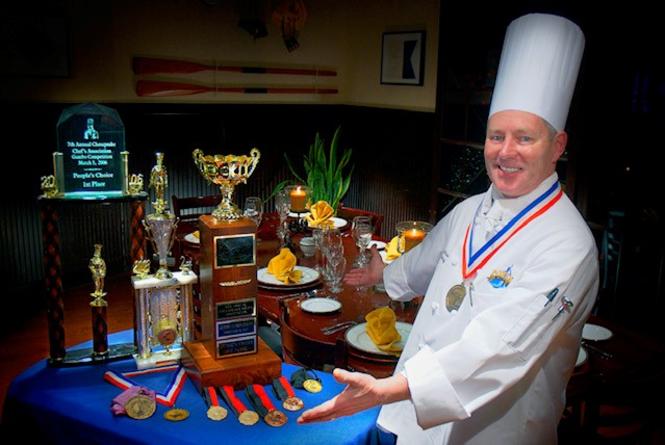 Chef McKnew stands before his many accolades for his award winning cream of crab soup! Image courtesy of Doubletree by Hilton Annapolis.

 

Terry Duley, Director of Sales & Marketing has been with the Doubletree by Hilton Annapolis the entire span of its time in Annapolis, following roles with other hotel brands. She was quick and proud to point out the staying power that the hotel has with its very talented staff; it's not uncommon to meet someone who has been there for 15 or more years. And of course, there's Chef McKnew who has been a fixture for over 35 years. "The Doubletree by Hilton Annapolis offers hundreds of years of combined hospitality service with an experienced sales team, an award-winning food and beverage team and some of the most exceptional employees in the industry," she said.

 

Guests have access to a 24-hour fitness room, and in warm months, to the Olympic size swimming pool, which is also available to local residents who wish to purchase a seasonal membership. This is key for those dog days of summer when locals are looking to cool off but either don't have a pool or can't get to a beach.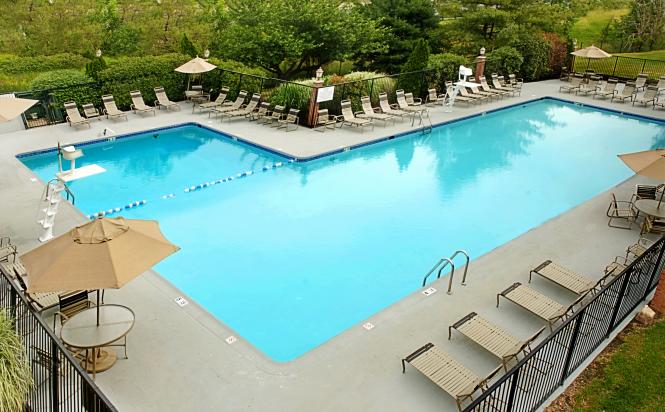 The pool is also available for locals during the summer when they purchase a seasonal pass. Image courtesy of Doubletree by Hilton Annapolis.

 

The Doubletree by Hilton Annapolis is one of the few hotels in the area to offer abundant, free parking, which pleases guests. And because of this, guests never have to move their cars, since the hotel offers a round trip, free shuttle to within five miles, which includes all spots in downtown Annapolis. It's an ideal situation for anyone wanting to spend the day checking out the sites and bites along West, Maryland and Main Streets and in Eastport such as Rasa Juice Shop, Mango & Main, Fox's Den Gastropub, Vida Taco Bar, Bread and Butter Kitchen and Forward Brewing.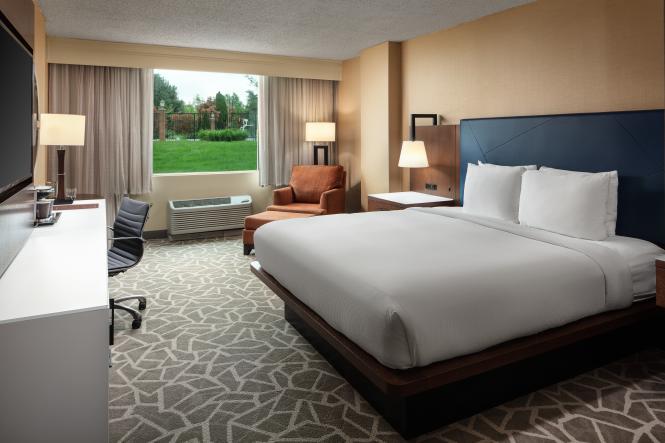 There's plenty of room to spread out in a Doubletree by Hilton Annapolis Guest Suite! Image courtesy of Doubletree by Hilton Annapolis.

 

If your stay doesn't allow for much time to explore downtown, there are some great places within walking distance (or by shuttle) that are musts. At the Annapolis Town Center, you'll find boutiques and restaurants such as: Scout and Molly Boutique, Giolitti Deli, Baltimore Coffee, and Coopers Hawk Winery & Restaurant, to name a few.

 

And finally, you can't come to Annapolis and not have crabs, right? Lucky for you, Mike's Crab House is right down the road.

 

Whatever reason brings you to Annapolis, consider stretching out at the Doubletree by Hilton Annapolis. Whether it be for the award-winning cream of crab soup, a bite of a freshly baked cookie, Crabtree & Evelyn bath products, top notch service with a smile, or all of the above, you can't go wrong.