Located midway between Annapolis, Baltimore and Washington, D.C., the BWI area is a great place for exploring. If you're looking for a reason to roam, check out the BWI Brewery trail, with four great breweries all within a 30-minute drive.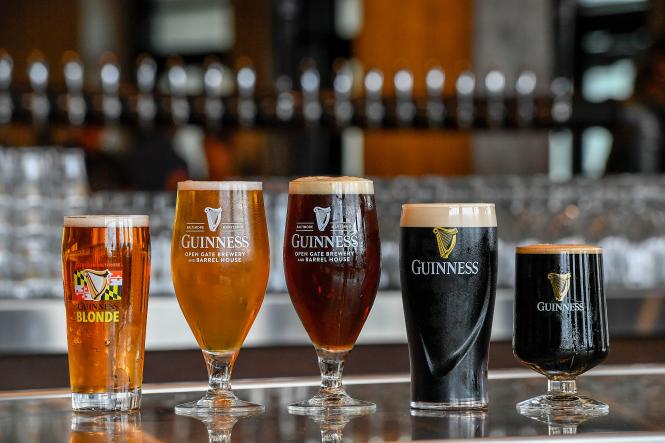 Guinness Blonde is Maryland born and brewed! Image courtesy of Visit Annapolis & Anne Arundel County.

 
Oh Goodness, My Guinness!
Start off at the Guinness Open Gate Brewery, in Halethorpe. The iconic Irish brewer opened their U.S. brewery here in 2018, on the former site of historic Calvert distillery. The 62-acre site includes a taproom and restaurant, store, and expansive beer garden with fire pits and food truck eats. Skip the lines by booking a tour that shows you the brewing process and ends with a private tasting. The beer list showcases classics (including Guinness Blonde, only brewed here) as well as seasonal brews and experiments they debut locally before rolling out internationally.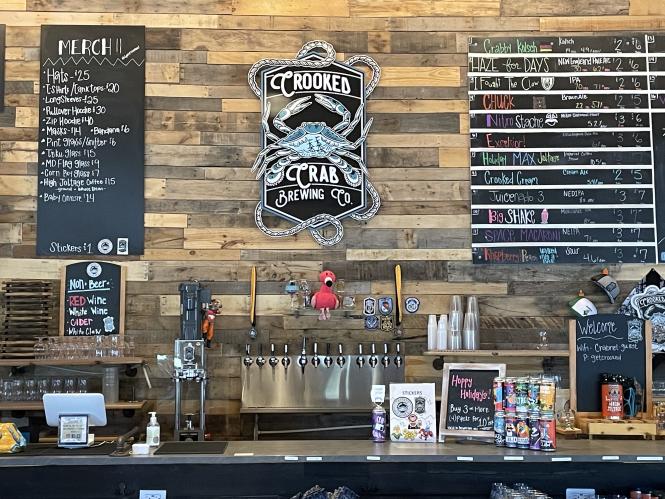 Crooked Crab Brewing is family friendly, kids and dogs are always welcome! Image courtesy of Visit Annapolis & Anne Arundel County.

 
Crooked Crab
Crooked Crab Brewing Co. began in 2015 with the dream of bringing craft beer to Anne Arundel County. At the 2,200-square-foot tap room in Odenton, kids can draw on the chalk wall, leashed dogs are welcome, and the big screens show local sports. Their 16 rotating taps features seasonal brews alongside regular favorites like Haze for Days, a New England pale ale that's been on menu since opening day. Thursday can drops feature art by Chris Bishop, a local artist and illustrator for PBS Kids. Chesapeake Bay Roasting Company provides coffee for their Joltage coffee stouts, and local restaurant The Hideaway supplies the roasted pumpkin for their seasonal pumpkin ale.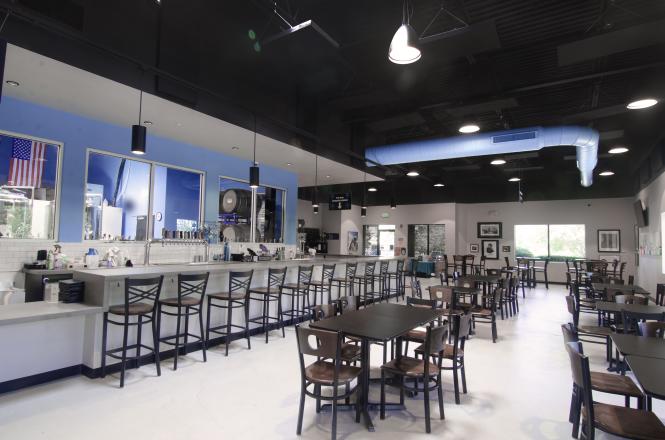 Pherm may be a new kid on the block, but they are quickly building a community of collaboration at this Gambrills brewery. Image courtesy of Jaclyn Nagy.

 
Pherm Brewing Company
A shared love of beer and live music is at the heart of Pherm Brewing Company, which opened in December 2020 in Gambrills. The tasting room holds up to 225 people, with a generous 20 seats at the bar. The stage and sound system comes into play on Saturday night band nights and Sundays acoustic brunch. Their walls are a gallery space where artists can exhibit and sell their work. They partnered with Baltimore band Damn Right! on their Summer in the 90s sour ale, and collaborate with Annapolis' Forward Brewing for their Phorward Saison farmhouse ale.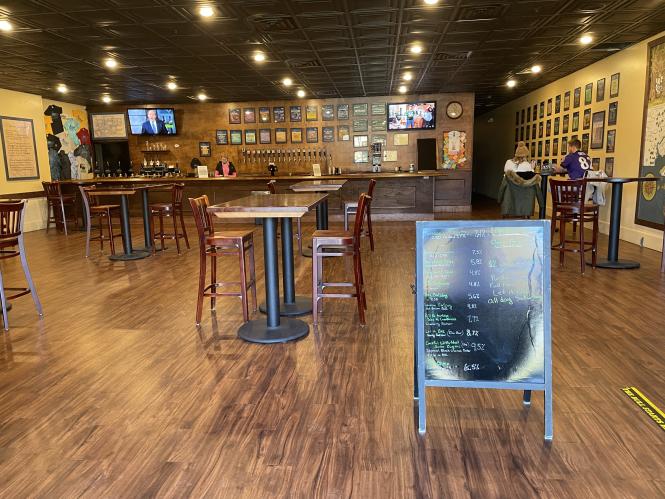 Brewed in small batches, there's plenty of space indoors and out at Chesepiooc to gather with friends and sample them all. Image courtesy of Visit Annapolis & Anne Arundel County.

 
Chesepiooc Real Ale Brewery
At Chesepiooc Real Ale Brewery in Crofton, which opened in 2018, the tagline is Small Batches, Big Variety. They are all about experimentation, putting twists on traditional genres or, as they say, brewing "to see what may happen." Which means their offerings are always changing, via 16 taps and 8 beer engines. You can even be a guest brewer and make your own variety via their Brewer for a Day program. Events include ever-popular trivia nights, but also corn hole tournaments with cash prizes, karaoke, movies on the lawn and music bingo. As for the name, it's one of the oldest spellings of the word Chesapeake. It doesn't get much more local than that.