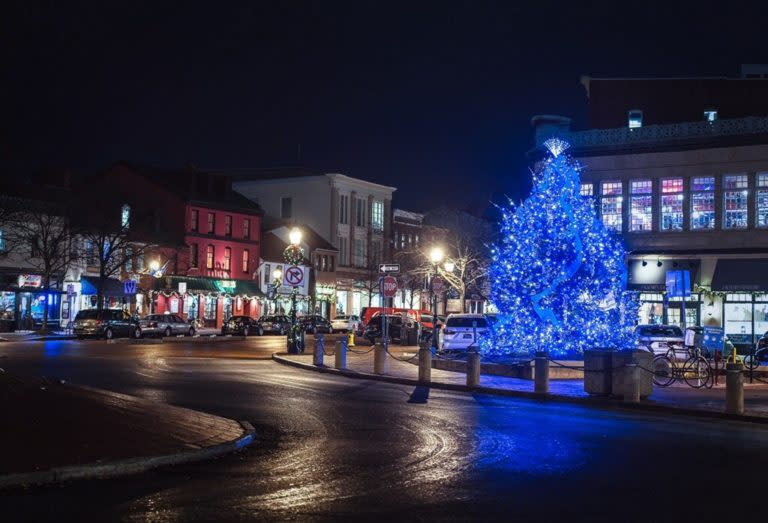 The streets along City Dock sparkle with Christmas magic. Image courtesy of Visit Annapolis.
I recently wrote about hearth-warming and how to make your household as cozy as possible this holiday season. While we are all doing our part to stay healthy, this town has some creative and conscientious takes on the traditional Annapolis holiday that will help you stay safe while curing your cabin fever.
Get Outside
If you're looking for some fresh air, venture to City Dock. It's as beautiful as ever with the grand illuminated Christmas tree in Market Square and the hanging of the greens by the Annapolis Jaycees. While there will not be a large event for the tree lighting this year, you can grab a coffee from Rise Up at the Market House and take a stroll with a friend to enjoy the holiday lights.
Hanukah
Don't forget to put on your Yarmulke to celebrate Hanukah! (Cue Adam Sandler) On December 13, Chabad of Anne Arundel County will present the Parade of Light. This car parade is destined for the City Dock menorah lighting near the Alex Haley Memorial. The event is open to all but an RSVP in advance is appreciated to help planning and to reserve a lighted menorah to adorn your car! This great event is celebratory and safe for all.
Black Heritage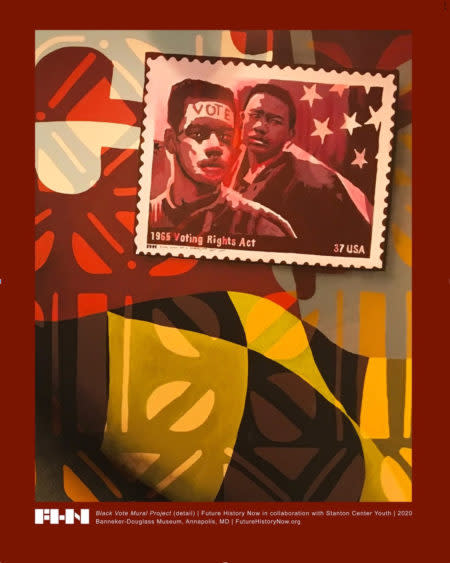 Future History Now Art Poster for the Black Vote Mural project at Banneker-Douglass Museum. Image courtesy of Future History Now.
Banneker Douglass  is hosting their first virtual Kwanzaa celebration December 11th. Activities include a spoken word performance, a Zawadi gift making session, live music, a "Buy Black" marketplace gift guide, and guest speakers talking about the importance of community and Black heritage. After an amazing year of activism with the 2020 Anti-Racism Initiative and collaborations with public art non-profit Future History Now on the Black Vote Mural Project and the Breonna Taylor + Black Lives Matter mural that garnered international attention, it is a great time to reflect on the great work done so far and keep our eyes on goals for the new year. Future History Now has just released a limited edition poster series to commemorate the mural projects and fundraise for future projects.
Midnight Madness
No matter which holiday you like to celebrate most, there is no shortage of great places to snag a great gift at any price point. Midnight Madness is back December 10 and 17 with social distancing in place to ensure a safe shopping experience. From Eastport to West Street, with plenty of free parking between, you can grab some dinner and hit the streets for a productive holiday shopping night out.
Art
If you're looking to support local artisans, check out the First Sunday Arts Festival. The festival has wrapped up for the season, but you can still find all of your favorite vendors online! Makers offer one-of-a-kind pottery and ceramics, candles, jewelry, and alpaca garments to keep you warm as the cold months settle in. If there is one silver lining to the past year, it's that you can experience Annapolis anywhere in the world with so many businesses expanding their online offerings.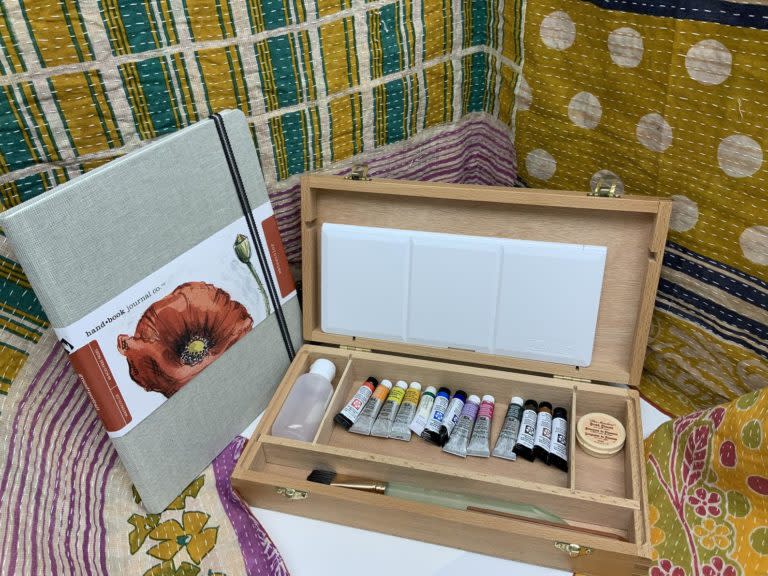 Art Things watercolor gift kit, available at Maryland Hall. Image courtesy of the author.
Experiences
My favorite gift to give or receive, besides a Sailor Oyster Bar gift card, (hint, hint Santa) is the gift of an experience. One of my favorite presents ever was a gift card for music lessons with Naptown Sings! And Plays… While I have not yet recorded my best selling Christmas album (maybe 2021) it was something fun I always wanted to try. They offer a number of in-person and virtual classes for budding musicians of all ages. Ms. Sophia's Musikgarten is perfect for mom's looking for something fun to do with toddlers while at home!
Celebrate the Arts
Skye & Kim of Art Things have taken the guesswork out of art supplies by curating their awesome gift kits! For the non-trying to encourage young artists, Art Things is the place to go. Visit them in their new home at Maryland Hall or check them out online! As someone who loves journaling and sketching, I have definitely added their journal sets to my wish list.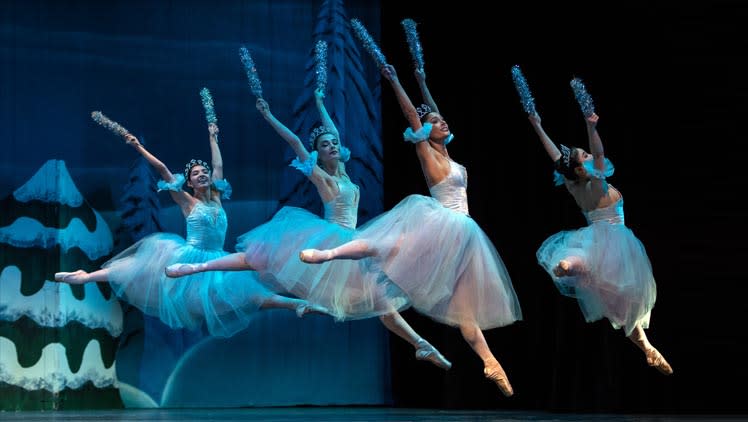 The Annapolis holiday season wouldn't be complete without a performance of the holiday classic, The Nutcracker. Image courtesy of Ballet Theater of Maryland.
Performance venues like Maryland Hall and restaurants have been hit incredibly hard by the circumstances of the past year. Although, there appears to be hope in sight for a fresh start in 2021. Consider purchasing memberships or gift cards to support these amazing local organizations and businesses, or patronize an online event. Ballet Theater of Maryland will be offering an innovative way to enjoy the tradition of the classic Nutcracker Ballet, either as a drive-in streaming event at Gordon Biersch at the Annapolis Town Center or to stream at home. Go online to reserve tickets now!
Santa, by land & by sea
While you're at the Annapolis Town Center, make sure you're on Santa's list for a contactless photo op, zoom call, or pet photo! Prints are available as well as festive keychains and snow globes. These personalized keepsakes are so much fun to collect through the years. (Not that we will forget this year anytime soon.)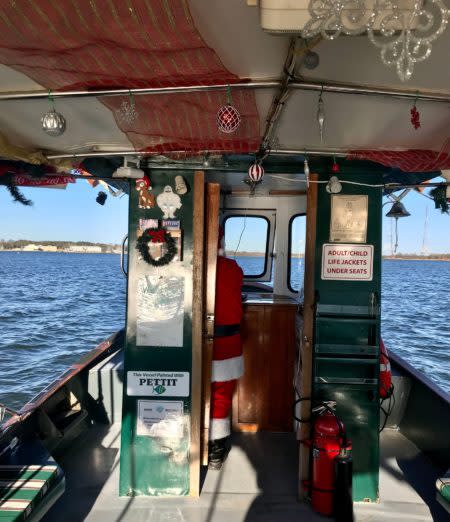 In this sailing town, we are partial to Santa-by-Boat! Image courtesy of Watermark.
Watermark has some fun holiday themed cruises to enjoy with the whole family! In true Annapolis holiday style, hop aboard the Jolly Express for some cocoa and carols with Santa. This trip will definitely put everyone in the holiday spirit. Don't forget to BYOB– Bring Your Own Blanket! Pair your ride with a guided downtown walking tour as you enjoy the colonial holiday charm of City Dock.
No matter what you do to celebrate this holiday season, Annapolis has something for everyone. Stay safe and shop small!