Everyone knows the Chesapeake Bay region is famous for its 'surf'– above all, delicious blue crabs and crab cakes. And there is no shortage of restaurants that offer excellent farm-to-table turf. But when it comes to one of the most perfect culinary pairings, Annapolis and Anne Arundel County are hard to beat.
So, if you are looking for a place to enjoy surf and turf during a romantic dinner with your spouse, a business lunch that is guaranteed to impress, or a special meal with friends– here are some of the top spots to try.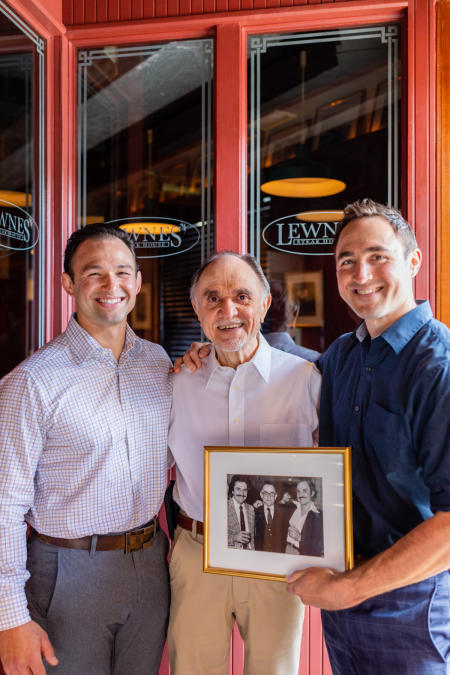 (L-R) Mack, Charlie, and Sam Lewnes, holding a photo of  Spiro, George, and Charlie in front Lewnes' Steak House. Image courtesy of Lewnes' Steak House.

 

Located in the heart of Eastport, Lewnes' is an Annapolis institution for both locals and out-of-towners seeking great steak, seafood, and service.

Co-owner Mack Lewnes, whose family has run multiple restaurants on the site since 1921, proudly proclaims that it's the first Annapolis restaurant to serve locally-sourced "U.S. Prime" steak – the highly-marbled meat known for its great flavor, tenderness, and juiciness – including his go-to, the Cowboy Ribeye. It offers seven cuts, from an eight-ounce Filet to a 40-ounce Tomahawk Ribeye, each pairable with Crab Imperial or a full, "not-just-the-tail" lobster. There are plenty of delicious appetizers and sides as well, from Clams Casino and Oysters Rockefeller to Creamed Spinach and five types of potatoes – including the must-try Lyonnaise. Plus, Lewnes' offers an award-winning wine list, featuring over 450 selections, and an ideal ambiance provided by high-back booths, low lighting, and black and white photos of old Eastport.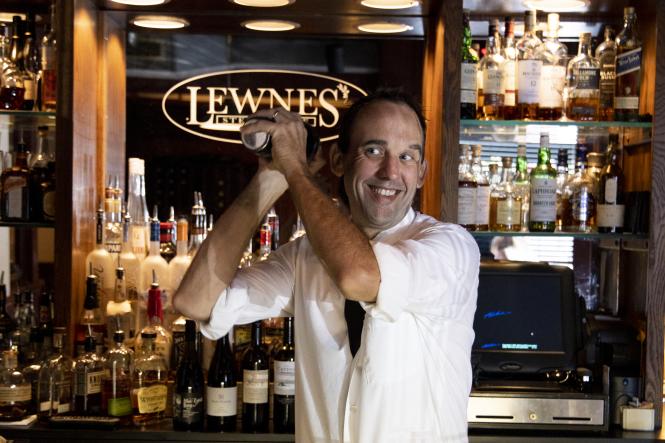 Lewnes' is celebrating their 100th anniversary! It opened as a steakhouse in 1993 but the Eastport site has had a family owned and operated restaurant in that location since 1921. Image courtesy of Visit Annapolis & Anne Arundel County.

 

More Eastport-area options:

Chart House and Carrol's Creek, for steak and seafood served in upscale settings with water views of Spa Creek and downtown Annapolis.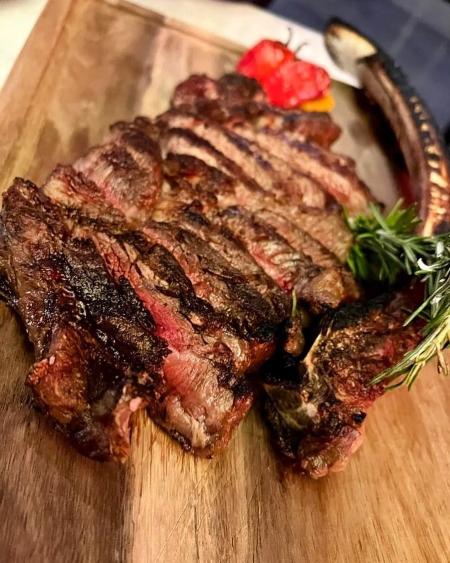 I'll have mine medium rare! Image courtesy of Tuscan Prime.

 

The newest restaurant in Annapolis, Tuscan Prime is an Italian chophouse specializing in steak, "elevated Italian classics," and seafood.

The menu includes six cuts, from a ten-ounce skirt to a 40-ounce porterhouse. Any can be paired with a lobster tail, jumbo shrimp, and an assortment of sauces. The menu also includes a great raw bar and delectable pasta dishes, try the squid ink linguini or the truffle gnocchi. Tuscan knows its beverages too, offering a carefully curated wine list, 11 uniquely named "Prime" cocktails. and a wide selection mocktails. Last but certainly not least, Tuscan's Dolce Bar and dessert cocktails offer the perfect ending to an upscale evening out.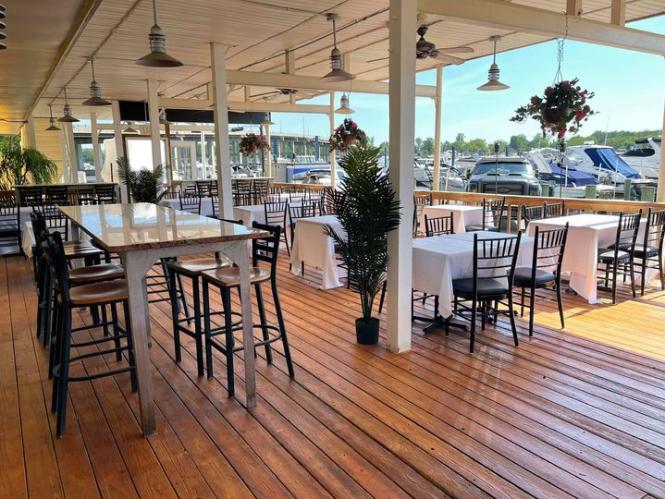 When the weather is nice, enjoy your Surf & Turf with a view at Yellowfin Steak & Fish House. Image courtesy Yellowfin.

 

Nearby and also worth a try:

Stoney River Steakhouse and Grill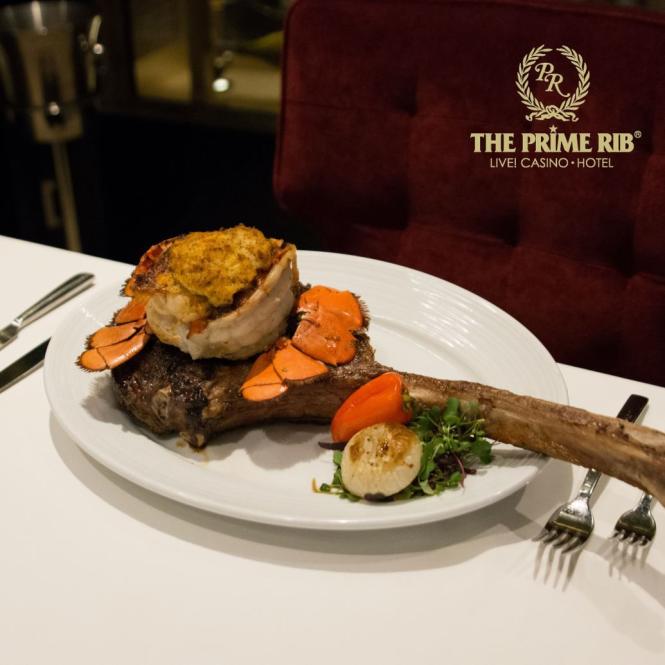 If you are looking for a place to start or end a big night of gambling – The Prime Rib is your spot, located just steps away from the high-energy excitement of the Live! Casino MD floor. (Click here for more information on the latest Live! Offerings, Fanduel Sports Book & The HALL at Live!)
The fine dining restaurant's menu features seven steaks, top with a lobster tail, Alaskan king crab, or crab imperial for an extra charge. Prime offers a wide selection of coastally inspired hot and cold appetizers and upscale sides such as Trumpet Mushrooms and Five-Cheese Truffle Mac n' Cheese. The drink menu is impressive, offering hundreds of wines but also a wide selection of craft beers and scotch whiskies. Visit on a Friday or Saturday night for live music and enjoy a cocktail in the restaurant's stylish lounge or year-round open-air patio.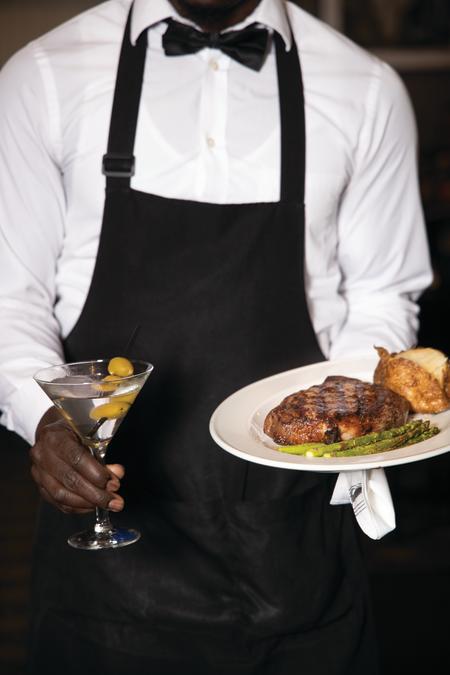 A classic martini and steak served 'up'! Image courtesy of G & M Restaurant.

 

Two more Northern Anne Arundel options: