June means lots of things in Maryland, Anne Arundel County, and Annapolis: the arrival of the fresh crabs that make backyard crab feasts great, an uptick in the number of colonial-clad tour guides leading historic walking tours downtown, and plentiful views of vessels on the water, from sailboats racing on the Severn to yachts and paddleboards, including mine, cruising Ego Alley.
But with President Biden's recent proclamation of June 2021 as Great Outdoors Month – a month, as he urged, "to explore the great outdoors, to experience our Nation's national heritage, and to continue our Nation's tradition of preserving and conserving our lands for future generations" – and Chesapeake Bay Awareness Week, which runs from June 5-13, in mind, it also means it's an ideal time to take advantage of another aspect of Annapolis and Anne Arundel County's great outdoors: its trails!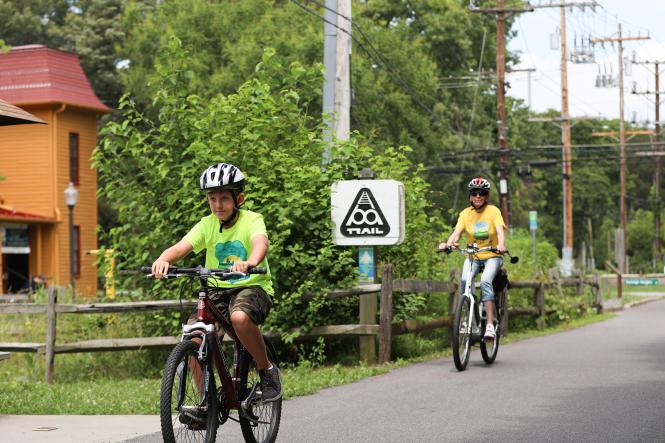 Biking the B&A Trail in Severna Park is a great ride for young and old! Image courtesy of Visit Annapolis.

 

Fortunately, there are plenty of great trails to choose from – whether you're looking to stroll, hike, run, or bike. Better yet, they each offer something unique, from the terrain under your feet (or tires!) to the distance you'll go and the views you'll meet.

 

Depending on what you're in the mood for, here are a half dozen of the top trails to try.

 

 

 

For those seeking a walk near – or even in! – the water, Sandy Point is the pick. Located on the northwestern shore of the Chesapeake Bay, just off the last exit before the Chesapeake Bay Bridge, the 786-acre state park offers two short, easy inland trails where you'll see and hear birds and wildlife while walking through pine forest and marshes. It also offers over a mile of sandy beach to stroll while taking in unparalleled views of the Bay Bridge, boat traffic and anchored shipping freighters waiting to enter Baltimore harbor, and Sandy Point Shoal Lighthouse. And, when you're done hiking, you can enjoy taking a dip in the Bay, which will be much warmer than it is during the Polar Bear Plunge that Sandy Point hosts each winter; checking out one of the park's playgrounds, or picnicking by the beach or under one of twelve pavilions.

 

Sandy Point is open from 7:00 a.m. to dusk daily and is well worth the price of admission: $4 per person on weekdays and $5 per person on weekends and holidays.

 
Sandy Point State Park has a great picnic area, walking trails and is perfect for fishing and boating! Image courtesy of Visit Annapolis.

 

 

 

If you want to avoid the crowds, and perhaps fees, of Sandy Point, Beverly-Triton is another great option for easy beachside hikes. Located at the end of the Mayo Peninsula, the county-owned park offers nearly five total miles of well-marked nature trails: Heritage Trail (1.25 miles), running from forest to beach to pond; Beach Trail (0.34 miles), with several benches overlooking the Bay; Trident Trail (0.55 miles), going from parking lot to Bay and back; and Pond Trail (1.87 miles), which travels through tidal wetland while circumventing a large pond. Whichever trail you choose, each includes at least some of the mile-long shoreline, guaranteeing a great view of the West River and the southern tip of Kent Island.

 

This free park is open daily, from 7:00 a.m. to sunset.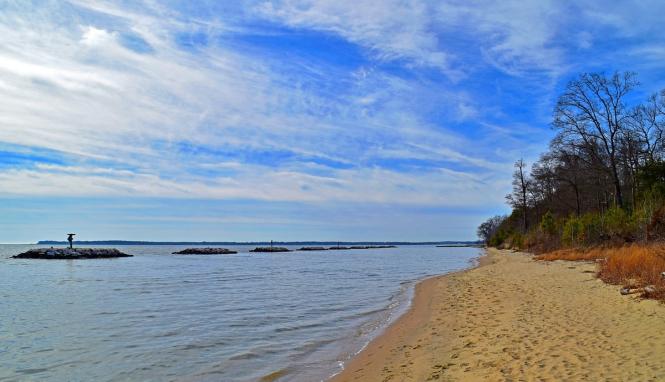 Beverly Triton Nature Park is great for picnics, swimming, wading and hiking! Image courtesy of Trip Advisor.

 

 

Much larger than Sandy Point or Beverly-Triton, Quiet Waters is a 340-acre park located between the South River and Harness Creek. It not only offers a five-mile paved trail loop, which travels through woods and over streams before reaching the scenic South River overlook at its halfway point, but also has several miles of unpaved paths that allow you to take in views of the tidal wetlands, bluffs, and coves of Harness Creek. There's also a good chance that you'll see some wildlife, from deer in the woods to dogs swimming at the South River dog beach, while visiting. However many miles you go, you won't want to skip a stop at the Visitor Center, where two art galleries display the nature-inspired work of local and regional talents. 

 

Quiet Waters charges a $6 per vehicle entry fee and is open from 7:00 a.m. to dusk daily, while the Visitor Center is open from 9:00 a.m. - 4:00 p.m. on weekdays and from 10:00 a.m. - 4:00 p.m. on weekends. Senior and military discounts are also available.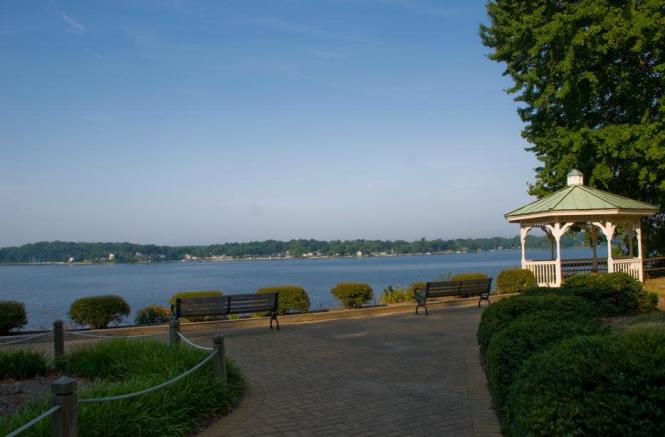 Quiet Waters has abundant fun for people and pets! Image courtesy of Visit Annapolis.

 

 

 

Adding another destination with breathtaking Bay views to the list, Greenbury Point is a favorite of many local trail-lovers (including me!). Located at the mouth of the Severn River, just past the Naval Academy golf course, the 231-acre peninsula is managed by Naval Support Activity (NSA) Annapolis as a mission-supportive natural resources conservation area. While this means that it is sometimes closed to the public, when the firearm ranges near it are in use or training events are being conducted on it, it also means that its trails occupy prime real estate. The flat trail loop goes right past some of Annapolis's most eye-catching landmarks – three Eiffel Tower-shaped radio towers that were built in 1918 as part of a 19-tower antenna capable of broadcasting radio waves to ships and submarines across the globe – and offers expansive views of the Bay Bridge to the East, the Bay and Thomas Point Lighthouse to the South, Eastport and downtown Annapolis and the Naval Academy seawall to the West, and the old North Severn Naval Station to the North.

 

Greenbury Point's trails and access roads are open daily, from 6:00 a.m. to dusk, but are subject to closure at any time so be sure to check @NSAAnnapolis on Twitter for their status.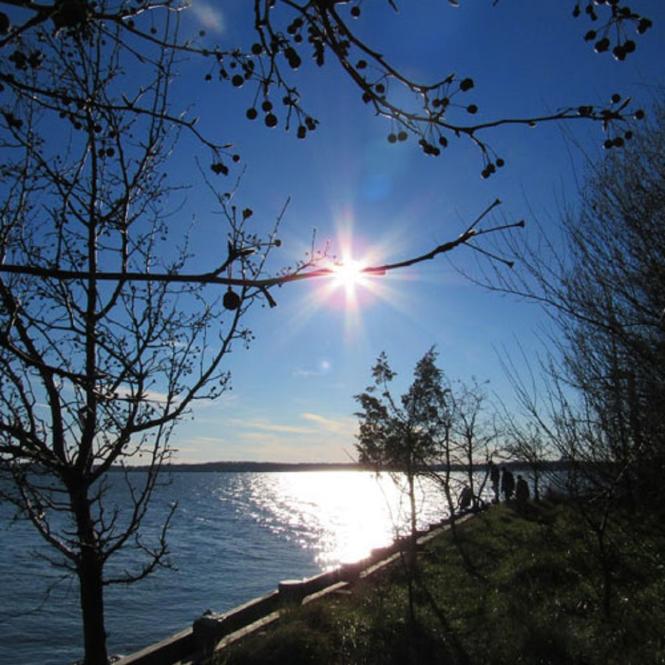 Greenbury Point has an easy landmark- just look for the three towering radio towers! Image courtesy of Annapolis Discovered.

 

 

 

Moving away from the Bay, the B&A is a 13.3 mile rail trail that runs from just over the Severn River bridge, near Manresa, to Glen Burnie, and follows the route of the Annapolis and Baltimore Short Line, which began running freight and passenger service between the two cities in 1880. This not only means that the paved trail is flat (a 2% grade) and wide (10 feet), making it very popular with bikers, who can add 12.5 miles to their ride by connecting with the BWI Trail Loop in Glen Burnie, but that it also offers plenty of places to take a break – from neighborhood parks to shopping areas with restaurants and shops. For those who aren't in a hurry, the trail also includes a plethora of historical markers, running from A in Annapolis to Z in Glen Burnie, that identify and describe the significance of sites along the way.

 

The Trail is open from dawn to dusk. The Annapolis trailhead is located off US 50 West, at Boulters Way. The Glen Burnie trailhead is located off Dorsey Road.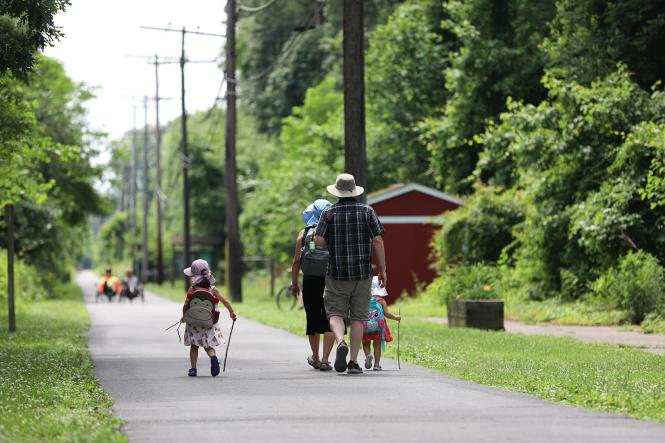 A young family hikes and walks along the B & A Trail. Image courtesy of Visit Annapolis.

 

 

 

 

Saving the truest, and toughest, trails for last, Waterworks and Bacon Ridge offer over ten miles and six miles, respectively, of hard-packed loop trails on the East and West sides of I-97. While each park offers some unique sights to see – for example, three fresh water fishing ponds and a large field filled with 55,000 solar panels at Waterworks, and an eye-catching graveyard of old cars at Bacon Ridge – you can expect a similar hike or ride on trails that go up, down, and through hilly, ledge-filled forests at both.  

 

"When you walk or ride the trails at Bacon Ridge and Waterworks, you'll notice that the trails are constantly changing directions and grades as they follow the natural contours of the hillside," explains David Beugelmans, Vice President of Mid-Atlantic Off Road Enthusiasts (MORE), whose volunteers have led the design, maintenance, and expansion of many of the parks' trails.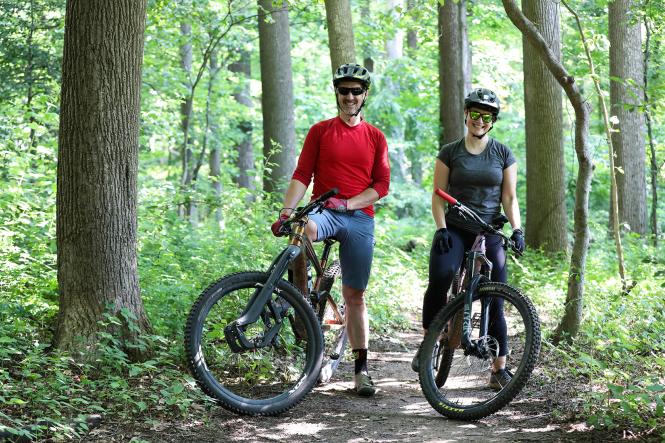 Bacon Ridge Trail offers over 6 miles of forested trails. Image courtesy of Visit Annapolis.

 

"There's a science behind this, with the primary intent to control water flow and prevent erosion, but these design techniques also make for a challenging and fun experience because the trails are constantly changing directions and grades, so it's a win-win."

 

"Both parks have many ups and downs, as well as short steep turns and gullies, and the trails follow these features beautifully," echoes Dave Magill, MORE's Maryland Advocacy Director. "The trails climb and descend hills at good angles, and this makes the flow of the trails very interesting. There are virtually no straight lines throughout the entire trail system, meaning that you can have a very satisfying and fun outing regardless of how long you want it to be."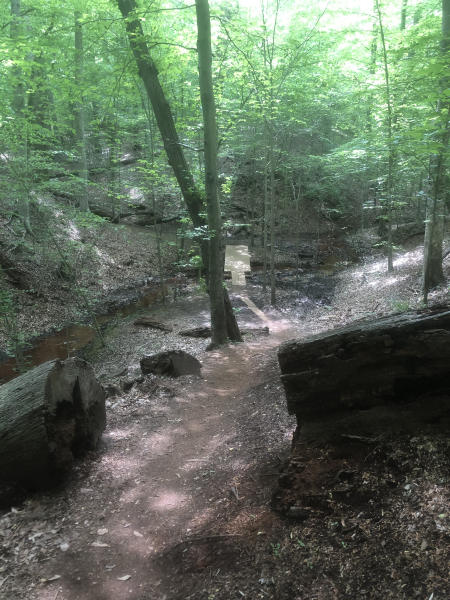 Waterworks Bridge at Waterworks Park in Anne Arundel County. Image courtesy of

 

Because MORE designed Waterworks and Bacon Ridge as 'stacked loop' trail systems, meaning the trails are organized into smaller loops with connector trails between them (including one between the two parks), hikers and bikers can travel anywhere from just a mile to as many as 33.

 

The Waterworks trailhead is located on Housley Road, near Stone Point Apartments, where MORE recently installed a sign displaying real-time trail conditions as well as a complimentary maintenance kit and tire pump.

 

Bacon Ridge has two trailheads: in the South, at 1801 Hawkins Road, Annapolis, and in the North, at 1399-1243 Bacon Ridge Road, Crownsville.