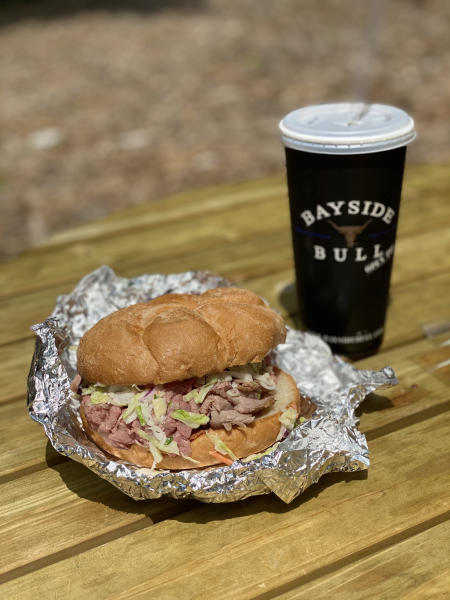 Bayside Bull specializes in the 'Maryland Way' of 'cue, Pit Beef! Image courtesy of the author.

 

Maryland is for crabs, and oysters, and rockfish, but not barbecue, right? Wrong. The barbecue scene in Anne Arundel County is small but growing, with devoted fans. We have traditional barbecue spots, serving spice-rubbed meats cooked slow and low over wood smoke. But we also have our own uniquely Maryland style of barbecue, pit beef—tender roast beef cooked over a fire, then sliced thin and served on a Kaiser roll. 

 

Want to dig in? Here are some places to start, just in time for summer. (And they all do catering too.)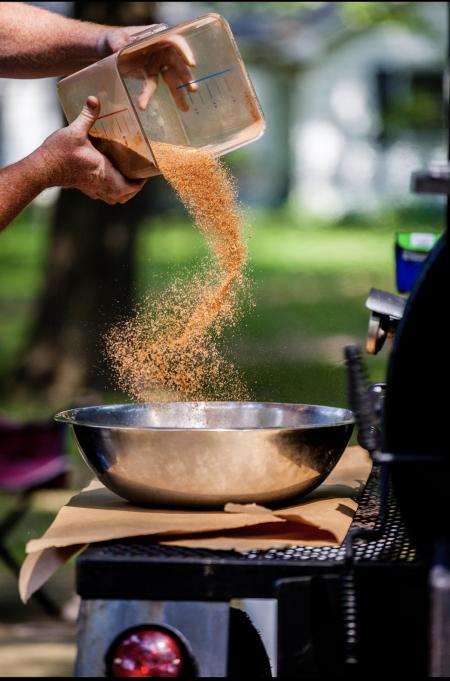 What is your favorite style of BBQ? Let's explore our options! Image courtesy of Ryan Volgelpohl for Blue Dog BBQ.

 

 

This neighborhood pub has been bringing great food and good times to Annapolis Neck since 2012. Meats are smoked onsite with local oak, in a Southern Pride smoker—the only commercial smoker in the city for Annapolis, it holds up to 100 pork butts at a time! My go-to are the ribs, which are smoked for 4.5 to 5.5 hours and fall off the bone, but their wings are renowned. For toppings, choose from seven different sauces: Kansas City, Spicy Old Bay, Carolina Mustard, Alabama White Sauce, Fire Sauce, Bourbon Cherry, Buffalo and Korean BBQ. Add in other specialties like pulled pork eggrolls or shrimp and grits, local art showcased on the walls, and live bands on weekends, and you have the perfect neighborhood hangout.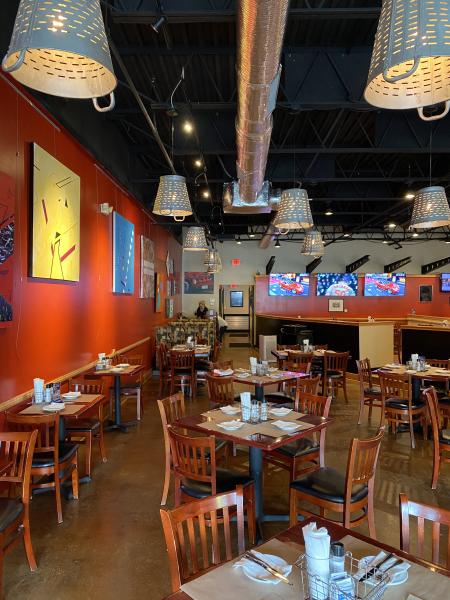 Annapolis Smokehouse & Tavern not only showcases their delicious BBQ and smoked wings, but also paintings by local artists. Image courtesy of the author.

 

 

 

You could easily miss Blue Dog if you didn't know about it. It operates out of UR Burger in Edgewater, and there's no big sign on the door, but the smoker in the parking lot tell you there's something special going on inside. Best friends Sean Stoll and John Rouse started doing barbecue as a passionate hobby, cooking for friends. Then it turned into a catering business (which they still do), a foray into Baltimore, and now they operate alongside UR Burger, which works beautifully for those of us who love BBQ and fantastic burgers.

 

The pair do things the old-fashioned way: great meat, local oak for smoking, and lots of time. And it's working. Their buffalo wings won 1st Place and the People's Choice at the Maryland Chicken Wing festival, and they were defending their title at press time. Their menu also features ribs, pork and smoked brisket, a favorite of Stoll's.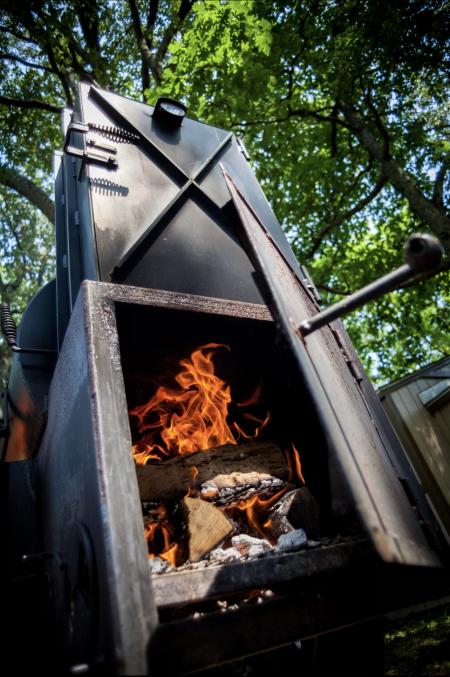 The fires are stoked for some great eats! Image courtesy of Ryan Volgelpohl for Blue Dog BBQ.

 

 

Anywhere else in the country, barbecue means smoked meat with spice rubs and sauces. But Maryland has its own spin on the tradition: pit beef. Take some top round beef, cook it fast and hot over a charcoal fire, then  thinly slice and serve on a Kaiser roll. Bayside Bull in Edgewater smokes their beef for two hours to a perfect medium rare, and sells them from a quick-moving to-go counter, following the tradition that started in roadside stands on Baltimore's Pulaski Highway in the 1970s. Take it to go, or eat it out back at picnic tables. I like mine with coleslaw on it, but you can also do Carolina pork BBQ, Texas-style beef BBQ, and even pit ham.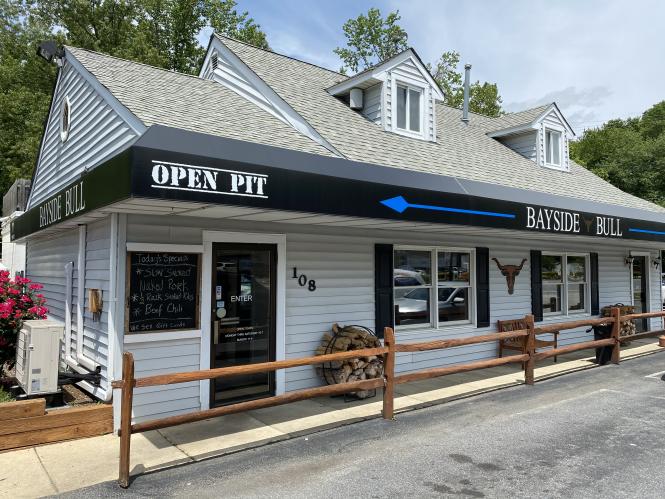 Bayside Bull in Edgewater smokes their beef for two hours to a perfect medium rare. Image courtesy of the author.

 

Not enough 'cue for you? Here are six more to add to your list. 

 

This Odenton favorite smokes their meat with pecan wood, for a lighter flavor. They have ribs and pulled pork, but also unique dishes like smoked meatloaf and smoked fried chicken. Or go all in with the Waffled Pig: a cornbread waffle topped with mashed potatoes, pulled pork and gravy, served with a side of cranberry sauce.  

 

Locals may still call it Adam's Ribs, because that's what first got us hooked—their smoked ribs. But the official name is Adams Taphouse and Grille, to reflect everything on the menu beyond barbecue, including steaks, fish, and yummy salads.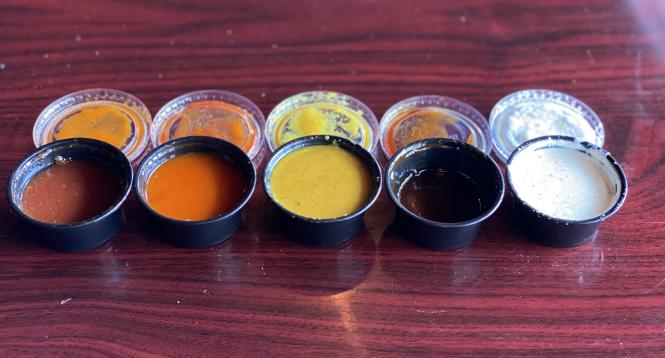 Annapolis Smokehouse & Tavern offers a variety of sauces including an Alabama White! Image courtesy of the author.

 

That unmistakable red silo on Route 50 means you're headed south—to Memphis, the theme of this blues-themed eatery, founded in Arlington, Virginia in 1988. The name comes from the Memphis radio show that introduced the world to Elvis, Jerry Lee and Johnny Cash. The meat is hickory smoked (with six types of ribs to choose from), and the sides are all south, with red beans & rice, sweet potato casserole and even fried okra.

 

"We're now just Chad's because we grew past the barbecue" they say,  but that doesn't mean you should overlook the 'cue.  Governor Hogan is a fan of their wings, and they named a sauce in his honor. I'm a fan of the smoked kielbasa links and their fantastic burger, topped with house-made bacon jam. Also check out their website for tasty tips on how to barbecue at home.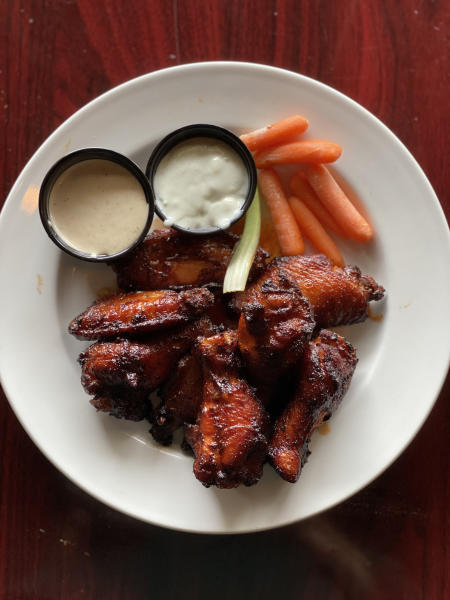 Annapolis Smoke house wings are a house favorite. Image courtesy of the author.

 

This spot on Forest Drive is pretty much an Annapolis institution, serving up generous stacked pit beef sandwiches since 1995, along with a slew of other sandwiches from pit turkey to corned beef. They're equally known for seafood, with soft-shell sandwiches, fried or broiled platters, and Maryland crabs steamed to order for dine-in or takeout. 

 

This national franchise has two outlets locally, at City Dock and at Annapolis Town Center. Their array of sauces reflect different regional styles from Carolina vinegar to smoky Texas and yes, Old Bay infused for the Chesapeake region. The company supports organizations that directly help our wounded warriors, including the USO, Navy Seal Foundation and Semper Fi Fund, which makes them a great fit for the home of the U.S. Naval Academy.