Make your Instagram pop by tagging @visitannapolis on Instagram and post a picture in America's sailing capital! Here are some of the Top Instagram-able places in Annapolis.
Annapolis has always been a busy harbor since its establishment in 1649. At Annapolis City Dock, sailing ships delivering and loading goods such as tobacco and grain gave way to leisure vessels. From taking dreamy photos in front of Ego Alley to learning about history at the Kunta Kinte-Alex Haley Memorial you will have a good time on the open piers. Ice cream cones are optional, but highly recommended!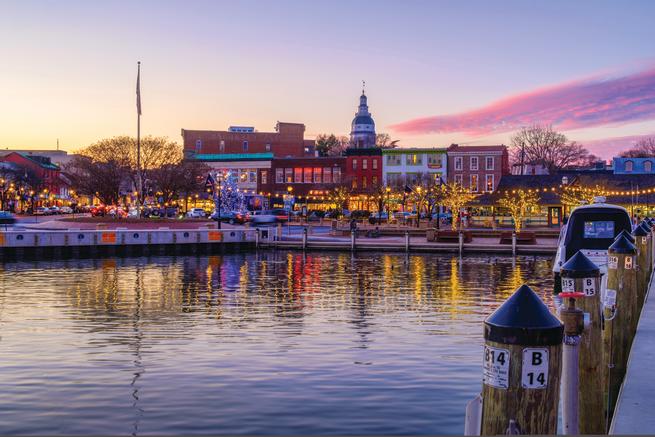 A view of City Dock at Sunset.
Image courtesy of Bob Peterson @bobpetersonphoto
The United States Naval Academy is not only picturesque, but it serves as a home for some of the country's most talented young naval cadets. The historic architecture gives photographers a perfect place to capture amazing photos. Be sure to tour the United States Naval Academy to get a feel of how they combine history and tradition with new technology to prepare the Midshipmen for the United States Navy and Marine Corps.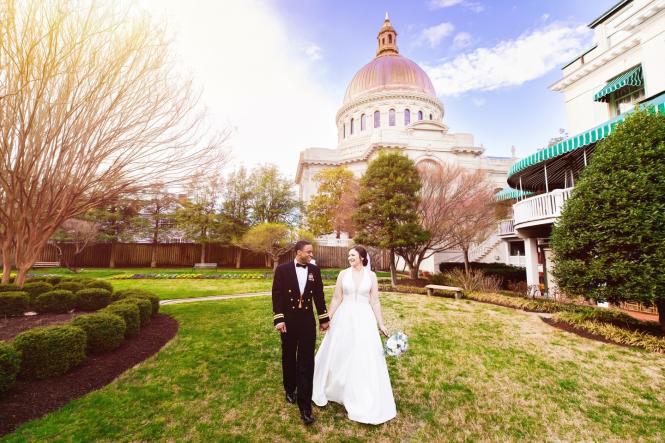 A bride and groom in front of the Naval Academy Chapel. Image Courtesy of Jackalope @jackalope.photos  
Pinkney Street
On Pinkney Street, guests will be greeted by a colorful array of antique residences, including a pink house! On this one-way street, there is no parking, therefore no vehicles will be in the background of your shot. The red Shiplap House, with its white picket fence at the bottom of the street, is thought to be the city's second-oldest structure.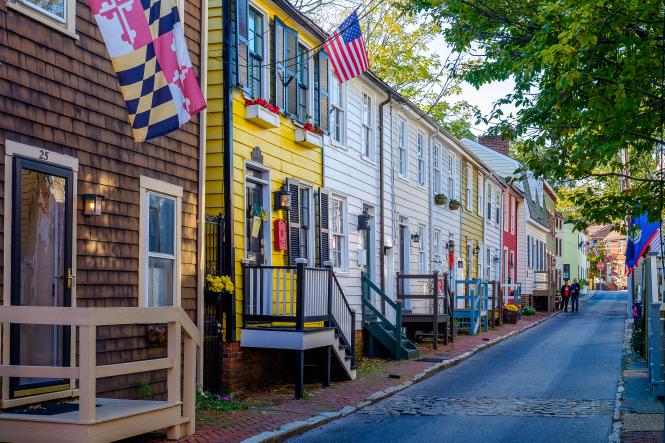 A view of Pinkney Street in Historic Downtown Annapolis.  

 
The William Paca House & Garden is without a doubt one of Annapolis' most lovely and attractive sites. Allow the enchanting flowers and holly leaves to provide a pop of color to your shots throughout the spring and summer months or allow the bleak skies and bare trees to simulate a historic winter wonderland. Live your Princess Diaries 2: The Royal Engagement fantasy by taking a "foot-popping" picture with a romantic partner. Because the house and venue provide such an elegant backdrop, many couples choose to hold their wedding at the property.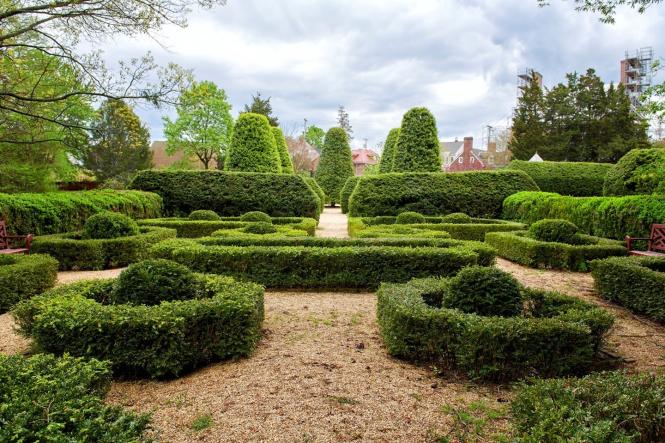 A view of one of the Gardens at William Paca House and Garden.
West Street
West Street, one of Annapolis' main gateways, is lined with a variety of properties, many of which are historically significant. From St. Anne's Episcopal Church to The Graduate just down the street, you will be captivated by a handful of boutiques and dining. On Wednesday evenings in the summer, the first block of West Street transforms into Dinner Under the Stars in the center of downtown Annapolis and is closed to traffic, packed with tables evocative of open-air cafes in France, Spain, and Italy. Enjoy an evening with family and friends while listening to live music and watching art demonstrations under a canopy of white lights.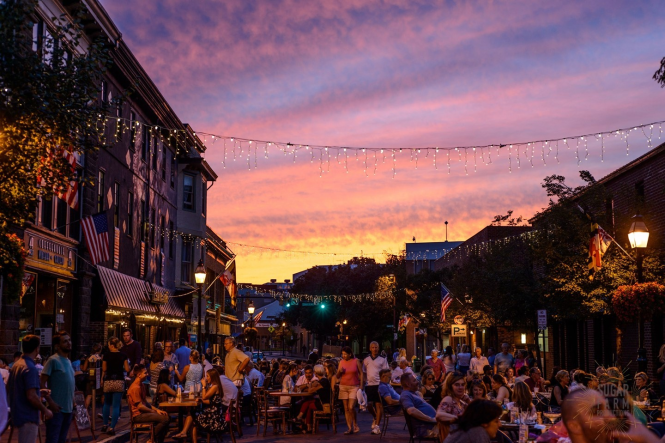 West Street during Dinner Under the Stars.
Image courtesy of Alison Harbaugh @sugar_farm
Maryland Avenue
Maryland Avenue is a must-see. This short spoke of a street off State Circle has an old-world feel. A vibrant mix of artisanal mom-and-pop shops overflows from ancient buildings onto charming pathways and cobblestone streets. This is the crossroads of urban bohemian and American Revolutionary elegance, and it's utterly wonderful.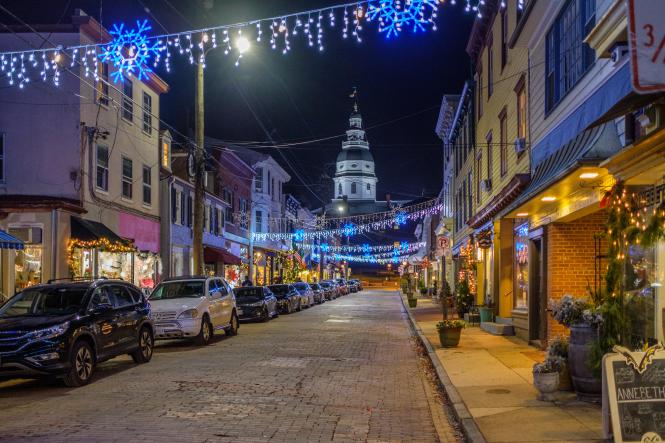 Maryland Avenue during the Winter/Holiday season. Image courtesy of Bob Peterson @bobpetersonphoto  
The Maryland State House is the country's oldest state capital structure still in use for legislative purposes. Governor Robert Eden laid the cornerstone for the current edifice on March 28, 1772. You might be tempted to make the building's beautiful dome the focal point of your shots, but the structure itself has a lot of architectural flair that's excellent for portraits and engagement shoots. Pose in front of the stately carved entrances, massive columns, or beautiful grounds to capture a picture you won't soon forget!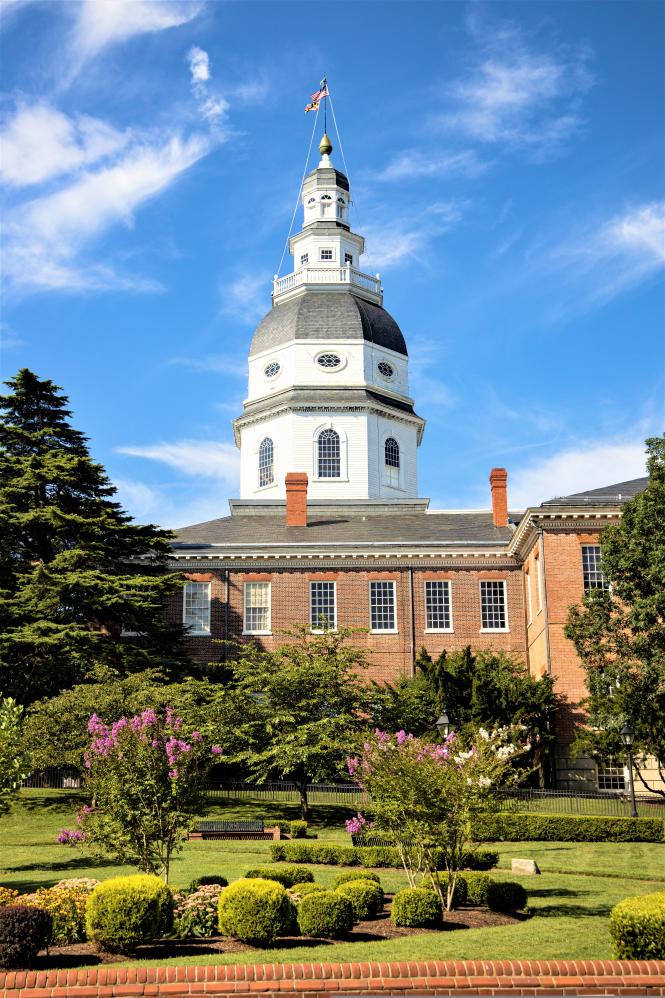 A view of Maryland State House

 
Alleys
Annapolis was designed to replicate the style of baroque European cities. Grand traffic circles with vast roadways spreading outward were built around the centers of religious and state power. The layout made it difficult to travel on foot so instead of cutting through backyards and vacant lots, Annapolitans took shortcuts between buildings. Alleys were paved or turned into streets in some cases. Chancery Lane and Tate Alley are two of the old alleyways in downtown Annapolis, with only a handful remaining intact. The former not only provides a quick route from Main Street to State Circle, but it is also a popular location for photographing the historic State House dome.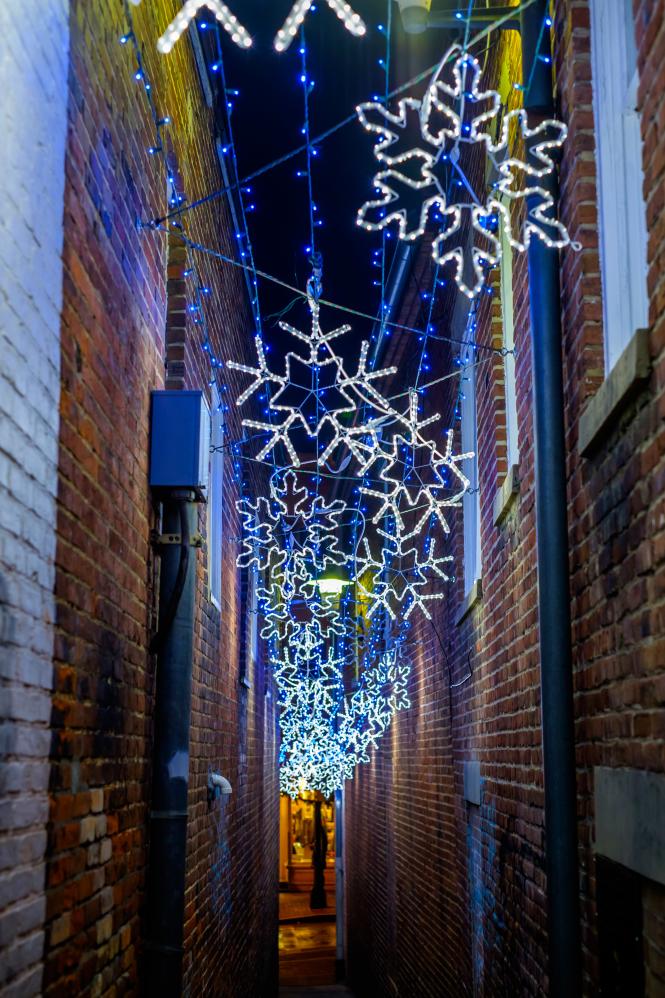 'Snowflake Alley' turns on the charm in winter for the perfect Holiday photo-op. Image courtesy of Bob Peterson @bobpetersonphoto  
Harness Creek Vineyards is home to the Great Frogs Winery. This lovely piece of land has been used for agriculture since 1691, so it retains its green space roots and provides the perfect space for a winery. A lovely tasting room has been repurposed from an old barn with twinkling lights to create the perfect atmosphere.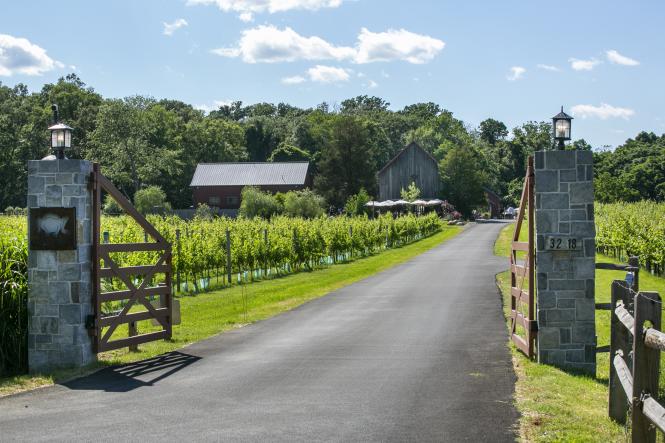 A view of the Great Frogs Winery vineyard. Image courtesy of Amy Raab.

 

A picture is said to be worth a thousand words, but in we believe murals are worth several times that. At least, that's the case in Annapolis, where murals abound, each with its own distinct meaning. Murals in our county typically enhance the architecture of the building on which they are painted, praise the joys of living in a bayside town, commemorate the history and culture of Annapolis, or simply be the background on your next Instagram post.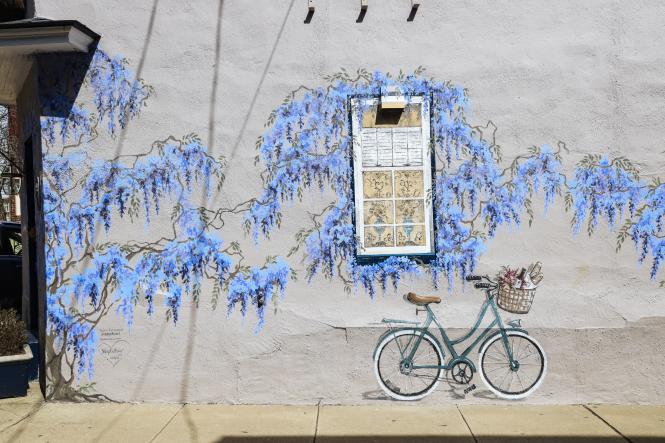 Known as the 'Wisteria Mural' in Downtown Annapolis, you can find this very popular selfie stop at the top of Fleet Street.  


Now that you have the info, snap away, and don't forget to tag us for a chance to be featured on our Instagram feed!