In the mood for a tall glass of beer, great food, and top-notch speedy, friendly service? Then you want to slide into a booth or grab a seat at a table in the outdoor seating area at the Yard House in Hanover.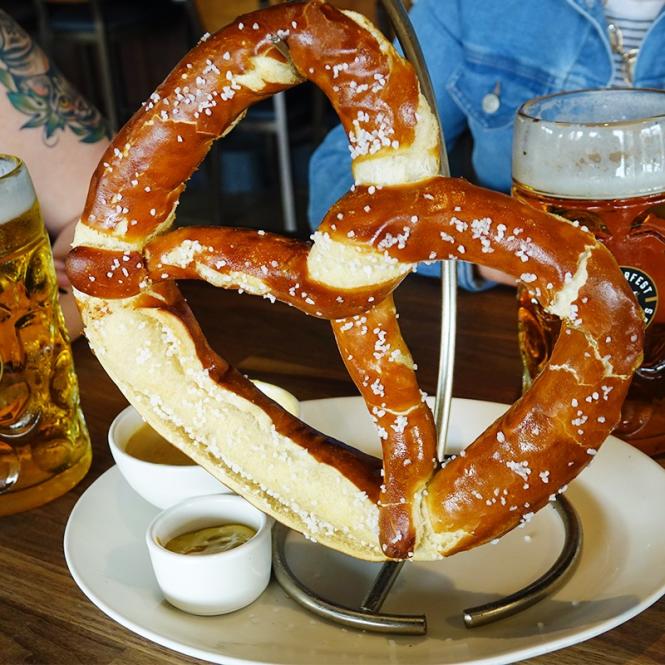 Order a jumbo Bavarian Pretzel for the table at the Yard House. Image courtesy of the Yard House.

 

 

Aside from a premium draft beer or classic cocktail, a dynamic atmosphere always compliments a good meal. You best believe Yard House rocks the competition with its bar selection of over 130 draft beers on tap and its classic rock music selections.

 

From comfort foods to gourmet dishes, there is a dish on the Yard House menu that will leave you wanting a second helping to-go. Your choices are seemingly endless, with crowd favorites like the Jumbo Bavarian Pretzel with Beer Cheese appetizer or the flavor-packed Spicy Jambalaya entrée. If portions are your concern, no need to worry because Yard House has you covered—even appetizers like the Poke or Chicken Nachos are large enough to feed a group of three or four. The Street Tacos are also a win, according to Yard House fans. Want to keep the night fancy and turn up the class on your taste buds? Order the Whisky Glazed Salmon or the Lobster Garlic Noodles to wow your palette.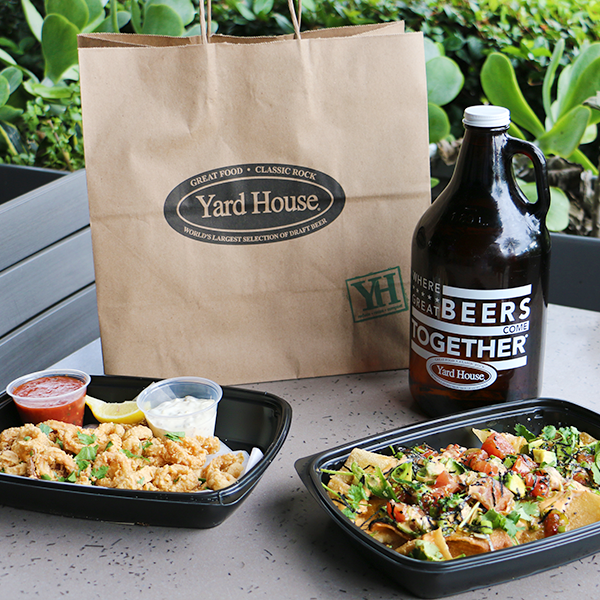 Try a tailgate take-out package for your next gathering. Image courtesy of the Yard House.

 

 

Of course, if you are looking for the perfect happy hour spot, Yard House is in a league of its own. Whether you are in the mood for something piney, earthy, zippy, spicy, yeasty, lemony, coffee'ish, something off the wall, you are destined to find your flavor of choice. Any palette will tell you, texture and taste go hand in hand when it comes to the perfect brew. With over 130 beers on tap, finding the crisp, smooth, thick, light, prickly, or creamy mouthful you are searching for will not be an issue. Even if you find the ample selection of drafts overwhelming, your bartender or server will be more than happy to help you find the perfect sip. For the wine, spirits, and cocktail lovers, the Yard House bar has excellent selections. For instance, the Malibu Peach cocktail and Tito's Bloody Mary are everything but disappointments.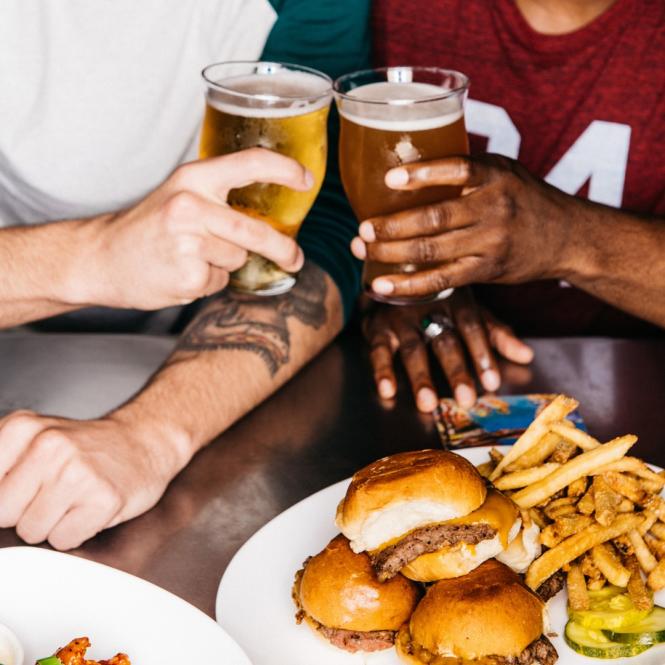 With over 130 beers on tap - finding the brew right for you shouldn't be a problem. Image courtesy of the Yard House.

 
Safety in Place
While a lot of energy goes into making sure you enjoy your meal, your drink, and your service, just as much energy goes into maintaining your safety. Yes, Yard House is Covid-conscious, so sanitation and social distancing guidelines are in full effect. All staff members are required to wear masks and gloves to help keep you and your family safe. Guests must mask up anytime they are not eating and whenever they are away from their table.
Next time you are looking for a great restaurant or bar to dine in or just want to grab food and drinks to go, Yard House Hanover - Arundel Mills has a table setting waiting for you.
Hanover - Arundel Mills
7000 Arundel Mills Circle
Hanover, MD 21076
https://m.yardhouse.com/home
(410) 379-2868