The Annapolis Collection Gallery is located in the last historic block of West Street, fittingly beneath the watchful eye of the mural next door painted by one of the gallery's master artists, Jeff Huntington. The gallery was founded 15 years ago as owner and curator, Katherine Burke, moved on from her time running a gallery devoted to Photographer, Marion E. Warren's iconic photos of the Chesapeake Bay and his adopted home state of Maryland.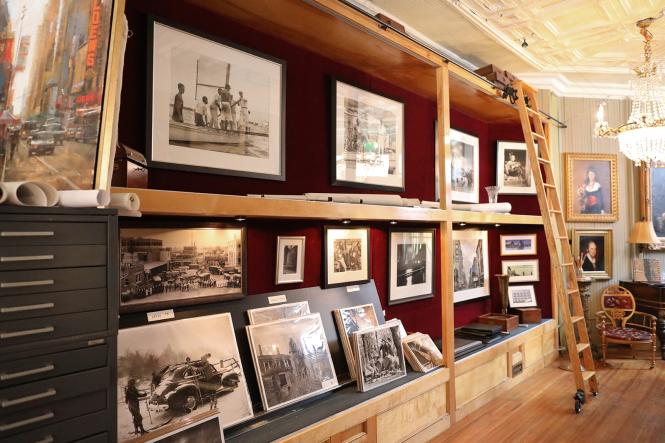 Photographs, paintings and sculpture line the walls of the Annapolis Collection Gallery.

 

Katherine was the first to realize the importance of having Mr. Warren's photos available for purchase online. Once he had a dedicated website his images became accessible to a worldwide audience. With that same vision, passion and drive she opened Annapolis Collection Gallery on West Street.

 

Drawn to the building at 55 West for years, she always loved the personality of the storefront and it's bright (original) display windows. Now passersby during Dinner Under the Stars are drawn in through the same storefront that once housed a local shoe store owned by the Slama Family in the late 1800's.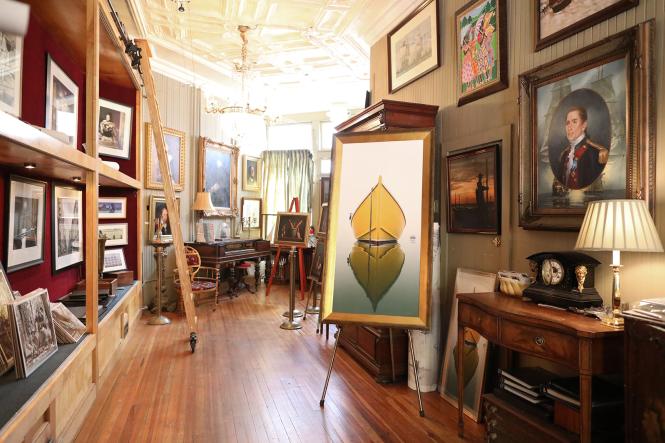 Just like the work of her featured artists, the store itself is a piece of art. The pressed tin ceilings remain and draw your eye up as you step across the mosaic threshold into the gallery. Unlike its counterparts, the Slama Shoe Store allowed its African-American customers to actually try on their shoes at the store. 
Dinner Under the Stars
Katherine also sits on the Board of the Inner West Street Association which plans and hosts several events throughout the year along West Street. They host the First Sunday Arts Festival, the Chocolate Binge Festival as well as the popular Wednesday night feature, Dinner Under the Stars.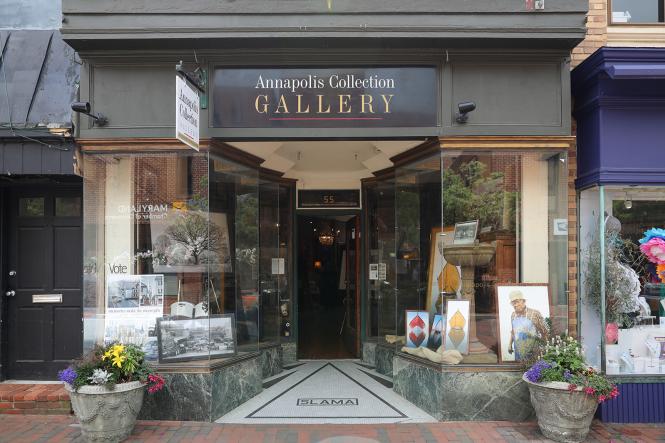 Dinner Under the Stars is a popular event that runs from April through September every Wednesday just outside the Annapolis Collection Gallery's front door. Restaurants along this historic block of West Street extend their dining rooms into the cobblestone streets for an evening of live music, great food and camaraderie. With twinkling lights overhead as the sun sets under the shadows of the historic buildings, this evening is a favorite among guests and locals alike. 
Master Artists 
Katherine Burke showcases the work of extraordinary local and regional artists in a variety of mediums at her gallery. (The excerpt below was taken from a blog on Katherine Burke from a past Annapolis Discovered feature, written by staff blogger Susan Chase.)
First up, is artist Roxie Munro. Her medium is predominantly architectural oil paintings, but she also creates watercolors, prints and drawings, many of them cityscapes. Her older sister, Ann Munro Wood, is a painter who studied in Paris at the L'Ecole des Beaux Arts.  Among many of Ann's current works are historical figures such as Alexander Hamilton, Abraham Lincoln, and George Washington.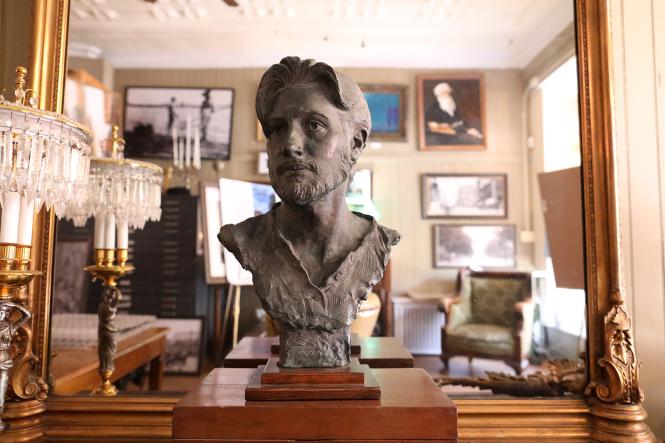 Sculptor Rick Casali's work is featured at Katherine Burke's gallery on West Street.
Katherine also carries the work of renowned artist and muralist Jeff Huntington. While many may know him from his prolific murals from Annapolis (Breonna Taylor mural at Chambers Park) and beyond, Jeff is also a master portrait artist and many of his paintings can be found at the Annapolis Collection Gallery.
Artist Yoomi Yoon expresses her artistic ability through paper cuttings, originally a Chinese art form, and sumi art on rice paper. She is originally from South Korea, but now calls Annapolis home.  Chris Jewett is a master artist who specializes in photography over canvas and his visually stunning style is both familiar and serene.
Next, at the gallery, you'll find the work of Rick Casali. He is a sculptor and teacher of art. His art form is figurative sculpture with a style that includes classicism, impressionism and modern elements, as well.
Greg Harlin is another artist whose work is available at the gallery. He works in watercolors and included in his illustrations are several postage stamp designs. He often depicts historical themes of past centuries. The Annapolis Collection Gallery also carries the photographs of Aubrey Bodine, Jay Fleming and the exclusive collection of Charles Emery, who was the first President of Historic Annapolis, in 1952. No matter your preference for great Art, Katherine Burke's Gallery truly has it all. To visit and inquire about her collection, be sure to stop by the gallery or shop online.
Be sure to tell us what you think of the video in the comments!