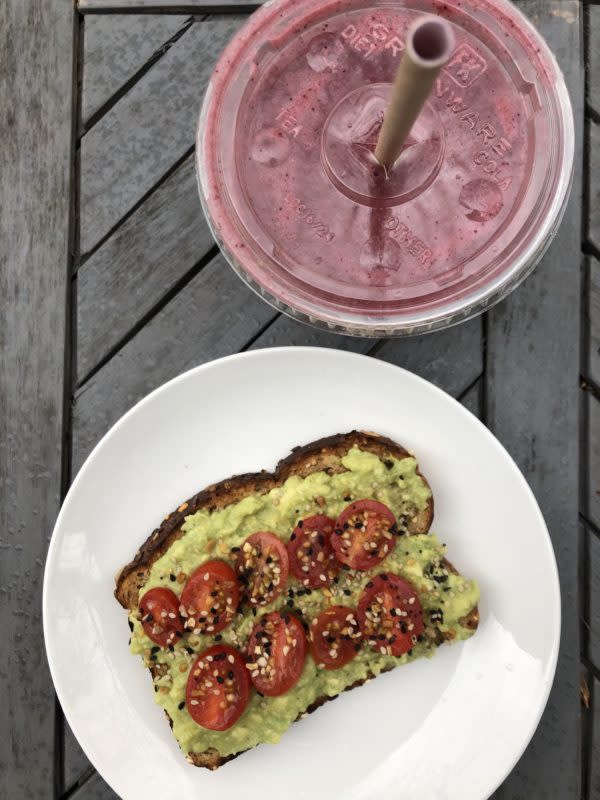 Rutabaga Juicery & Eats will set you on the right path for the New Year with delicious smoothies and avocado toast. Image courtesy of the author.
The concept of a "New Year" feels especially prescient in 2021. We are all ready to find hope in a New Year and leave 2020 behind (but not our masks and washing our hands!). Whether or not you've made a New Year's resolution or set intentions, we've curated a few local businesses that will set you on a positive path for 2021.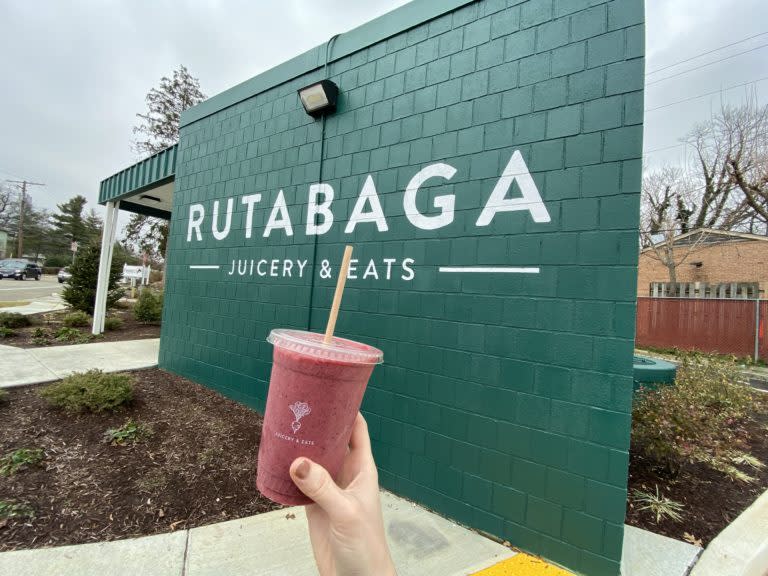 Rutabaga recently changed locations and added a drive thru, find them at the corner of Ridgely and Taylor Ave. Image courtesy of the author.
Rutabaga & RASA
Fresh healthy food isn't too hard to find in Annapolis and it's now easier than ever. Rutabaga Juicery & Eats' new drive-thru location in West Annapolis coupled with their "Rutabaga at Home" delivery service means their whole-ingredient, plant-based food is easily accessible. They source local ingredients and use sustainable materials for their smoothies, cold-pressed juices, toasts and bowls. On a recent visit I tried the "Berried" smoothie (raspberry, blueberry, strawberry, chia, banana, green apple juice, yum) and an avocado toast and they were delightful picks for my New Year's intention of staying mentally and physically healthy.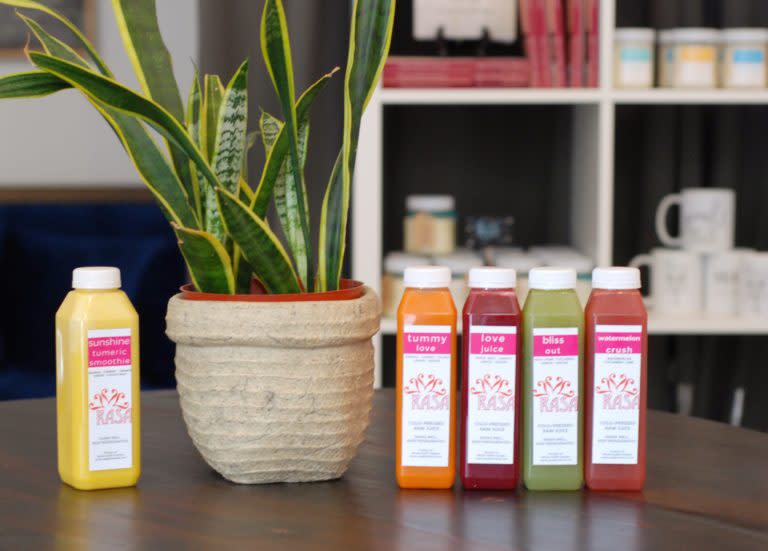 RASA Juice is an easy way to jump start a healthier you in the New Year. Image courtesy of the author.
RASA Juice Shop on Maryland Avenue is another great pick for healthy made easy. Their cold press juices and clean eating meal packs (tired of cooking, anyone?) are available in their shop and curbside. If you live within 10 miles, you can even have orders over $50 delivered to your door. If you want to give back, send a RASA "Healthcare & Frontline Hero Care Package" to a deserving crew.
Mango + Main
Many people set goals for the year around their shopping habits. Common goals include shopping local, shopping less, ditching Amazon, or only shopping sustainable or ethically made non-essential items. Mango + Main on Maryland Avenue specializes in fair trade items made by artisans around the world. Shannon Riesenfeld, owner and founder, began by supporting a group of seamstresses in Rwanda by selling their textiles in an online shop. Four years later and the shop has grown to a brick and mortar storefront supporting artisans in 25 different countries. It's a great shop for gifts, jewelry and special items for your home.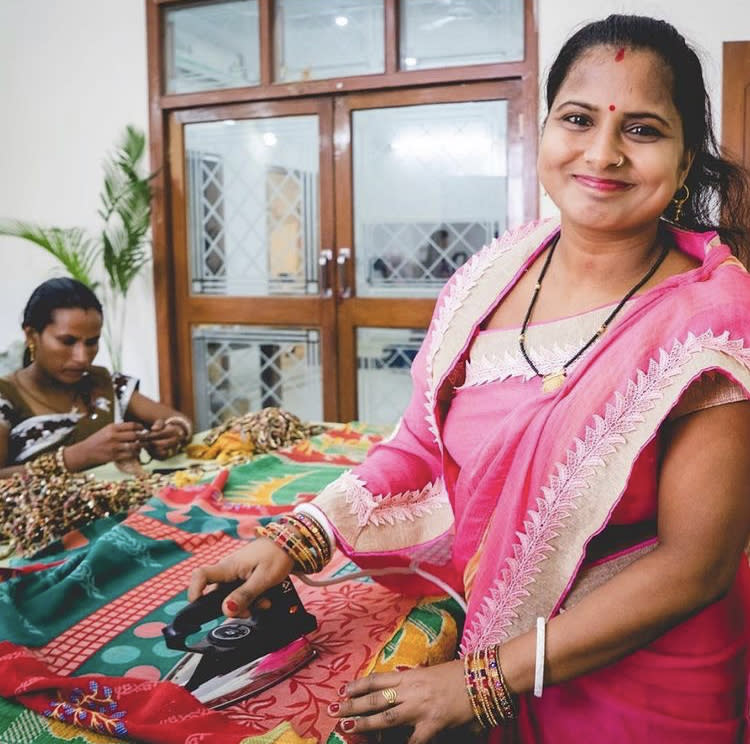 Mango +  Main offers a way for you to spend locally while supporting artisans globally. Image courtesy of Mango +  Main.
Light House Bistro
Being mindful of where you spend your dollars is another positive step. By doing a little research, you can often find an organization with a mission you support when making a purchase. In Annapolis, a stand out option is the Light House Bistro. The Light House Bistro is a social enterprise created by The Light House Homeless Prevention Support Center that trains culinary students and gives people with employment barriers the opportunity to learn while developing a resume and earning a living wage. While their restaurant and coffee shop remain temporarily closed due to COVID-19, you can still enjoy their catering and take home options. I'm happy to say Light House Bistro catered my micro-wedding aboard the Schooner Woodwind this past Fall and all of my guests raved about the food (don't skimp on the red velvet cake balls).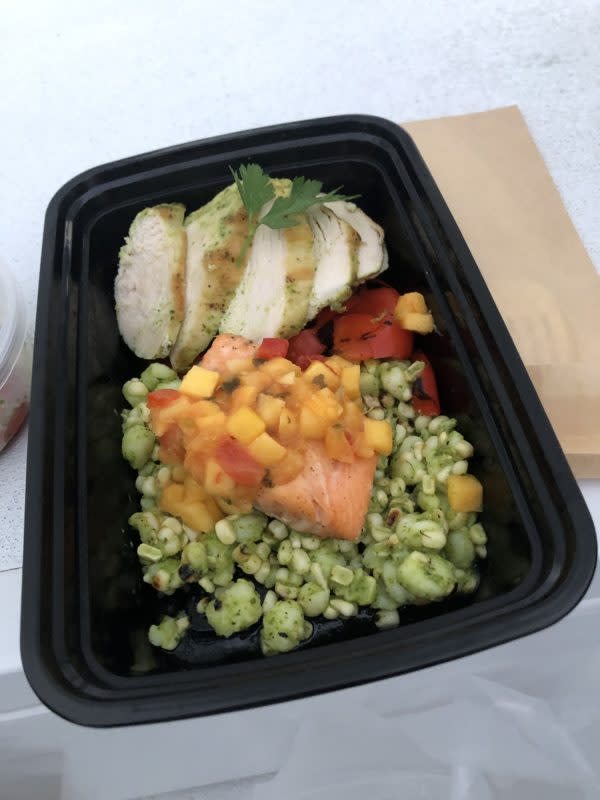 Help a local nonprofit in the New Year, like Annapolis' Light House Bistro. Image courtesy of Jason Lee.
Take a Class
It's a great time to discover a new skill or passion, or revisit an old one. You will likely find yourself spending more time at home this winter. Why not take a class that will support your mental and/or physical health? Many Teaching Artists and fitness instructors have gone virtual bringing their enriching classes to your laptop, tablet or phone. Check out Maryland Hall for arts, dance and wellness classes for all ages and ArtFarm for additional art offerings. Try a local yoga studio's streaming classes like Ruah or Blue Lotus Yoga Studio for a mind body connection. Whenever you feel the temptation to queue something up on YouTube, challenge yourself to think local first and invest your time and money into your community.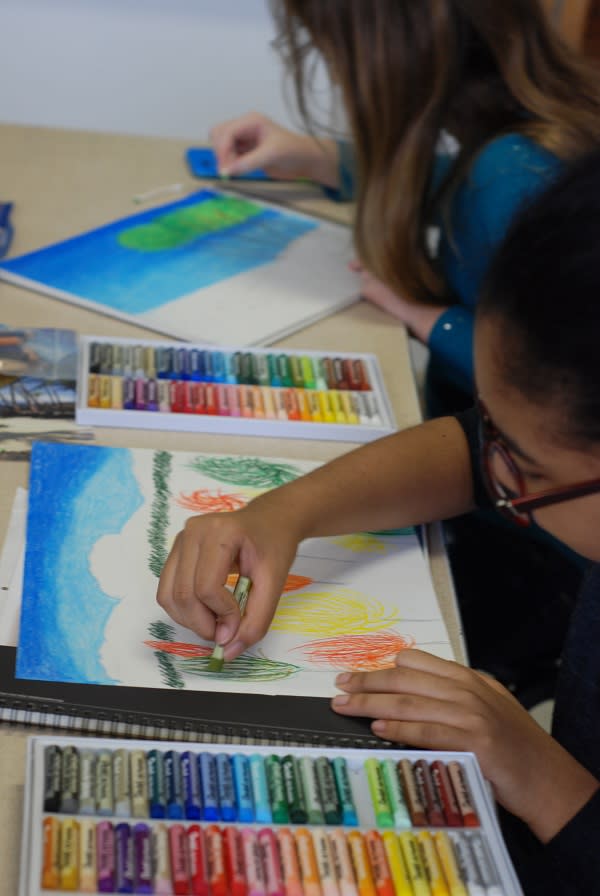 Take an art class and improve your emotional and mental well being in the New Year. Image courtesy of Maryland Hall.
Don't Forget to Indulge a Little in the New Year
Remember, we are all still living through a pandemic and need to give ourselves grace. No matter what your New Year's Resolution is (or isn't!) you have permission to enjoy the finer things in life like ice cream, pie, cocktails no matter what the calendar says. Happy New Year!