Spring is here and it's time to shed those layers. Treat your wardrobe to a refresh from the boutiques around town. High-fashion, convenient and local, Annapolis has a wide variety of shops that can help you sport a new look for the season. Shops are opening with safety precautions and the online shopping experience is at its best. Check out what stores in Parole, West Annapolis and Main Street are ready to outfit you for warmer weather.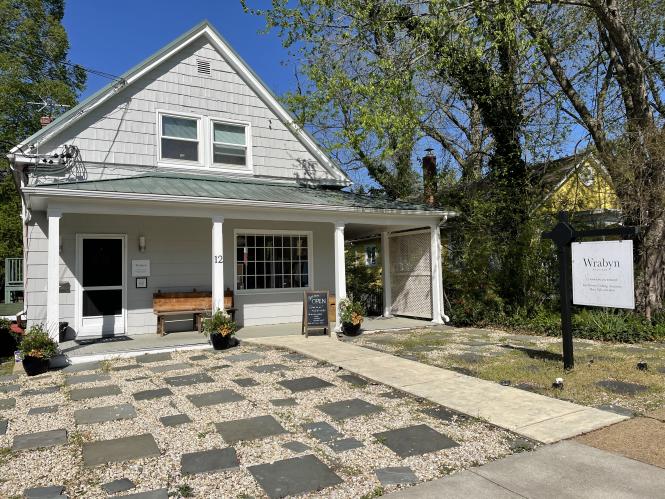 West Annapolis is home to great restaurants, art stores and high end boutique- Wrabyn! Image courtesy of the author.

 

 

Bright natural light illuminates the fresh spring fashion at Wrabyn. This homey boutique calls West Annapolis home, directly across from Flamant. In addition to browsing the tidy racks, Wrabyn offers styling services with shopping appointments to help you edit your closet with a wardrobe upgrade. There's something for every style. Accompany your new look with a wide selection of accessories, including chic, modern jewelry to colorful yet light scarves.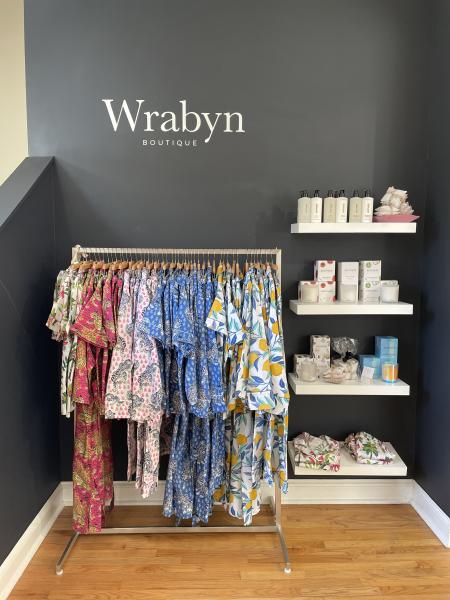 The staff at Wrabyn can help you find the perfect gift for Mother's Day. Image courtesy of the author.

 

The shop owner, Wendy Rabin, loves their location in West Annapolis and she's excited to be part of the evolving and expansive fashion options for Annapolitan shoppers. If you need any more incentive to drop by Wrabyn, simply fill out this form for a $50 gift card for use in-store or online!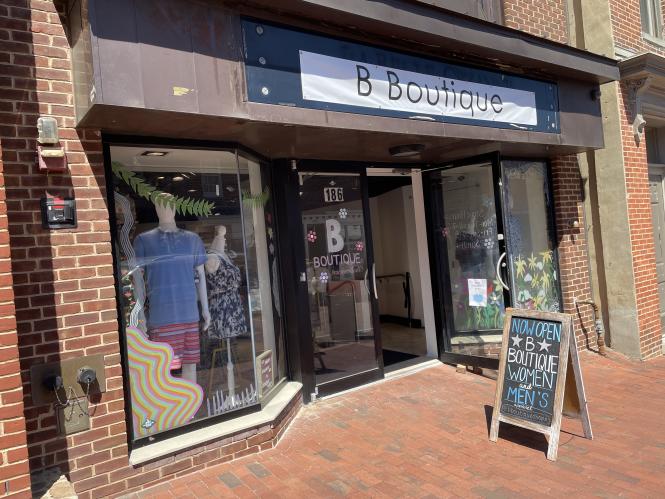 You will find B Boutique's pop up shop in the heart of downtown Annapolis on Main Street. Image courtesy of the author.

 

 

B Boutique embodies the popular trend to support local by shopping local. This boutique in the seasonal pop-up location on Main Street is a breath of fresh spring air for the downtown shopping scene. Light looks for men and women fill the bright space and create a pleasant and plentiful shopping experience.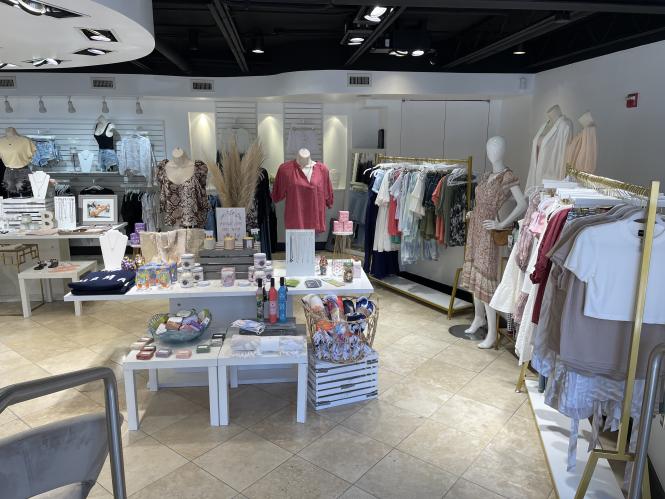 Add some fresh florals and color to your Spring wardrobe this season with B Boutique. Image courtesy of the author.

 

In addition to a diverse selection of threads, B Boutique offers a wide variety of accessories and gift boxes. Whether buying for yourself or others, the gift boxes make it easy to compile the perfect combination of goods to help promote relaxation and wellness. Purchases can be made in-store or online with the option for curbside pickup.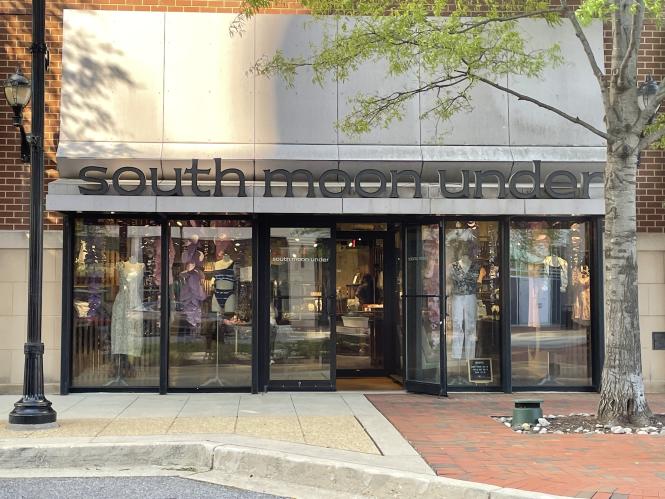 The laid back looks from South Moon Under are a hit with clients across the country. Image courtesy of the author.

 

 

What started as a small surf shack in Ocean City, Maryland, South Moon Under has grown into a brand that's beloved by upscale shoppers across the country. Their coastal attire is perfect to welcome in the warm weather as you're reviving your wardrobe for spring.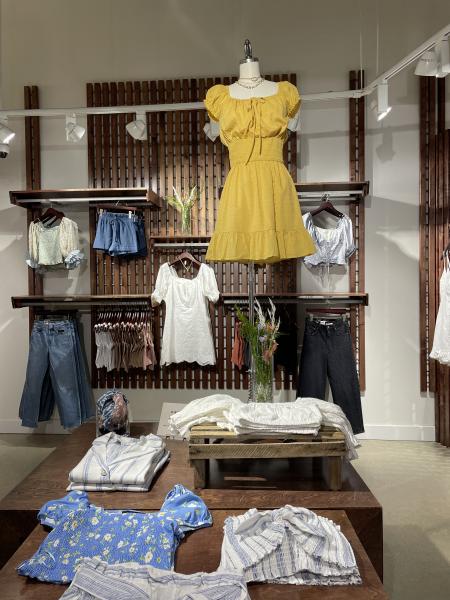 Casual seaside style is the name of the game at South Moon Under. Image courtesy of the author.

 

You can always find a new look at South Moon Under as their assortment is constantly evolving with trends while staying true to their casual style. It's clear that they're inspired by a seaside lifestyle, both in their unique pieces and friendly, neighborly staff.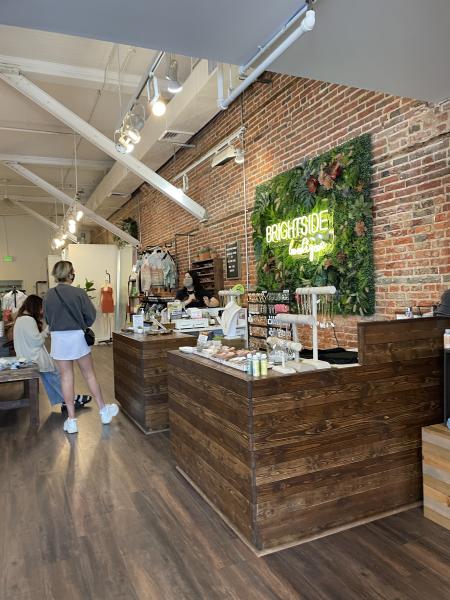 Spring trends and cool girls vibes at Brightside Boutique. Image courtesy of the author.  
Setting trends from the heart of downtown Baltimore and Annapolis, Brightside Boutique is a happy place to browse and shop. At first glance, the storefront looks like your standard cute boutique, but upon closer inspection, you'll see the unique and quirky gifts this store offers, and you won't be able to stay away.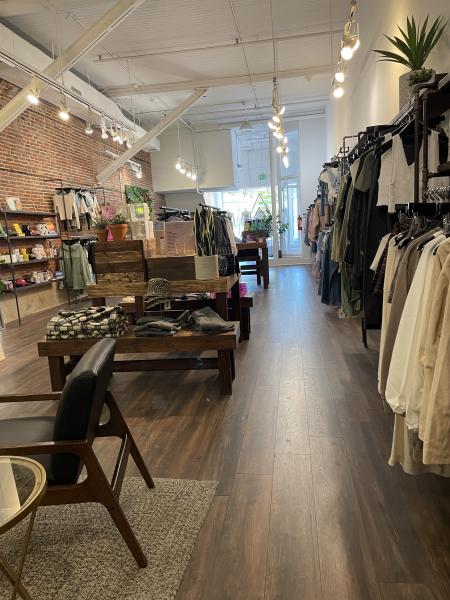 Shop national brands like Free People or Brightside's personal label for Spring Fashion that is sure to get you noticed! Image courtesy of the author.

 

For a quintessential spring look, choose Free People jean shorts paired with a lightweight Brightside The Label t-shirt and vibrant earrings for a pop of color. If you're looking for a one-of-a-kind gift for a playful friend, check out their wide selection of cheeky cards, candles, self-care products and much more - think, all things Schitt's Creek at this downtown boutique.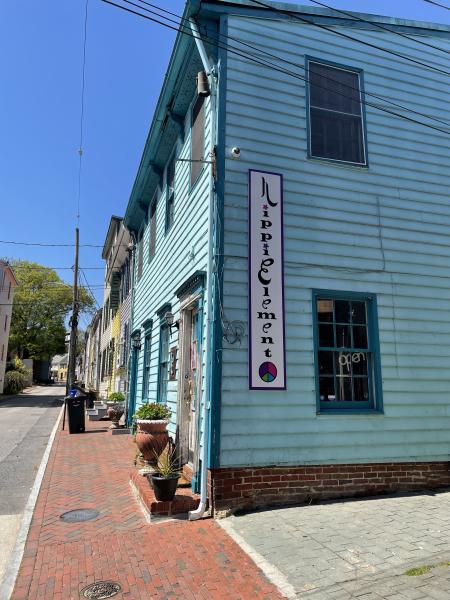 Small accent accessories and vibrant statements are both specialities of Hippie Element. Image courtesy of the author.

 
Hippie Element
Need a splash of vintage funk to your closet? Stop by Hippie Element, which can be found downtown just off the beaten path around the corner from Federal House Bar and Grille. This little hole-in-the-wall is a great boutique for something different. Small accent accessories and vibrant statements are both specialities of Hippie Element. The eccentric staff is extremely knowledgeable about the pieces and happy to help you put together a fresh look for turning heads this spring. 
Take that next step to refresh your closet by shopping local this spring season. The doors are open, and our Annapolitian merchants are grateful to see so many people supporting the small business community. Now's the time to find the perfect outfit to welcome in a fresh, warm breeze.