As Thanksgiving approaches and the full force of the holiday season begins to unwrap, I am thinking less about to-do lists and Black Friday deals and more about family. This year has taught us so much about resilience and appreciating the ones who love you through it all. No matter what your family looks like, full of crazy eccentricities and the hi-jinx that ensues when you're all together, now is the time to reflect upon how lucky we are to have them. Family portraits are a time capsule. It's not until the photo ages that we notice all the special details of how we've evolved. This holiday season, we asked some of the area's most brilliant photographers how to capture our best family photos, and they were more than generous with their advice! Whether you're looking to hire one of these incredibly talented professionals or just trying to get some good shots on your own, here are some things to keep in mind.
 
Set the Scene
Choosing the perfect location seems like the biggest decision in creating your photo session, but there's no need to stress. Annapolis and Anne Arundel County have plenty of beautiful and unique backdrops that will make for some lovely photos.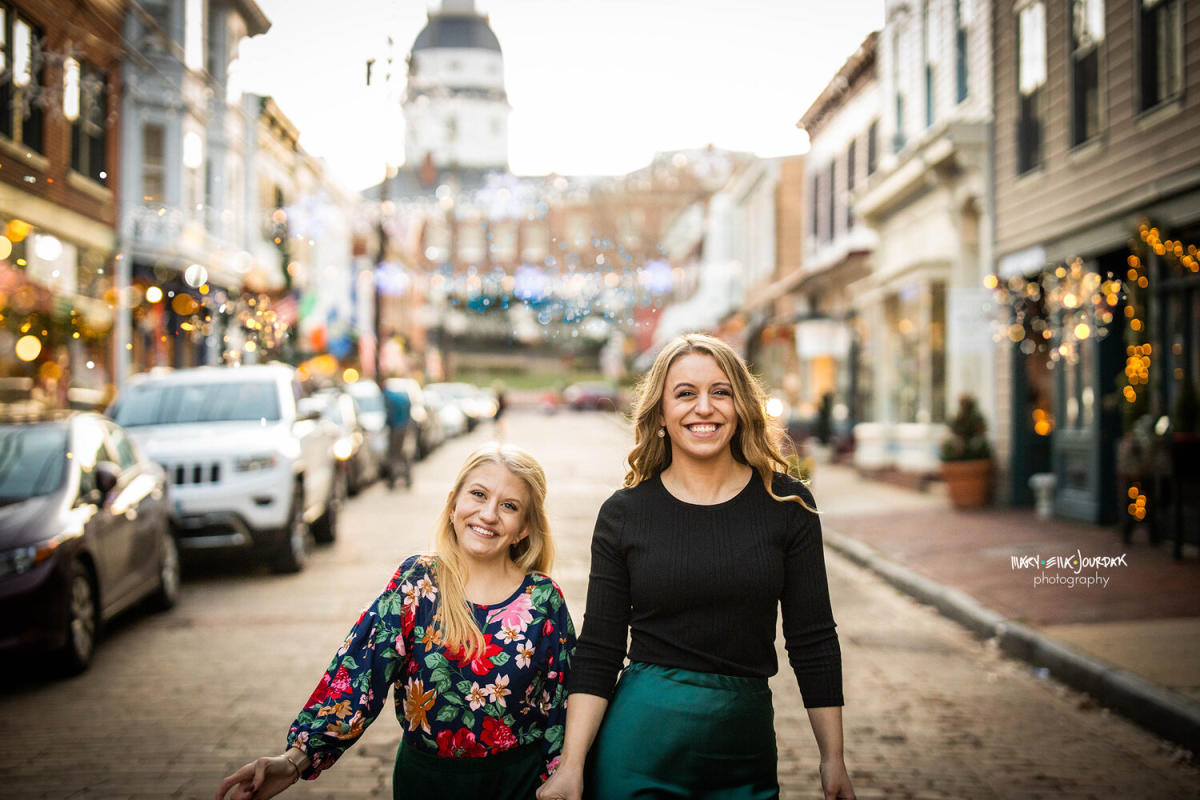 Annapolis and Anne Arundel County have plenty of beautiful and unique backdrops that will make for some lovely photos. Image courtesy of Mary Ella Jourdak Photography.
As Maureen Porto recommends: Choosing the right location is key to any photo shoot, but don't overthink it. I always encourage my clients to choose a place that feels authentic to their family and then roll with it. Family photos won't feel like such a chore if you're doing what you love and include a little fun, so take the dog and the kids to enjoy some Annapolis Ice Cream on Main Street, walk through the Arts District or down to your neighborhood dock, or just gather around the fire pit in the comfort of your own backyard. For a festive backdrop, consider some of the many spots around Annapolis that are decorated for the Holidays including the twinkling lights in Snowflake Alley, the huge Christmas trees at St. Anne's Church and City Dock, or the oversized wreaths on the State House.
Pro Tip for locals:  Homestead Gardens is a fabulous, dog-friendly option if you're up and dressed to go early. Plan to arrive just as they open in order to beat the crowds of shoppers and snap a few photos in front of the beautifully lit trees or Santa's magical sleigh. Hot chocolate and warm cider doughnuts are available and a great bribe for cooperative kids and Dads!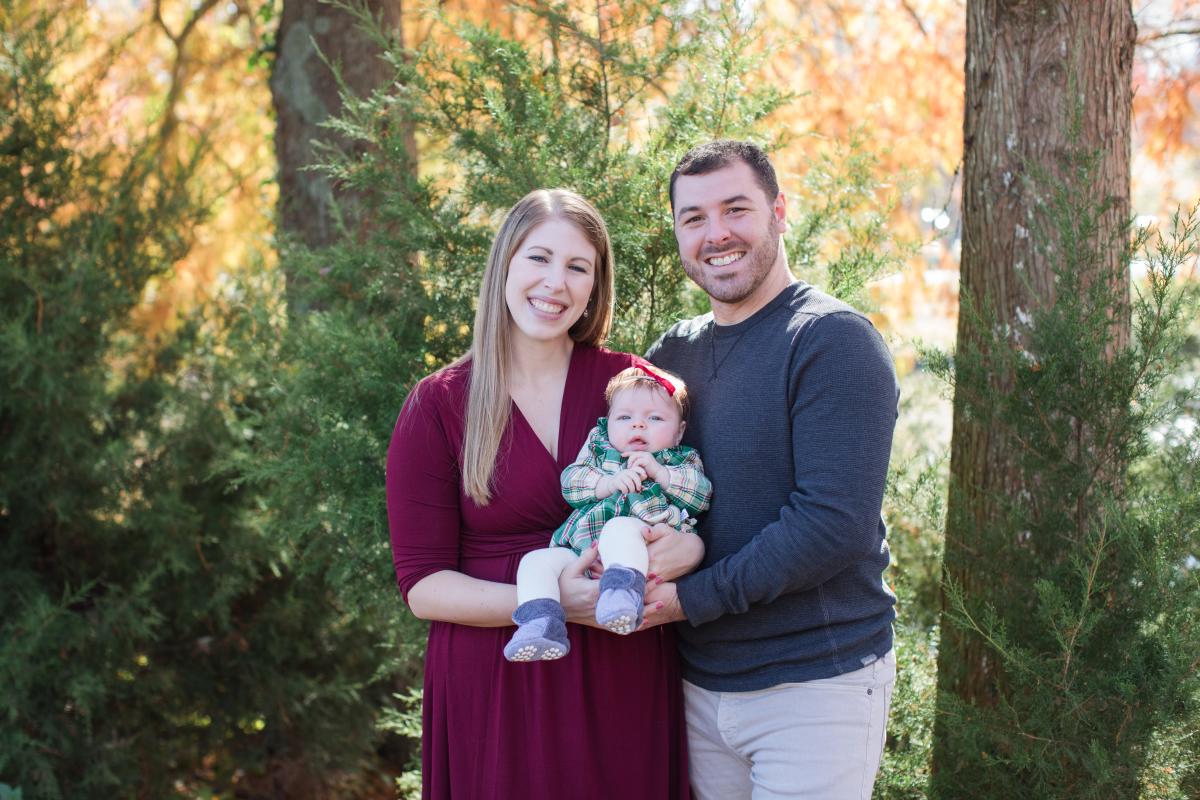 Image courtesy of Christa Rae Photography.
Mary Ella Jourdak is also a fan of Main Street's holiday charm. Downtown Annapolis is my favorite festive backdrop. Wandering around College Avenue and up to the State House is sparkly lights, tons of decked out porches and homes, and all the holiday vibes you could want.
If you're looking for a quieter setting, Christa Rae Photography recommends Quiet Waters Park, Kinder Farm Park, or your very own home. Quiet Waters has a skating rink, whether you include it for atmosphere or lace up with your crew to hit the ice! Kinder Farm Park is known for its furry friends, large barns, and great picnic area if you're going for a country-chic vibe and aiming for candid shots as well. Of course there's no place like home, and taking pics in your own castle can provide ultimate flexibility with a very personalized touch for your photos. 
Wherever the place, Heather Crowder tries to keep in mind the big picture: I work hard to understand the vibe that my clients are hoping for, taking into account their personal style, home decor and wardrobe as my intention is to create more than 'just a holiday card' - I want to create art for their homes that they will treasure forever.  I'm also seeing increased demand for studio portraits - not the stodgy and stiff style that many of us grew up posing for, but a more contemporary style that offers a refined contrast to the outdoor family portrait trend we've seen 'take over' for  the past decade.   
When considering logistics, Christa Rae also has some great advice for working with little ones: Plan accordingly with their nap times! Don't have the session taken right before or right after the time the kids would typically be napping.  Don't stress about having every photo of your children smiling and cooperating. Let their personalities shine and make it fun for them too! Candid photos of you playing with the kids in between the posed photos are also ones to cherish!
 
Getting Your Family Camera-Ready
We're all guilty of falling into "what should I wear?" stress when it comes to getting dressed up, but luckily these experts have helped their clients answer this very question many times over. Spoiler alert– don't worry about everyone matching!
Maureen Porto recommends playing off the colors of your backdrop: Once you've settled on a location, your outfits should reflect it. If you're shooting along the water, think about wearing whites, creams, blues and tans. If you're shooting in a field, pick earth tones and add in pops of moody colors or muted florals. Don't stress about matching everyone exactly and remember that outfits should be "friends, not twins." If you've already chosen a pattern for one person, use that as a building block and try to have everyone else in coordinating solid colors so there aren't too many competing elements. 
Mary Ella Jourdak plays with patterns as well, and throws in a few sparkles for good measure. Holidays are a good excuse to embrace fun prints and colors for photos - plaids and florals give things an extra oomf, but if folks aren't as bold, sticking to jewel tones is a safe bet for flattering and easy outfit picks. My rule of thumb for outfits is to not go too matchy-matchy where everyone is in the same exact colors, but to pick one or two neutrals (navy, cream, black) and add in some accents (patterns, or a pop or two of color). Gold and silver are also an easy way to get festive, and you can easily swap those in for neutrals! And if you want to keep it casual but cohesive, wear P.J.'s and cuddle up around the tree. 
Wendy Hickok is also a fan of cuddly pajamas (really, who isn't?) and additional festive accessories to tie the look together. No matter what, comfort is king! Think about your family's personality and what makes you feel the most comfortable. Having coordinated outfits vs matching makes the photo look more natural. For our Hemlock Farm Holiday sessions we encourage people to be super festive if they want to be. We have had families come in matching P.J.'s, bring ornaments to put on a tree, or have a holiday sign. Keep in mind if you do your photos after November it is likely for them to be cold so always dress warm enough to be comfortable. Don't just focus on the kids, though!
Heather Crowder advises: It's really easy to get caught up in what the children are wearing (so fun to shop for adorable children's clothing, right?) but Mom - put yourself FIRST!  I know how hard this is (I hire a pro to photograph my family) but it really is so important!  You deserve to look (but more importantly) FEEL amazing in your family portraits - this isn't just about making the kids shine!  If you're able, consider having your hair and make-up done professionally - not only will you look gorgeous, but you'll be relaxed before your session, having just been pampered by a pro! 
 
Making the most of your tools
Most of us have a decent camera phone or digital camera close by, but not everyone is comfortable orchestrating the shot. Now that you've picked your perfect location and everyone is dressed up, here are some pro-tips about getting your family in the frame. For the cellphone photographer, Mary Ella Jourdak has some sage advice: When in doubt, practice taking photos before you get everyone together in a group so there's less time waiting on composition. Also, if you're shooting on a cell phone, give your camera lens a quick rub down with some alcohol. We don't tend to notice the finger prints or other accumulated goop that gets on there. That will make for a sharper and more clear photo. Cell phones also tend to have voice activated shutter features now, so if you can get a tripod or a way to balance a phone, it's easy to get everyone in the photo! 
 Maureen Porto recommends shooting with less artificial light to avoid unnatural orange skin tones. Instead, shoot outdoors or in a bright interior space. Find a large window and position yourself next to the light source, not in front to avoid backlighting. To better your chances of a great shot, "shoot a series in burst mode, making sure that you're standing and smiling the whole time (or whatever you'd like to be doing in the photo). Eventually your child will look at the camera or do something cute, and you want to make sure the grownups are ready when that happens!"
 For the photographer that wants to up their game, an investment in equipment can go a long way. Maureen says: Consider purchasing an inexpensive remote trigger to use instead of a timer. It's almost impossible not to get an overly posed photo when using a timer. Remote triggers are easy and you won't risk your life diving back into the frame! If you have to use a timer, get everyone else in place first so you can easily jump in and out of the shot.    Once you have the right equipment, getting to know your camera is the next best step.
Kaitlyn McQuaid is offering monthly beginner photography workshops at ArtFarm Annapolis so you can make the most of your D.I.Y. holiday photo session. The next lesson is November 22nd, be sure to sign up! If you're looking for an interior shooting location beyond home sweet home, check out The Annapolis Studio. This natural light studio has neutral furnishings and props for a sophisticated setting. Photographers can rent to offer multiple holiday mini-sessions as well. Prism Annapolis is another option, it's a blank canvas and with so many wonderful 'Creatives' next door, like Honeywood Rentals and Maureen Porto Studios, you are sure to set the stage for a perfect family portrait! 
 
When in doubt, hire a pro!
These experts didn't get this good overnight. There is a great benefit to leaving the task to the masters. As Heather Crowder puts it, Don't overcoach your kids - let your photographer work their magic with your children and family.  The images that we all love are the relaxed and natural expressions. We know how to coax that out of even the most stubborn kiddos!  The most magical images are usually the ones that 'just happen' in front of the camera - ""say cheese"" isn't a part of that. Be sure to check out these fabulous photo all-stars who graciously contributed their wisdom! All Photographers linked below!  
Maureen Porto Studios https://www.maureenporto.com • @maureen.porto.photo  
Mary Ella Jourdak Photography http://maryellajourdak.com • @mej.photography  
Christa Rae Photography www.christaraephotography.com • @christaraephotography   
Wendy Hickok Photography https://hickokphotography.com • @wendyhickokphotography Wendy is hosting Holiday mini sessions Nove 27–29 and Dec 4–6. Email wendy@hickokphotography for pricing and to reserve a slot. If you're more comfortable at home, Wendy is also offering holiday porch sessions.
First Exposure: Beginner Photography Workshops with Kaitlyn McQuaid https://www.artfarmannapolis.com/photography-classes  
The Annapolis Studio https://www.theannapolisstudio.com • theannapolisstudio  
Heather Crowder Photography Studio https://heathercrowder.com • @heathercrowder